(June 22, 2016) - Miami County Surgeons was a proud participant of the ITW FEG Troy Safety and Wellness Fair at the Hobart Corporation
on June 22, 2016. About 173 Hobart employees joined in the Exhibitor and Safety Wellness activities available that day.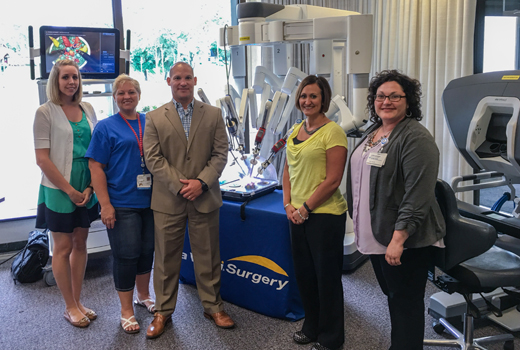 The da Vinci® Surgical System was a special guest, traveling with the Miami County Surgeons team to show fair-goers the robotic surgery technology. The da Vinci® system drew a crowd of curious attendees who were able to try their hand at the robotic controls. The hands-on demo helped participants understand more about minimally-invasive surgery and all of its benefits.
Upper Valley Medical Center acquired the da Vinci® robotic surgery system in 2013. The system gives surgeons a clear and detailed, three-dimensional look of the operating site with the power to magnify up to 10 times. This allows surgeons to perform procedures in delicate areas with high precision.
Robotic surgery is a less-invasive alternative to traditional surgery, and usually results in fewer incisions and faster recovery times for patients.
Miami County Surgeons joined other Premier Physician Network practices for the festivities at Hobart, including Premier Orthopedics, Upper Valley Cardiology, Upper Valley ENT Associates, and Upper Valley Women's Center.
Learn more about the da Vinci® Surgical System at Upper Valley Medical Center.