News and Alerts
EMS coordinators understand the type of information EMS workers need to be successful every day. Whether it's a minor change or a major event, important news items will be regularly updated here. Check back often for the most current information to keep your routine running smoothly.
Atrium Medical Center One of Three Ohio Hospitals to Receive Gold Plus Award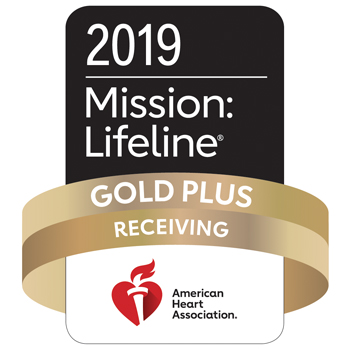 Atrium Medical Center has received the Mission: Lifeline® Gold Receiving Plus Quality Achievement Award for continuing to implement the highest level of quality improvement measures outlined by the American Heart Association for the treatment of patients who suffer severe heart attacks.
This award recognizes Atrium for meeting specific criteria and performance standards outlined by the American Heart Association for quick and appropriate treatment of ST elevation myocardial infarction (STEMI) – the deadliest type of heart attack, caused by a blockage of blood flow to the heart. To prevent death, Atrium staff work diligently to perform timely emergency procedures that re-establish blood flow as quickly as possible, either by mechanically opening the blocked vessel or by providing clot-busting medication.
Atrium is one of two hospitals in the Cincinnati market – and one of only three in the state of Ohio – to receive the Gold Plus Quality Achievement Award.
Premier Health Works Closely with Local EMS Agencies to Significantly Improve Relay of Patient Information
Patients, EMS, and Attending Physicians All Benefit From More Rapid Transfer of Data
Premier Health is partnering with EMS agencies across Southwest Ohio to relay patient information more rapidly between hospitals and first responders, enhancing emergency care for patients and ensuring quicker handoffs for emergency crews and caregivers at the hospital. Premier Health is the first health system in the region to roll out the new interface, which allows first responders to directly enter medical information collected out in the field or during transport into a patient's electronic medical record.
"The information first responders gather in the field, and their associated treatment, is a critical piece of information for physicians in the emergency department," said Randy Marriott, MD, emergency medicine physician and medical director of Premier Health's EMS Center of Excellence. "Having access to that information in near real time will help hospital clinicians improve bedside decision-making and will take our quality care to an even higher level for our patients."
Dozens of agencies across Premier Health's nine-county service area will take part in a 6-month pilot program. The pilot provides an opportunity for both training of first responders and refinements to the interface between the hospital's electronic medical records system, and the agency's documentation system. The interface is available at all Premier Health emergency departments.
In addition to hospital caregivers receiving pre-hospital information, first responders will also receive information regarding the health of the patients whom they transported. Even more importantly, sharing data will help fire departments and EMS agencies provide better response times, improve patient safety and strengthen quality of care in the field. First responders often treat and transport patients without ever knowing the outcome of their efforts. The ability for emergency medical technicians and paramedics to receive feedback on the hospital outcome for their patients will enhance patient care in the field.
Premier Health is partnering with ESO Solutions, a health care data company based in Austin, Texas, to help integrate EMS charts into EPIC, which is Premier Health's electronic medical records system.
Premier Health Collaborates with Fire and Police for Public Safety Training - Former Hospital Campus Provides Extremely Rare, Beneficial Training Opportunity
Premier Health is partnering with the Dayton Fire Department and the Dayton Police Department in allowing public safety training within the former Good Samaritan Hospital campus at Philadelphia Drive and Salem Avenue.
Beginning the week of March 4 through the beginning of May, various public safety agencies will conduct training exercises inside the facility. The Dayton Fire Department, working closely with the Dayton Police Department, is coordinating the training schedule, which will include regional groups.
Neighbors surrounding the property will not be affected by this training, as almost all activity will be indoors. A variety of official vehicles will be parked on the property.
"Public safety agencies throughout the region will be conducting various training exercises on the Good Samaritan Hospital campus during March and April," said Jeffrey Payne, director and chief of the Dayton Fire Department. "This is an incredible opportunity for area fire and police agencies to conduct real world training scenarios within the facility. Some of the simulations may involve theatrical smoke and loud noises. No live fire or ammunitions will be utilized."
"Premier Health is proud to offer our local first responders a rare opportunity to train in such a large and unique space," said Donna Banks, system vice president of operations, facilities and innovation at Premier Health. "It is just the right thing to do to assist our emergency partners by utilizing these buildings one last time for public service. If this training supports our area fire and police departments, then everyone in the community benefits."
Regional emergency dispatch will be notified each day of trainings and which agencies are involved, enabling the appropriate response should dispatchers receive phone calls from the public.
Miami Valley Hospital Austin Boulevard Emergency Center Opens
On September 24, Miami Valley Hospital Austin Boulevard Emergency Center opened its doors to offers 24-hour, full-service emergency care with easy access from I-75. The new emergency center accepts all patients with minor to severe injuries and conditions. Services include:
Twelve emergency beds, including two trauma bays, staffed by board-certified emergency medicine physicians from Miami Valley Hospital, Dayton's only Level I Trauma Center
The Premier Health TeleStroke Network, for faster access to stroke treatment
Lab and imaging services, including CT and X-ray
CareFlight Air and Mobile Services for fast transport if hospitalization is needed
The center also features a community room with AV capabilities that community members can reserve for meetings and trainings.
Upper Valley Medical Center Expands Heart Care Capabilities
Individuals experiencing a heart attack and those with non-emergency coronary blockages will benefit from more treatment options at Upper Valley Medical Center (UVMC) beginning July 30. With the expansion of UVMC's cardiac catheterization laboratory capabilities and availability of additional experienced cardiologists, patients who need angioplasty and many types of stents will be able to receive them at UVMC, 24 hours a day, seven days a week.
Patients whose heart disease requires advanced stenting procedures, coronary artery bypass (CABG) surgery, or other complex procedures can be stabilized by the UVMC team and transported to Miami Valley Hospital for care.
With the expansion, UVMC's cath lab now will be on call around the clock, every day. Diagnostic catheterizations will still be available, as well as insertion of pacemakers and defibrillators. UVMC also offers outpatient cardiac testing, disease management for those living with heart failure, cardiac rehabilitation, pulmonary rehabilitation and wound care and hyperbaric services.