News and Alerts
EMS coordinators understand the type of information EMS workers need to be successful every day. Whether it's a minor change or a major event, important news items will be regularly updated here. Check back often for the most current information to keep your routine running smoothly.
Responding to the Needs of Seniors
Older adults may experience confusion or feel uncomfortable when visiting an emergency department. With complex medical histories, they often come to the hospital with multiple health issues. They may find it hard to express themselves under stress and too frequently don't understand next steps when they return home.
Understanding the unique needs of seniors is why Premier Health voluntarily took the steps to achieve system-wide Geriatric Emergency Department Accreditation (GEDA). This distinction from the American College of Emergency Physicians (ACEP) recognizes emergency departments that provide excellent care for older adults. The bronze standard Level 3 Geriatric Emergency Department Accreditation applies to all Premier Health emergency departments. Premier Health is the first health system in Ohio and the second in the nation to earn this recognition.
With enhanced staff education and senior-friendly equipment, we follow geriatric-focused policies and protocols that result in efficient preparation of the treatment area and seamless transitions of care. By providing this well-coordinated care, we offer seniors a better experience that can meaningfully influence their outcomes. Learn more.
Wyoming Street Construction Project
On Monday, June 8, the City of Dayton will begin a pavement replacement construction project that will result in one-way traffic flow for a few months. Premier's facility team has been working with the City of Dayton to ensure minimal disruptions to the emergency department, surgery parking garage and the main hospital loading dock.
Here are the specifics of the project:
The project runs from Main Street to Colby Lane (private MVH street).
First phase will restrict traffic to one-way, eastbound only (turning onto Wyoming from Main Street).
Westbound will be detoured to use Brown Street to Apple Street, then to Main Street.
Second Phase (likely in July) will restrict traffic to one-way westbound (towards Main Street). Eastbound traffic will be detoured to use Main Street to Apple Street to Brown Street.
Wyoming Street is expected to re-open to two-way traffic by the end of August.
The project will include complete replacement of the pavement, installation of new street lighting and medians within the roadway.
The City of Dayton will be erecting external direction signage that will assist drivers navigating Wyoming Street how best to enter the hospital. This project will take approximately three months to complete, however delays can occur due to inclement weather and other unforeseen issues.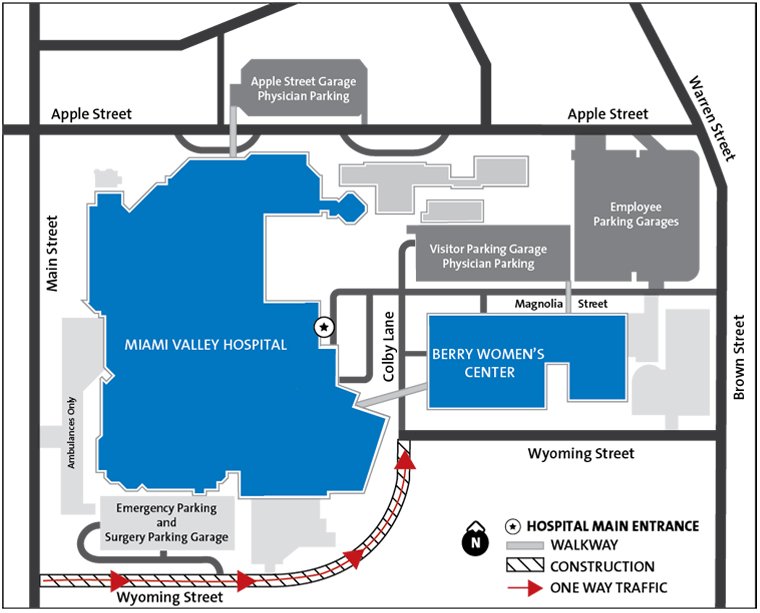 CareFlight App for Emergency Responders
Now first responders at the scenes of emergencies can electronically request a helicopter for patient transport and track the flight to the scene in real time with CareFlight's new app. The app allows dispatchers and personnel from fire, Emergency Medical Services, and law enforcement agencies can communicate through a secure chat function with the CareFlight communications specialist to expedite deployment of the flight.
The app helps lessen the need for ongoing radio traffic and/or telephone calls to request a helicopter or check on its location. The device sends a GPS location of the emergency/accident directly to the CareFlight Communications Center, allowing the requester to track the helicopter's flight.
For more information, contact:
Mandy Via
CareFlight Air and Mobile Services Outreach Manager
(937) 208-4399(937) 208-4399
[email protected]
CareFlight Adds Fourth Base of Operations in Darke County
CareFlight Air and Mobile Services is expanding to include a fourth base of operations in Versailles, in northeast Darke County. The helicopter, to be housed at the Darke County Airport, will serve as CareFlight's northwest base in the region and will begin responding to emergency calls from that site as early as late February, 2020. Once the program's expansion is complete, CareFlight will have four bases of operation – at Miami Valley Hospital, Lebanon-Warren County Airport, Urbana-Grimes Airport, and the Darke County Airport next to Midmark Corp. Learn more.