River's Story: Rare Condition Leads to Lifestyle Change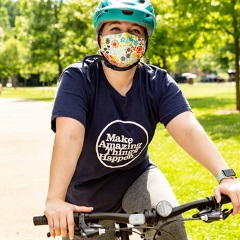 River Wilson enjoyed packing up and exploring the twists and turns of the road. Weekly, she would ride her bicycle across the Miami Valley. As a young college student, she felt nothing could slow her down.
In 2006, River faced symptoms that would ultimately lead to one of the biggest speedbumps of her life. She began feeling discomfort in her abdomen that prevented her from appreciating her favorite hobbies.
"I would wake up and would not be able to speak or breathe," recalls River. "As the years went on, it was every morning. I would wake up and roll over on my left side and felt like I was going to die."
Excruciating pain in River's lower left side began to rob her of mobility and the activities she enjoyed. Even standing after sitting for a few hours was difficult. She would experience lower back pain that made it difficult to walk.
"Years went by and my pain continued to get worse," says River. "I went to nearly a dozen doctors and they thought it was either endometriosis or an ovarian cyst. It seemed like I would never find relief."
By the time River was 31, she was unable to walk without limping due to chronic pain.
"I remember walking through a conference center with my husband in fall 2018 and he looked at me and told me I was limping," remembers River. "I knew something wasn't right for someone my age to be having these types of problems."
After struggling with chronic pain for nearly 13 years, River was referred by a friend to Aaron Block, MD, at Franklin Family Practice. Dr. Block also sees patients at Springboro Family Medicine.
"The more River continued to explain her symptoms, it reminded me of a situation I encountered with an acupuncturist while I was in medical school in Florida," explains Dr. Block. "It sounded like she had a rare muscular condition called Psoas Syndrome."
Psoas Syndrome happens when the psoas muscle, the long, thin muscle in the back, is injured. The muscle can cause abdominal discomfort as well as pain from the lower back down to the leg. Psoas Syndrome is most commonly seen in athletes and is a result of overuse or trauma.
"I started to evaluate her abdomen," explained Dr. Block. "With psoas, you have to physically push your hand through the intestines and close to the side of the spine. When I was able to find her psoas muscle, I was able to recreate the pain she was suffering and apply pressure. Holding prolonged pressure to a muscle is a technique to release it from a spasm."
River says she felt instant relief.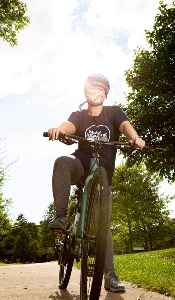 "I remember Dr. Block left the room and I bent over to put on my shoes," she says. "I hadn't been able to tie my left shoe, normally, in probably five years. I started to cry in the exam room. I couldn't believe he had done something so simple to fix my pain."
That simple fix has given River a new outlook on life. A year after her visit to Dr. Block, River can move freely and live pain free. She has lost more than 50 pounds and has returned to riding her bicycle 20 to 30 miles a week.
"It's been so flattering and energizing to see that something I got done in 10 minutes has impacted my patient so much and given them their quality of life back," says Dr. Block. "River took this opportunity and went with it. No one held her accountable to make this lifestyle change. It has totally transformed her as a person. I think that example can go a long way for other people who think that lifestyle changes are not going to make a difference for them."
"Nov. 29, 2018 is a date I'll never forget, because I have not hurt since that appointment with Dr. Block," says River. "When I first went to Dr. Block, I was overweight, I had high cholesterol, and my triglycerides were frighteningly high. With his help, I was able to solve all of these problems. This made me want to take care of myself - just out of gratitude that I was no longer dealing with chronic pain. I changed my eating habits and started to move more. I felt so much better – right away."