Bing's Story: Back To The Community He Loves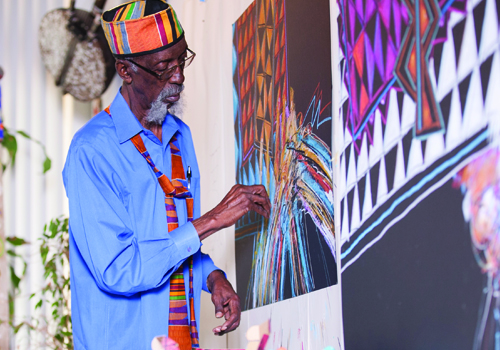 Willis "Bing" Davis is back to doing the work he loves — which also happens to be the work for which his community loves him — thanks to surgeon Jose R. Rodriguez, MD, FACS, with Cardiothoracic Surgery Associates.
A renowned artist and art educator, Bing Davis is a Dayton institution who has attained an international reputation for his creative work in various media, including ceramics, painting, drawing, photography and sculpture. His teaching career includes 20 years at Central State University in Wilberforce, Ohio, and stints at DePauw and Miami Universities. In "retirement," Bing, now in his 80s, works through the Bing Davis Art Studio and EbonNia Gallery in Dayton, where he is deeply involved in community-based projects, arts camps, and working with community artists.
Bing was going strong when, in late 2017, his primary care physician recommended a biopsy of a spot on Bing's lung. "He'd been watching that spot for a while," Bing says, "and it had grown to the point that he wanted to have it checked out." His primary care doctor referred Bing to pulmonary specialist Murthy Gollamudi, MD, of Pulmonary and Critical Care Consultants, Inc.
"Dr. Gollamudi did the biopsy and discovered that it was cancer," Bing says. "They said I needed to have it removed." Dr. Rodriguez was the surgeon recommended for the procedure.
Dr. Rodriguez recommended robotic surgery to remove the cancerous spot. In robotic surgery, Dr. Rodriguez guides the robot's movement from a control console, enabling him to access vital organs through very small incisions. Robotic surgery gives the surgeon a better 3-D view and range of motion while working through small incisions. Bing's surgery was performed by Dr. Rodriguez in mid-November 2017.
"The robotic surgery makes for a shorter stay in the hospital, and, hopefully, a quicker recovery," Bing says. "Even though I was 80, I was in good condition, and after the surgery I was able to leave the hospital after just one day." He's grateful for the exceptional service he received from Dr. Rodriguez and his team, praising his surgeon's skills and "humane concern" for his patients.
Bing is currently in a year-long post-surgery therapeutic program under the care of oncologist Satheesh K. Kathula, MD, of Dayton Physicians.
"I was eligible to take part in a special clinical trial that would be easier for me than going through chemotherapy," Bing says. "Every two weeks I receive an infusion at the Comprehensive Cancer Center at Miami Valley Hospital South.
Bing says the doctors and other health care professionals involved in his care were "outstanding." He particularly appreciated the careful preparation and information he was given prior to the surgery to help guide his own decision-making. "The comfort level going in was really good," he says. "They gave me and my family as much information as possible, which is important when you're getting ready to experience something so serious. They gave us the information we needed in language that we could understand."
Bing has returned to work at the studio and gallery, though with a shortened schedule as he focuses on his recovery. "I work at it a few hours a day," he says. "I'm slowly building my energy back up. I'm learning new ways to do the things I want to do and giving my body time to heal."
Dayton, and the arts community, are happy to have him back on the job.