Print this recipe
Three Cheese Chicken Tetrazzini With Spaghetti Squash
Servings:

6

Calories:

372

kcal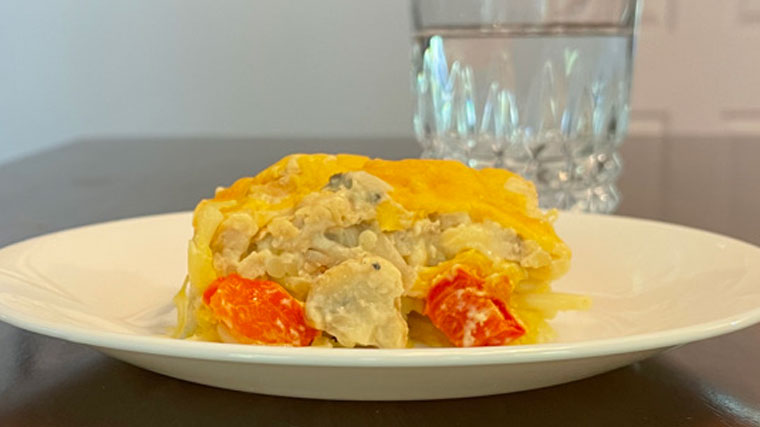 Bring the fall flavor of spaghetti squash to your table with this casserole. Try the recipe now!
Ingredients
1 small spaghetti squash (approximately 2 cups cooked)
6 ounces spaghetti, dry pasta
1 tablespoon olive oil
2 tablespoons onion, chopped
2 cloves garlic, minced (or 1/4 teaspoon garlic powder)
1 small can mushrooms (drained) and/or 1/2 chopped green and/or red pepper, if desired
1 10.5-ounce can low fat cream of mushroom soup
4 ounces low fat cream cheese
2 tablespoons milk
1/2 teaspoon Mrs. Dash
2 cups chopped, cooked chicken breast
2 cups shredded cheddar cheese (or 5 slices American cheese)
1/4 cup parmesan cheese
Instructions
Cut top and bottom off spaghetti squash. Cut in half from top to bottom. Scoop out and discard seeds. Put 1 inch water in 9x13" baking pan. Place squash in pan, cut side down. Bake at 350 degrees for 1 hour or until fork pierces skin of squash and is soft. Drain water and flake squash with a fork to separate out into spaghetti-like consistency. Place squash into baking pan and discard skin.
Boil water in saucepan and add spaghetti broken into quarters (approximately 2- to 3-inch pieces). Cook until al dente (cooked but firm,) approximately 5 to 7 minutes. Drain and add to spaghetti squash.
Heat oil in skillet on medium high. Add onion, mushrooms, and peppers as desired and cook until tender. Add garlic during last 2 minutes of cooking. Stir in condensed soup, cream cheese, parmesan cheese, milk, Mrs. Dash (or preferred seasoning without salt), and half of cheddar cheese. Add in chopped chicken, stir.
Using a fork, stir sauce/chicken mixture into spaghetti and spread into 9x13" pan. Top with remaining cheese.
Bake at 350 degrees F for approximately 25 minutes, until heated through. Karyn Catrine, MS, RDN, LD
MS, RDN, LD