Print this recipe
One Pot Creamy Tuna and Shells
Total time:

28 minutes

Prep time:

15 minutes

Cook time:

13 minutes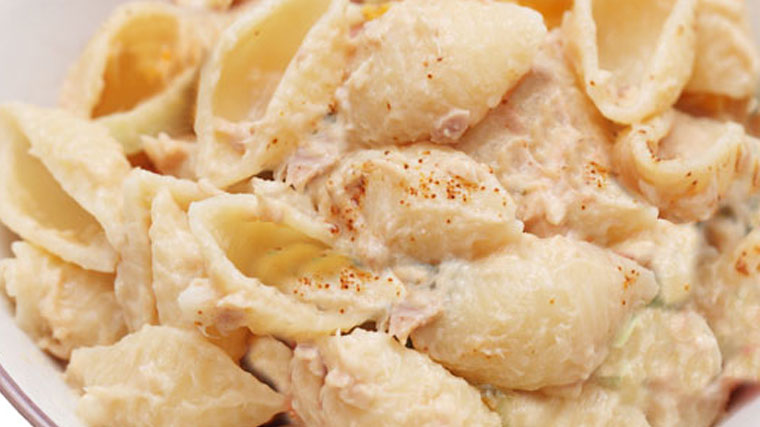 Your tastebuds will never know that this satisfying, one-pot dish is easy on your budget, too. Try the recipe now!
Ingredients
1 teaspoon oil
1 medium shallot (or 1/4 cup finely chopped white or yellow onion)
2 garlic cloves, finely minced or 1 teaspoon garlic powder
1 cup milk
2 cups water
2 1/4 cups low-sodium chicken broth
16 ounces small pasta shells
1 teaspoon salt
1/2 teaspoon pepper
2 tablespoons milk or heavy cream
1 tablespoon Dijon mustard
1 tablespoon fresh lemon juice
2 5-ounce cans white albacore tuna, drained
Salt and pepper to taste
Fresh parsley, chopped
Lemon wedges, for serving
Instructions
In a 4- or 5-quart pot, heat the oil over medium heat and sauté the shallot (or onion) and garlic for 2 to 3 minutes.
Stir in the milk, water, broth, shells, salt, and pepper. Bring to a simmer, and cook, uncovered, stirring often (at a simmer, not a rigorous boil) until the pasta is al dente, according to package directions. (The pasta will continue to cook a bit over the next few minutes so don't overcook it in this step.) Each brand of pasta will differ slightly; depending on the brand, you may need to add a bit more liquid toward the end of cooking time but do so gradually so it isn't too soupy. There should be a bit of liquid left even after the shells are just tender. They'll continue to soften up and the liquid will be absorbed as other ingredients are stirred in and as it rests.
Stir in the milk or heavy cream, mustard, and lemon juice. Add the tuna and mix gently until combined. Stir in additional salt and pepper to taste, if needed. Let the pasta rest for 5 to 10 minutes. It will thicken up and get nice and creamy.
Sprinkle with parsley and serve with extra lemon wedges. It is delicious with lemon juice drizzled over the top of individual servings.
Serving size is 1/2 to 1 cup.