Print this recipe
Healthy Buckeyes
Servings:

20

Calories:

185

kcal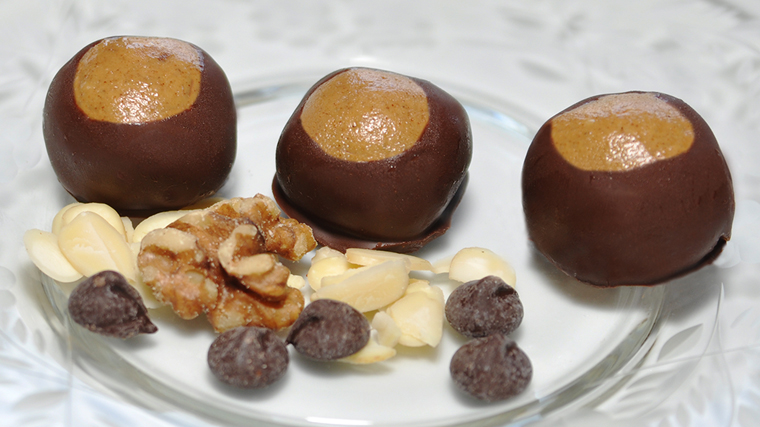 Every Ohioan loves a good buckeye — even better when you choose a healthy version. Try the recipe now!
Ingredients
1 cup creamy peanut butter
1/4 cup unsalted almonds
1/4 cup walnuts
1 teaspoon vanilla
2 scoops vanilla protein powder
2 tablespoons agave nectar or honey
1 cup dark chocolate chips
1 tablespoon coconut oil
Instructions
Combine peanut butter, almonds, walnuts, vanilla, protein powder, and agave or honey in a food processor. Blend until the texture is like cookie dough.
Next, line a baking sheet with parchment paper. Using a 1-tablespoon cookie dough scooper, scoop dough into your hand. Roll into a ball and place on paper. Repeat.
Place baking sheet in freezer for about 30 minutes, or long enough for the balls to settle and firm up a bit.
While your balls are chilling, place 1 cup chocolate chips in a small bowl. You want it to be big enough to fit the chocolate chips, but small enough so that you can dip the balls. Microwave for about 60 seconds. Then, add in coconut oil and mix.
Once your balls have firmed up, place a ball on the end of a fork. Dip ball into chocolate, leaving a ring at the tip. Hold your fork with your left hand and use your right hand to tap your wrist, so that any extra chocolate drips off. Finally, use a toothpick to slide the ball off the fork onto your drying rack. Repeat. Leslie Deaton, RDN, LD