Print this recipe
Hawaiian Chicken Skewers
Servings:

4

Calories:

488

kcal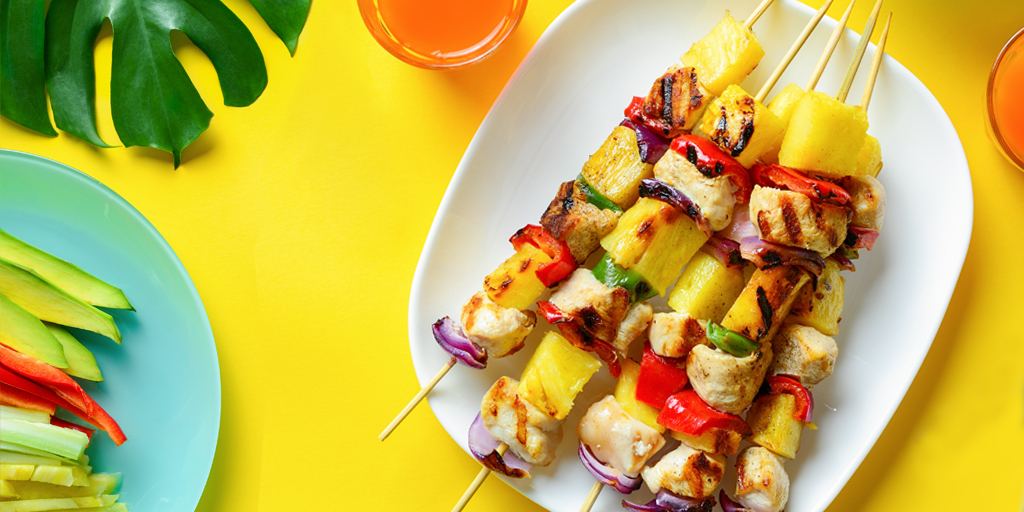 Bring the flavor of the islands to your grill and your table with this healthy dish. Try the recipe now!
Ingredients
Marinade:
1/4 cup reduced-sodium soy sauce (can substitute gluten-free Tamari)
1/4 cup ketchup
1/2 cup canned pineapple juice
2 teaspoons minced and peeled ginger (can substitute 2 teaspoons ginger paste or 1/4 teaspoon ginger powder)
2 minced garlic cloves (can substitute 2 teaspoons minced garlic or 1/2 teaspoon garlic powder)
1/2 teaspoon black pepper
Other ingredients:
2 tablespoons olive oil
Salt, pepper to taste
For skewers:
1 pound boneless, skinless chicken breast
2 bell peppers, any color
2 medium or 1 large red or white onion
Pineapple chunks, canned (Do not use fresh pineapple! It contains the enzyme bromelain, which can make chicken mushy.)
Metal or wood skewers

If using wood skewers, make sure to soak them in water for at least 30 minutes prior to using them. If not properly soaked, they can catch fire!
Instructions
In a mixing bowl, whisk together the marinade ingredients.
Set aside 1/2 cup of marinade. (This will be used to pour over skewers.) Add the remaining marinade mixture to a resealable, one-gallon size, zip-top bag.

Store in the refrigerator while chicken is marinating.

Cut chicken evenly to ensure even cooking. Half-inch pieces work well for maintaining juiciness.
Place chicken chunks into marinade bag, seal, and place in refrigerator for 1 to 4 hours.
Preheat your grill over medium-high heat, around 400°F.

Staying inside? No problem! See oven directions below.

Cut the peppers and onions into roughly one-inch pieces.
In a bowl, toss veggies in 2 tablespoons olive oil, then season with salt and pepper to taste.

For a heart-healthier option, skip the salt and season with black pepper, garlic powder, and red pepper flakes.

Thread your peppers, onions, pineapple, and chicken chunks onto skewers.

You can either alternate ingredients or make separate skewers for each ingredient. Creating separate skewers allows custom cooking times for each ingredient.

Oil the grill grates prior to cooking to prevent sticking.
Place skewers on grill for about 5 minutes.
Brush 1/4 cup remaining marinade onto one side of skewers. Rotate skewers, then brush the other 1/4 cup onto the other side.
Grill for another 4 to 5 minutes, or until the chicken is cooked to 165°F (75°C) at the thickest part.
OVEN DIRECTIONS

Line a sheet baking pan with foil, then lightly spray with non-stick cooking spray.
Place the assembled skewers in a single layer on pan, brush with 1/2 of reserved marinade, and place in the oven to broil.
Turn skewers every 5 minutes until cooked through, basting with remaining marinade for a total of about 10 to 15 minutes total cooking time.

Serve on a bed of brown rice. Katie Ochs
Dietetic Intern