Print this recipe
Grilled Chicken Kabobs
Total time:

1 hour, 30 minutes

Prep time:

1 hour, 20 minutes

Cook time:

10 minutes
Servings:

4

Calories:

278

kcal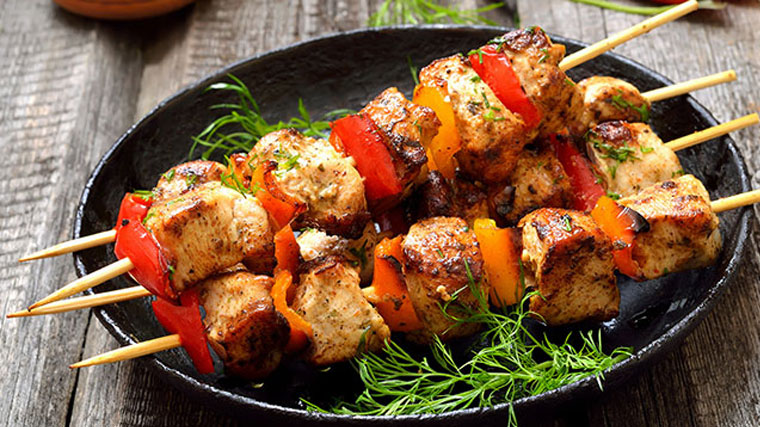 This healthy chicken and vegetable dish is great for the grill or the broiler. Try the recipe now!
Ingredients
1 pound boneless, skinless chicken breasts cut into 1-inch pieces
1/4 cup olive oil
1/3 cup soy sauce
1/4 cup honey
1 teaspoon minced garlic
Salt and pepper to taste
1 red bell pepper cut into 1-inch pieces
1 yellow bell pepper cut into 1-inch pieces
2 small zucchini cut into 1-inch slices
1 red onion cut into 1-inch pieces
1 tablespoon chopped parsley
Instructions
Place the olive oil, soy sauce, honey, garlic, salt, and pepper in a large bowl.
Whisk to combine.
Add the chicken, bell peppers, zucchini, and red onion to the bowl. Toss to coat in the marinade.
Cover and marinate in refrigerator for at least 1 hour. You may leave refrigerated up to 8 hours.
Soak wooden skewers in cold water for at least 30 minutes. Preheat grill or grill pan to medium high heat.
Thread the chicken and vegetables onto the skewers.
Cook for 5 to 7 minutes on each side or until chicken is cooked through.
Sprinkle with parsley and serve.
Notes
Broiler instructions: Preheat the broiler. Coat a sheet pan with cooking spray. Place the skewers in a single layer on the sheet pan. Broil for 5 minutes, then flip the skewers and broil on the other side for 5 more minutes.