Your Allies in Battling Depression
Find Your Perfect Match
Answer a few questions and we'll provide you with a list of primary care providers that best fit your needs.
If you're feeling symptoms of depression — such as loss of interest in life, ongoing sadness and fatigue, isolation or anger — one of the most important things you can do for yourself is to reach out for help. Even the most severe cases of depression can be treated, and the earlier treatment begins, the more effective it is.
Relief from your symptoms can begin when you reach out to a trusted physician, church figure or support person. All of these can help you get to the expert you may need to return you to normal functioning and a happy life.
Who Can Help?
"A lot of people start by seeing their family practitioner," says Beth Esposito, MS, LPCC-S, LSW, chief of Clinical Operations with Samaritan Behavioral Health in Dayton, Ohio. "Your primary doctor may refer you on to a counselor for therapy or to a psychiatrist for medication management."
Even the most severe cases of depression can be treated, and the earlier treatment begins, the more effective it is.
A range of medical providers and mental health experts are trained to help you through depression. Look for someone licensed by the state to provide mental health services. Consider costs, which will vary depending on your insurance plan and whether the services are through a community-based program or private practice.
The following mental health experts have special skills to assist you in overcoming depression and restoring your well-being and interest in life:
Psychologist — has a master's degree in psychology or a doctoral degree in clinical, educational, counseling or research psychology. A psychologist is trained to diagnose and treat emotional and behavioral problems and provide psychotherapy and behavior modification (techniques to change negative habits or thinking patterns). Psychologists typically see patients with commercial insurance or those who pay their own fees.
Licensed social worker — has a bachelor's, master's or doctoral degree and is licensed to practice social work. Social workers can assess depression and do talk therapy. They also have training in connecting their patients/clients with a network of resources in the community. Social workers and therapists (see below) can be seen in both private practices and community health settings. Check with your insurance to learn about your options.
Licensed professional counselor or therapist — has a master's degree in psychology, counseling or a similar discipline and has postgraduate experience. Counselors may provide services that include diagnosis and talk therapy. Therapists and social workers both have training to do talk therapy, but they acquire their skills through different academic programs.
Psychiatrist — A medical doctor with specialized training in psychiatry. You will generally be referred to a psychiatrist after assessment and initial treatment by a counselor or social worker. Although psychiatrists can provide psychotherapy (talk therapy), they generally focus on managing the chemical imbalances of your depression by prescribing and monitoring medications to improve your mood and outlook.
Psychiatric nurse practitioner — is a specially trained nurse with a master's or doctoral degree. Generally working in collaboration with a psychiatrist, a psychiatric nurse practitioner makes an assessment and focuses on prescribing and monitoring medication for symptoms of depression. Typically, a counselor, social worker or psychologist performs an initial evaluation and some therapy before referring you to a psychiatric nurse practitioner.
Pastoral counselors through your place of worship also can be valuable resources if you do not have the financial means to pay a counselor.
How Do I Get Started?
Once you know the type of professional you want to visit, there are options for finding a name or practice: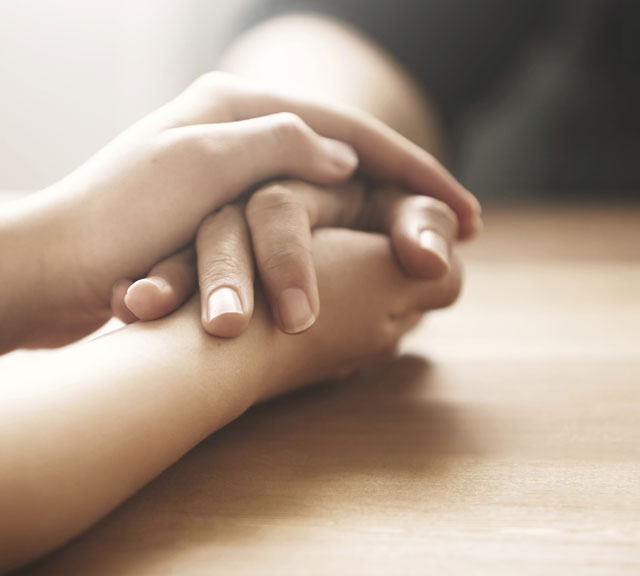 Ask your employer's employee assistance program (EAP), which is a work-based program that offers free and confidential assessments, short-term counseling, referrals, and follow-up services to employees who have personal and/or work-related problems
Call your health insurance carrier, both for names and benefits
Check online or in your telephone directory for mental health providers or a community mental health center, which may have more affordable services if you are paying out of pocket
Find a live help line or referral source. For example, Samaritan CrisisCare at (937) 224-4646 has someone answering the phone 24/7/365 to provide information and referral to counseling resources in southwest Ohio and beyond. During regular business hours, Samaritan's Access to Care, (937) 734-4310 or (937) 734-4311, also connects you to resources for depression in southwest Ohio.
"Help really is a phone call away," Esposito says. "As counselors, we are here to help alleviate and determine the cause of your depression and treat it. We track your progress and have restored many people to happiness and normal function in life."
Make an Appointment
Before making an appointment, call to talk with an office manager or care coordinator at the practice or health center you are considering. Ask about the counselor or doctor, how that person approaches working with patients, the person's philosophy regarding treatment for depression, and whether or not the practitioner specializes in treating depression.
If you feel comfortable with what you've learned, schedule an appointment.
On your first visit, the counselor or doctor will want to get to know you. The counselor may ask about your life, what you do, where you live, with whom you live and your perception of your depression. He or she may also ask about your family and friends. This information helps the provider assess your situation and determine if you have depression. If you do, the counselor will develop a plan for treatment.
If you don't feel comfortable with the professional after the first or even several visits, talk about your feelings at your next meeting. Don't be afraid to contact another counselor. Feeling comfortable with the professional you choose is very important to the success of your treatment.
Find Your Perfect Match
Answer a few questions and we'll provide you with a list of primary care providers that best fit your needs.
Source: Beth Esposito, MS, LPCC-S, LSW, Chief of Clinical Operations, Samaritan Behavioral Health; Mental Health America; US Office of Personnel Management