Your Aching Big Toe! What To Do For Gout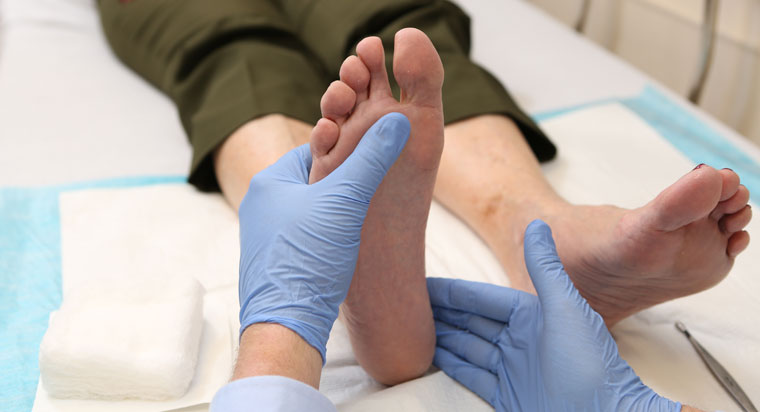 Find Your Perfect Match
Answer a few questions and we'll provide you with a list of primary care providers that best fit your needs.
If you have gout, you're all too familiar with the sudden, burning joint pain that a gout attack can bring on – most commonly in the big toe.
Gout — a type of arthritis — is caused by too much uric acid in the blood. Usually, having an excess of uric acid isn't harmful. In fact, many people with high levels in their blood never get gout. But when uric acid levels in your blood are too high, the uric acid may form hard crystals in your joints.
Who Is At Risk For Gout?
Anyone can be affected by gout.
Gout is most common in middle-aged men, especially those with a family history of the disease. Women can get gout, too, most often after menopause.
Your chances of developing gout are higher if you:
Are overweight
Drink too much alcohol, especially beer
Eat a diet rich in meat and fish, which can be high in chemicals called purines
Take certain medicines, like water pills (diuretics), that can trigger an attack
Recent research also indicates that genetics may play a big role in determining who gets gout. Ask your doctor if you have questions about your risk for developing this condition.
What Are Symptoms Of Gout?
Chances are you won't even know you have gout until you've experienced your first painful attack, often at night. Symptoms may not develop for years, but these often include:
Arthritis that develops quickly, resulting in a swollen, red, and warm joint with limited movement
An arthritis attack in only one joint — often the big toe, as well as a foot, ankle, or knee
Bright red or purplish skin around the affected joint
More than one attack of acute arthritis
How Is Gout Diagnosed?
Your health care provider will get your complete medical history and do a physical exam. She may run these exams and tests to diagnose gout:
A joint fluid analysis to see if uric acid crystals are present. This is the only certain way to diagnose gout.
Tests to measure uric acid levels in blood and urine
X-rays, ultrasounds, or CT scans
There are many conditions with symptoms similar to gout. Be sure to see your doctor for a diagnosis.
How Is Gout Treated?
When you have a gout attack, pain relief is your first goal. It's important to call your doctor even if the pain has stopped. The uric acid buildup that triggered your gout attack may still be irritating your joints and could eventually cause serious damage, like joint destruction and kidney damage.
Your doctor may:
Give you a shot of corticosteroids to ease discomfort quickly
Prescribe a long-term medication that can prevent and even reverse uric acid buildup
Recommend lifestyle changes or alternative treatments
There's a lot you can do on your own to ease symptoms:
Rest the affected joint until the attack passes and for 24 hours after the attack.
Elevate painful joints.
Use ice to reduce swelling.
Relieve inflammation with NSAIDS (nonsteroidal anti-inflammatory drugs). Avoid aspirin, which can worsen symptoms.
Limit alcohol, especially beer and hard liquor.
Cut back on meat and seafood, which can raise uric acid levels.
Follow a moderate exercise program.
Control your weight. Being overweight increases your risk for gout.
Common Myths About Gout
Drinking too much alcohol and eating too much rich food were once considered the prime suspects in causing gout. Although eating certain foods and drinking alcohol may cause uric acid levels to spike, these habits alone may not cause gout.
A recent study indicates that our DNA is a key factor in gout flare-ups. Researchers found that diet was less important than genetics in determining whether or not patients would develop high levels of uric acid.
If you suspect you have gout, make an appointment with your doctor to be tested and learn how to prevent or reduce future gout attacks.
Find Your Perfect Match
Answer a few questions and we'll provide you with a list of primary care providers that best fit your needs.
Sources: University of Michigan School of Medicine; Gout, Healthwise, 12/8/2019; Diet and Gout, Healthwise, 12/8/2019; HealthDay