Winterize Your Baby's Skin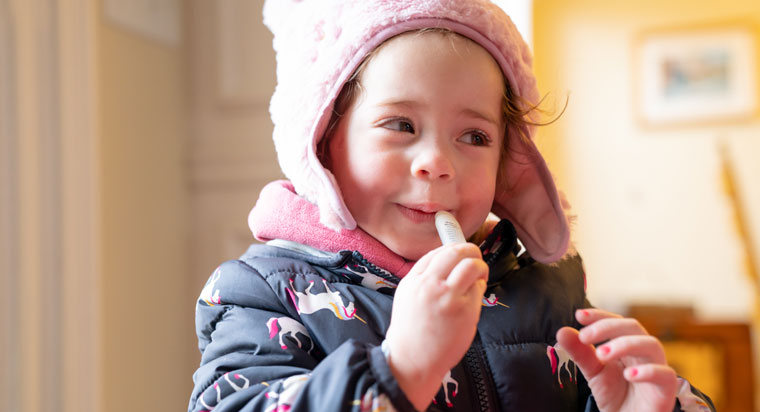 Find Your Perfect Match
Answer a few questions and we'll provide you with a list of primary care providers that best fit your needs.
Your baby or toddler certainly looks cute, all bundled up for winter. But cold, dry air can stress his tender skin, as little ones lose body heat much faster than adults, making them more prone to skin conditions in the colder months.
With simple changes, you can prevent dry skin and chapped lips and cheeks, while keeping your little one comfortably warm and protected from the elements.
How To Prevent And Care For Dry Skin
Your child may be prone to dry skin or just experience it at certain times. Dry skin can look flaky and tight. Usually, it's no big deal. To prevent dry skin and protect skin when it does dry out, you can:
Dress your baby in warm layers, including mittens and a hat
Moisturize more often
Run a humidifier during naps and at night
If your baby or toddler has eczema, continue her normal skin care routine:
Bathe your child in warm water as often as your doctor recommends
Apply medicine as directed
Apply moisturizer, within three minutes of bathing, to skin not treated with eczema medicine
Dress In Layers To Prevent Heat Rash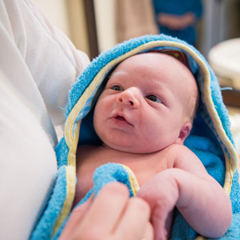 Heat rash can happen any time of year, so don't dress your baby too warmly. The rule of thumb: dress her in one more layer than you would wear in the same conditions.
Use breathable layers
Dress your baby in thin, snug layers for the car seat, not a bulky coat
Remove a layer as needed if baby gets too warm
Moisturize More Often
Apply moisturizer before going outside or right after a bath, says the American Academy of Dermatology.
After a bath, pat your baby's skin dry and massage baby lotion over slightly damp skin to lock in moisture.
Moisturize more frequently in winter:
After every bath, shower, and hand washing
Before bed
Whenever baby's skin is dry
Avoid Chapped Lips And Cheeks
Cold air, warm dry air, wind, and sun can cause chapped lips and cheeks. To prevent this, coat your baby or toddler's skin with a thin layer of petroleum jelly or fragrance-free, hypoallergenic lip balm. This creates a barrier of protection.
To prevent raw skin from a runny nose, apply a layer of petroleum jelly or a thick baby lotion like Eucerin or Aquaphor as needed under the nose.
Use Sunscreen
Your baby or toddler still needs sunscreen in the winter months. Snow reflects up to 85 percent of the sun's harmful rays and can cause a skin burn.
Make sunscreen a regular part of your child's winter skin care regimen. Apply a broad-spectrum sunscreen with at least 15 SPF, 15 to 30 minutes before you go outside.
Watch Out For Frostnip And Frostbite
Frostnip and frostbite occur when skin exposed to cold temperatures quickly loses body heat and becomes damaged. Skin affected by frostbite looks white or pale gray and is very cold to the touch.
To prevent these conditions, be sure to cover your baby's fingers and toes with mittens, socks, shoes, and blankets. If your child is in a car seat or stroller, add an extra blanket to help keep her warm. Dressing your child in layers is better than using one bulky coat.
If your toddler plays outside in the snow and cold, bring her inside to warm up every 20 to 30 minutes. Babies should be out in the cold for a only few minutes at a time.
If you notice signs of frostnip or frostbite:
Put your baby next to your skin for warmth
Seek medical care right away
If you can't get to an emergency room or a doctor's office right away:
Go inside and gently warm your baby
Soak the affected area of skin in warm (not hot) water
Apply a warm, wet washcloth to the area until color returns to the skin
8 Tips To Care For Baby's Skin In Winter Months
Keep baths short and warm. Too much time in the tub can dry out skin.
Use fragrance- and soap-free cleansers that won't irritate skin. Use small amounts and gently wash.
After a bath or washing, pat dry with a towel. Don't rub.
Keep baby or toddler hydrated. Make sure your child is drinking enough liquids and eating a diet that incudes healthy fats from foods like avocado and salmon.
Moisturize often with lotions that are fragrance-free and contain oil. For dry skin, use an ointment.
Apply moisturizer to damp skin after every bath and hand washing.
Keep the temperature in your house comfortable, and not too hot. You want your home to be cool enough at night for bundling up for bed.
Use skin-sensitive laundry soap.
Find Your Perfect Match
Answer a few questions and we'll provide you with a list of primary care providers that best fit your needs.
American Academy of Pediatrics; American Academy of Dermatologists; What to Expect; Very Well Family