Try Yoga for a Healthier You
Find Your Perfect Match
Answer a few questions and we'll provide you with a list of primary care providers that best fit your needs.
Right now, close your eyes. Take a deep breath. Slow your breathing. Do you feel calmer? If this simple, mindful exercise of body awareness and breathing can make you feel better, just think of what yoga could do.
Yoga is a practice that unites the mind and body through a series of stretches and poses performed using breathing techniques.
Since yoga is gentle, almost anyone can do it, regardless of age or fitness level. Pose modifications allow you to work at your own fitness level.
Stretch Toward These Yoga Benefits
It's well known that yoga can improve your overall well-being. In addition, research continues to reveal yoga's many health benefits.
Physical Benefits
Increased strength, flexibility and resistance to injury
Improved balance and stability
Improvement of myriad health issues, such as high blood pressure
Improved performance of daily activities, such as carrying groceries or working in your garden
Prevention or reduction of low back pain
Increased energy and vitality
Improved athletic performance
Better cardio and circulatory health
Mental Benefits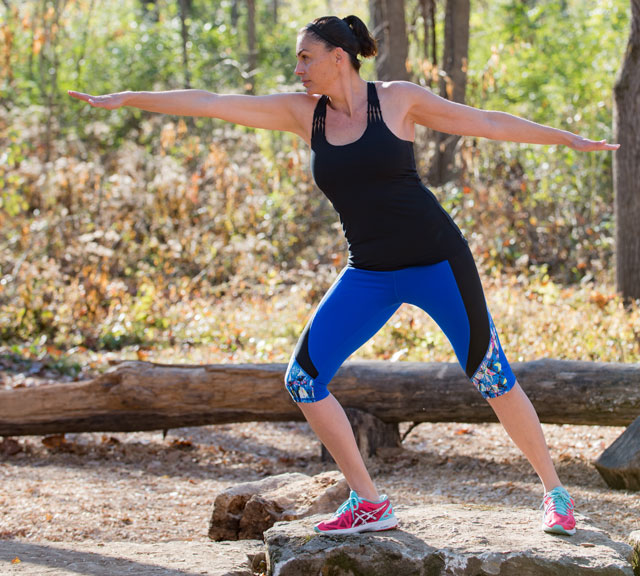 Increased focus, mental clarity and calmness
Stronger self-reliance and self-esteem
Reduced stress and anxiety
Better body awareness
The deeper you go into your yoga practice, the greater the mental and spiritual benefits you may experience.
Before You Downward Dog
It's important to find the right yoga style and instructor for you. These tips may help land you in the right class while also keeping you safe.
Talk with your health care provider before beginning yoga or any type of exercise. Some yoga poses should be avoided for certain medical conditions.
Ask a trusted source (such as your health care provider or a nearby hospital) to recommend a yoga practitioner.
Do not use yoga to replace conventional medical care or to postpone seeing a health care provider.
Research the training and experience of any yoga practitioner you're considering. Training programs vary from a few days to more than two years.
Ask about the physical demands of the type of yoga you're considering.
Tell your instructor about any health issues you have, including injuries or physical problems.
What Type of Yoga is for You?
More than 100 types and styles of yoga inhabit the planet. Some are intense and vigorous. Others are relaxing and meditative. Most yoga styles typically include breathing exercises, meditation and poses that target various muscle groups. The focus is on both the moment and the movement.
Try one of these more popular styles:
Anusara is a newer style of yoga that can be more rigorous for the body and the mind. It focuses on the physical practice of yoga to help you open your heart, experience grace and let your inner goodness shine through.
Ashtanga is a rigorous style of yoga that follows a specific sequence of poses and is similar to vinyasa yoga since it links every movement to a breath. However, unlike vinyasa, ashtanga always performs the exact same poses in the exact same order.
Bikram classes are held in heated rooms where students sweat their way through a series of 26 poses. Like Ashtanga, Bikram classes follow the same sequence of poses. Hydration is extremely important with this yoga style.
Hatha yoga is a generic term that refers to any type of yoga that teaches physical poses. When a class is marketed as hatha, it generally means you will get a gentle introduction to the most basic yoga poses.
Hot yoga is basically the same thing as Bikram but with a slightly different sequence of poses.
Iyengar yoga is a meticulous style of yoga focused on finding the proper alignment in a pose. Yoga props such as blocks, blankets, straps, chairs and bolsters are commonly used. If you have an injury or chronic condition, Iyengar may be your best choice to ensure you get the knowledgeable instruction you need.
Restorative yoga focuses on rejuvenation and relaxation. Classes use props to get you into passive poses so your body can experience the benefits of a pose without having to exert effort.
Vinyasa classes feature fluid, movement-intensive practices. Students smoothly transition from pose to pose, with the intention of linking breath to movement. The intensity is similar to Ashtanga, but no two vinyasa classes are the same.
Find Your Perfect Match
Answer a few questions and we'll provide you with a list of primary care providers that best fit your needs.
Source: American Osteopathic Association; National Center for Complementary and Integrative Medicine; Gaiam.com