Tech Tools for Better Sleep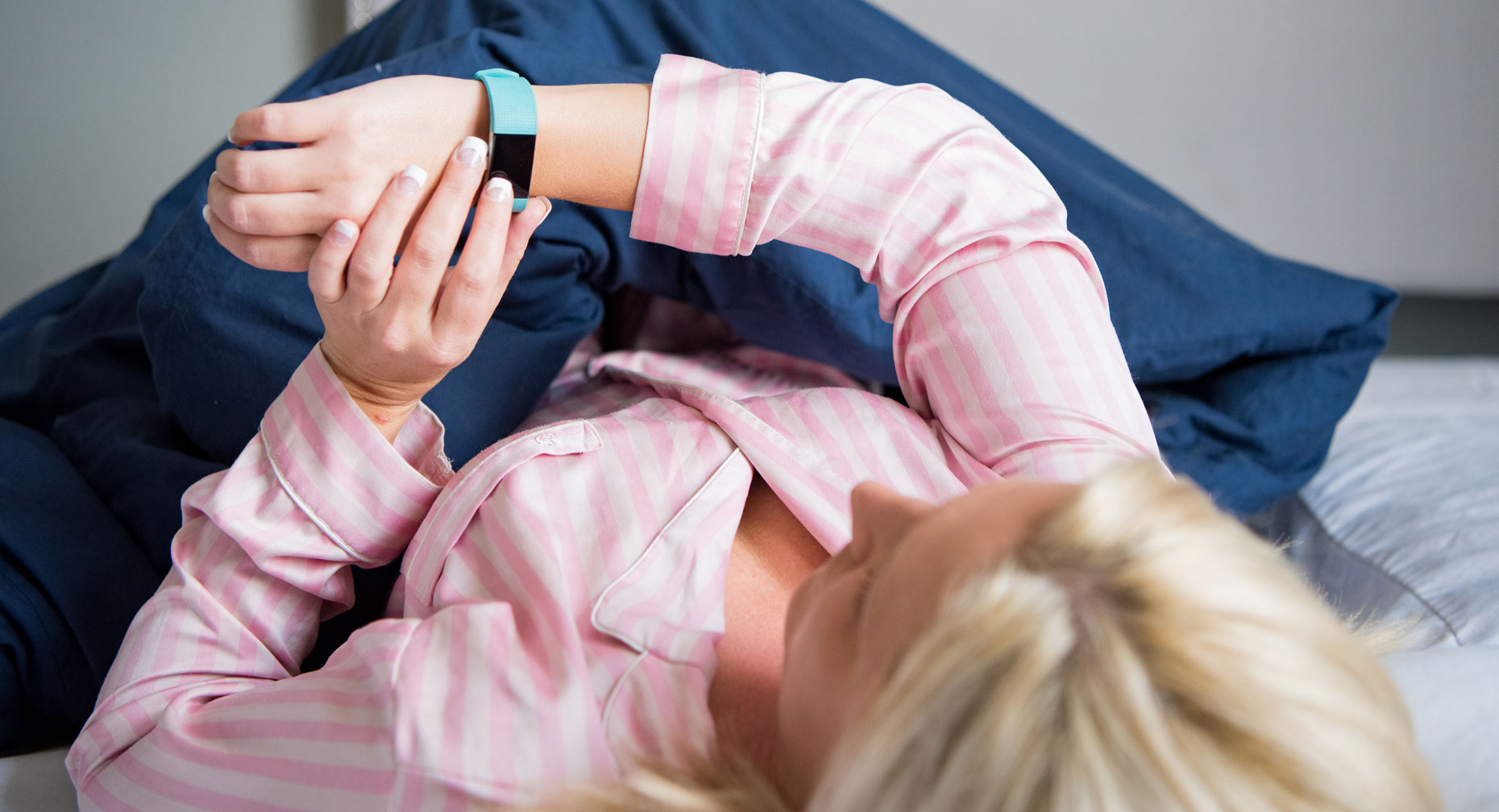 Find Your Perfect Match
Answer a few questions and we'll provide you with a list of primary care providers that best fit your needs.
Our bodies need sleep to keep us physically and mentally healthy. When we sleep, our brain recharges, our cells repair themselves and our body releases hormones that control many important functions.
You know how you feel when you don't get enough sleep – especially if you can't catch enough zzz's several days in a row. You might be irritable, feel groggy, have body aches and generally not feel well.
About 25 percent of us miss out on sleep on occasion, says the Centers for Disease Control and Prevention. Nearly 10 percent of Americans report having chronic insomnia.
The good news is you can now track and monitor your sleep with wearable devices, apps and a smart phone. Just like the popular fitness trackers, these devices collect useable data so you can:
Understand how you sleep
Learn what's preventing you from sleeping
Make adjustments for better sleep
And if you need help falling asleep, there are apps for that, too.
Most adults need about eight hours of sleep each night, says the Better Sleep Council. How much sleep each of us needs varies with age, but experts recommend:
Babies: 16 hours of sleep
Children ages 3 to 12: 10 hours
Teens ages 13 to 18: 10 hours
Adults 19 to 55: 8 hours
Adults over 65: 6 hours
What we know now is that the quality of our sleep matters just as much as how much sleep we get.
That's where technology can help. Inc.com, Lifehacker.com and Healthline.com reviewed many of the sleep apps and trackers on the market. Check out their top picks below.
Be sure to use sleep trackers regularly to get the most accurate data.
Sleep Apps
Sleep Cycle: This iPhone app gathers data while you sleep and then uses that information to wake you up when you'll feel the least groggy. Reviewers say Sleep Cycle provides the most detailed reports. It offers easy-to-read graphs and uses patented sound technology to detect snoring. You can mark conditions for the night and track any behaviors you changed, to see how they impact your sleep. You can set the alarm to wake you to your own music or choose one of 12 soothing melodies. Cost: $1.
Sleep as Android: You can use this app alone or paired with a smart watch. Sleep as Android tracks your sleep and gently wakes you at the best time. Being awakened by an alarm when you are in a deep sleep is jarring and can make you feel more tired. Waking up during a light sleep is more natural — like waking up on your own without an alarm.
You can choose the sound of your alarm, and you can pair the app with a smart light to slowly brighten your room in the morning.
App features include:
Soothing sounds and lullabies to help you get to sleep
Track your sleeping patterns and sleep quality
Record talking in your sleep or track snoring
Compare multiple nights to gain insights into your sleep quality
Cost: 2-week free trial; $3 unlock code, in-app purchases
Sleepbot: This Android app monitors your sleep and lets you track sleep patterns for several nights. Sleepbot notes your movements and sounds such as snoring, breathing problems and talking in your sleep. It includes tips to boost your sleep hygiene and get to sleep faster. It pairs with many Android alarm clocks so you can choose your favorite. You start and stop the app by using a widget that lets you clock in when you go to bed and clock out when you wake up. The Sleepbot web app provides detailed analysis of your sleep patterns. Cost: Free.
Devices That Track Sleep
Jawbone Up: This fitness tracker also collects data on your sleep. The Up will log how many hours you sleep and record overnight activity, such as when you toss and turn and when you are in deep and light sleep. Everything is shared with you in an interactive graph. You can select different phases of the recorded sleep graph to get more detailed reporting. Cost: $130 for a Jawbone Up. The iOs or Android apps are free.
FitBit One: You wear the FitBit One on a wristband while you sleep and it tracks your movements, such as when you get up and when you're tossing and turning in bed. When you wake up in the morning, switch off the sleep mode and sync the device with the website or app. You'll get a report showing how you slept, how often you woke up and when you were active during the night. During the day, the FitBit One tracks your activity, so you can get a complete picture of activity in a 24-hour period. Cost: $100. iOS and Android apps are free.
Insomnia Cures
If you need help quieting your mind or relaxing your body, try one of these apps recommended by Heathline. They are designed to combat insomnia and help you fall asleep.
Deep Sleep with Andrew Johnson: Step-by-step instructions, based on Andrew Johnson's best-selling CDs, guide you into meditation and relaxation. Cost: $2.99.
Relax and Sleep Well by Glenn Harrold: Hypnotist Glenn Harrold narrates hypnotherapy and meditation recordings to help you meditate. Soothing colors of white, purple and blue set the tone. In-app purchases tailor the message for anxiety, stress or insomnia. Cost: Free.
Pzizz: This iPhone app fights insomnia and helps you take power naps during the day. It generates relaxing sounds. Cost: Free.
Nature Sounds Relax and Sleep: This Android app lets you choose from a variety of sounds to help you relax or go to sleep, from waves on the beach to birds to city noises. You can set a timer and even use the sounds as your alarm or ringtone. Cost: Free.
Digipill: This app lets you buy digital pills, which are actually guided meditation sessions. The digipills can reduce stress, help with weight loss or fight insomnia. You can download multiple pills at one, set a reminder and pair it with an Apple Watch. Cost: Free.
Sleep Genius: This app uses neurosensory algorithms to generate sounds that take your brain through the sleep cycle. The app uses data from NASA designed to help astronauts sleep. A gentle alarm wakes you up or ends a relaxation session. Cost: $4.99.
Sleep Well Hypnosis: Relaxing sounds and the voice of a hypnotist lull you into relaxation and sleep. Different sessions are available. Cost: Free.
White Noise: You can create your own version of white noise by mixing and matching different sounds on this Android app. Each sound is paired with an image. Use it to block out noise that keeps you awake. Cost: 99 cents.
Sleep Easily by Shazzie: Shazzie is a well-known sleep author who teamed up with musician Ali Calderwood for this app. This iPhone app guides you through a 26-minute session that relaxes you into meditative sleep. Cost: $4.99.
Sleepo: Choose from a variety of relaxing sounds in this Android app. You can mix and match nature, white noise and instrument sounds. The app runs anywhere because it doesn't need an internet connection. Cost: Free.
Why Sleep Matters
Lack of sleep and insomnia can affect your mood, impact your relationships with others and affect your ability to properly perform certain tasks, like driving a car. More importantly, being sleep deprived can aggravate many health conditions, such as:
High blood pressure
Depression
Anxiety
Diabetes
Obesity
Cardiovascular disease
Chronic pain
By tracking your sleep patterns, along with activity and diet, you can start figuring out how to make changes for better sleep. It takes time to learn which variables affect your sleep. Be sure to use sleep trackers regularly to get the most accurate data.
Find Your Perfect Match
Answer a few questions and we'll provide you with a list of primary care providers that best fit your needs.
Source: Centers for Disease Control and Prevention, Better Sleep Council, Inc.com, Lifehacker.com, Healthline.com