Sweet Relief! How Inhalers Can Help Your Asthma
Is asthma making your life difficult? Right in your purse or briefcase — or sitting on your nightstand — can be relief from its troublesome symptoms.
Asthma inhalers are hand-held portable devices that deliver medication right to your lungs, helping when you're having trouble breathing, are wheezing or coughing, or experiencing tightness in your chest.
There are three basic types of inhalers:
Metered Dose Inhaler (MDI) is the most common inhaler. An MDI is a pressurized canister of medication that fits into a plastic mouthpiece. With most MDIs, medication is released when you push the canister into the boot. An MDI with a "spacer" makes it easier to coordinate your breath with the medication release, but the unit is bigger and less convenient to carry around.
Nebulizers turn asthma medication into a mist that's breathed in through a mouthpiece or a mask worn over the nose and mouth. A nebulizer is generally for people who can't use an inhaler, such as young children or people who are ill.
Dry Powder Inhaler (DPI) delivers medication without using chemical propellants. But it requires a strong and fast inhalation.
Your health care provider will prescribe the use of inhalers to deliver asthma medication in two ways: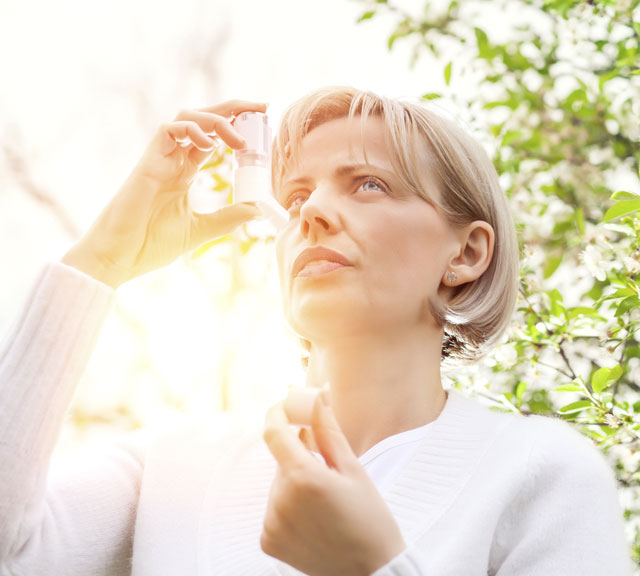 Quick-relief medication — also called "rescue" medication — relaxes the muscles around your airways. Within a few minutes, a quick-relief medication helps ease symptoms such as coughing, wheezing and shortness of breath. Keep your quick-relief inhaler with you at all times to use when you first notice your asthma is getting worse.
Long-term control medication — also called "maintenance" medication — helps reduce swelling and inflammation of the airways. Long-term control medications make your airways less sensitive to triggers and less likely to flare up. Long-term control medications are taken on a schedule. For most people, that's every day, even when you feel fine.
Common Medications for Inhalers
Inhaled corticosteroids, also referred to as topical corticosteroids or glucocorticosteroids, are anti-inflammatory medications that can be used for quick relief or the long term.
Within a few minutes, a quick-relief medication helps ease symptoms such as coughing, wheezing and shortness of breath.
Bronchodilators are non-steroid medications that help open up your airways by relaxing small muscles that tighten them. Some bronchodilators are rapid-acting; some are long-term. These include albuterol, levalbuterol, terbutaline and ipratropium. Salmeterol and formoterol are long-acting beta 2-agonist bronchodilators with an anti-inflammatory medication on a regular (daily), rather than as-needed, basis. Each of these long-acting bronchodilators is available in combination with a corticosteroid within one inhaler.
Talk to your doctor about your asthma symptoms and whether an inhaler can help.
Source: American Academy of Allergy, Asthma and Immunology