Pacifier Do's And Don'ts
Find Your Perfect Match
Answer a few questions and we'll provide you with a list of primary care providers that best fit your needs.
Pacifiers can be wonderful assistants when it comes to calming your baby – if he likes them.
Are pacifiers good for your baby? Opinions vary. But one thing is for sure: Sucking is a natural instinct in babies, and pacifiers are one way to satisfy that need.
Pacifiers are most helpful for children younger than 6 months of age.
Sucking a pacifier calms babies when they are fussy, before going to sleep, and in public places.
While using a pacifier is a decision for you and your family to make, don't force a pacifier into your baby's mouth if she doesn't want it.
Breastfeeding And Nipple Confusion
Doctors say the best time to introduce a pacifier is when your baby is about 1 month old. At this point your child will have mastered the art of nursing or drinking from a bottle.
There is no clear evidence that using a pacifier can cause nipple confusion. But it's best to wait until nursing is well-established, as some babies may breastfeed less if they use one.
The Benefits Of Pacifiers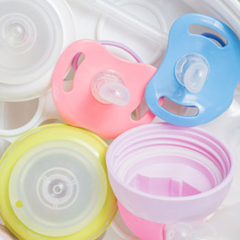 Many parents extol the benefits of using a pacifier. When compared to thumb sucking, using a pacifier puts the parent in control. You decide when baby can use the pacifier, and when it's time to stop.
Pacifiers have been recognized for:
Promoting shorter hospital stays and better bottle feedings in premature babies
Reducing ear pain when traveling on an airplane
Helping babies self-soothe
Lowering the risk of SIDS (sudden infant death syndrome) if used while sleeping
Providing a useful distraction, possibly reducing pain, during common medical procedures like shots
Know the Risks
Despite the positive aspects, pacifiers can cause some negative habits and unwelcome outcomes.
Be aware that pacifiers may:
Be a difficult habit for your child to break
Become an automatic response whenever baby cries, causing parents to miss signs of distress or sickness
Carry germs if not cleaned regularly
Cause dental problems if used after age 2
Disrupt sleep when falling out
Increase the risk of inner ear infections
12 Tips For Pacifier Success
As with many aspects of parenting, pacifier use comes down to doing your research, talking with your child's doctor, and trusting your gut. Family doctors and pediatricians recommend the following tips for safe pacifier use:
Try other ways to calm your baby before using a pacifier, such as rocking, singing, or holding. Offer the pacifier last.
Is your baby hungry? Does she need a diaper change? Check before you offer a pacifier.
Do not force your baby to use a pacifier.
If the pacifier falls out at night and your baby doesn't notice, don't put it back in.
Don't put anything on the pacifier to encourage your child to use it.
Regularly clean and replace your child's pacifier.
Use one-piece pacifiers. Two-piece pacifiers can break and become choking hazards.
Choose a pacifier with a shield that is wider than your child's mouth. Make sure the shield has a hole in it.
Pacifiers do not need ribbons or ties attached to them. This can strangle your baby.
Pacifiers are most helpful in children younger than 6 months.
Your doctor can help you decide when your child should stop using a pacifier. Consider stopping when your baby is 6 to 12 months old.
The risks of pacifier use get worse after 2 years of age. Do not use a pacifier after 4 years of age.
If you have questions or concerns about using pacifiers, talk with your pediatrician or family doctor.;
Find Your Perfect Match
Answer a few questions and we'll provide you with a list of primary care providers that best fit your needs.
Sources: American Academy of Family Physicians; What to Expect; American Family Physicians; Thumb-Sucking Versus Pacifier Use, Healthwise, 8/21/2019