Miracle Baby a Decade in the Making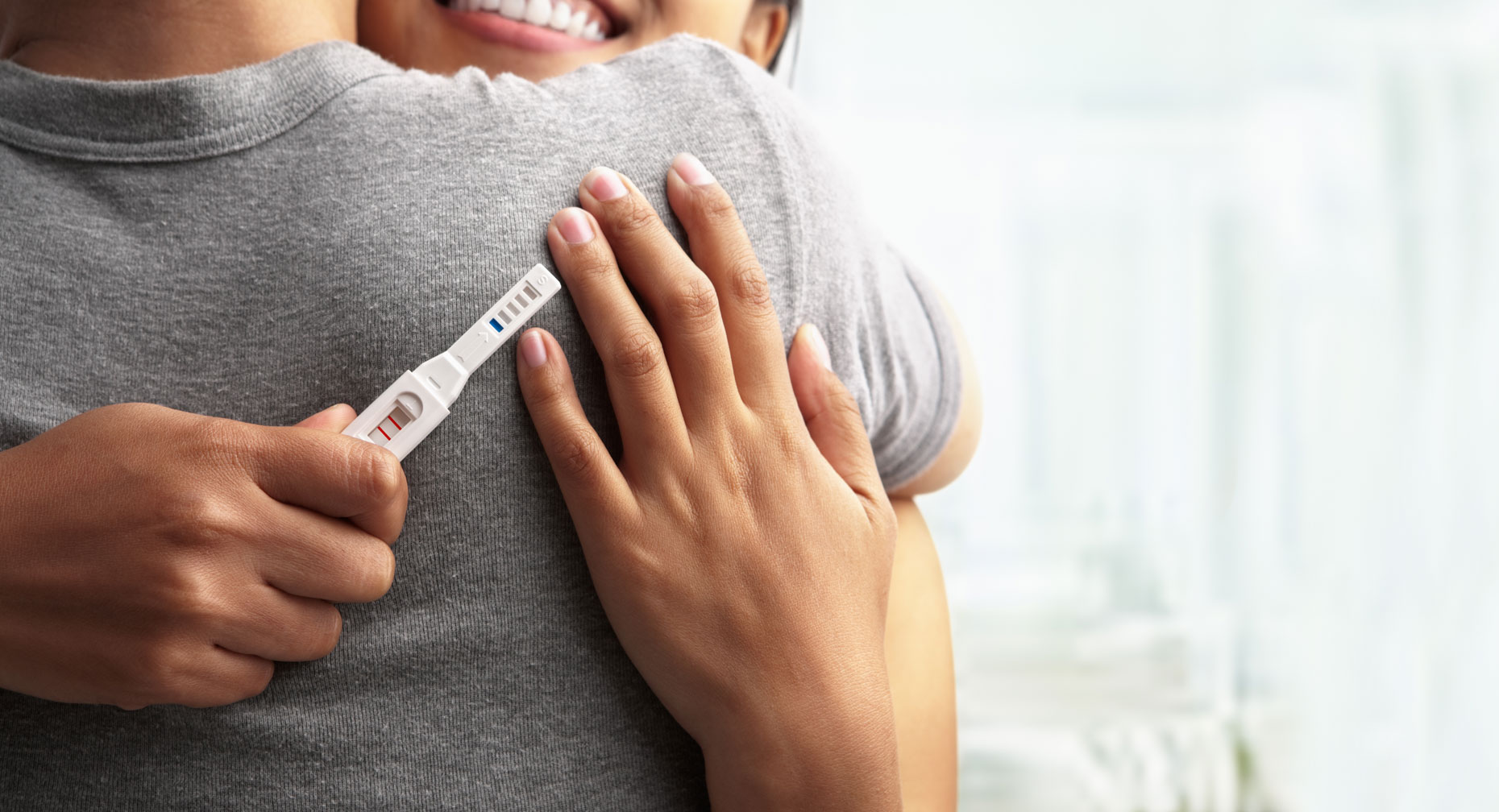 Pierce Noble Haverkos was born July 2, 2014. At 5 lbs., 10 oz. and 19 inches long, he was a bit smaller than the average baby born in the U.S., but for Nellie and Zach Haverkos, he was a perfect miracle a decade in the making. "He's the dream I didn't think was possible," Nellie said.
Diagnosed with endometriosis as a teenager, Nellie knew becoming pregnant would be difficult, perhaps not even possible. As she began to navigate the pregnancy journey not long after her marriage to Zach, she took a friend's advice and scheduled an appointment with a new gynecologist who had a reputation for being knowledgeable and proactive. Enter Heather Hilkowitz, MD. "She was approachable and compassionate, which was something I hadn't experienced before," Nellie said.
The new wife and her new physician met when they were both young — starting marriages, careers, and they hoped, families. "Nellie was young, vibrant, newly married, but with endometriosis. She seemed defeated," said Dr. Hilkowitz, an obstetrician/gynecologist with Hilltop Obstetrics & Gynecology. After a few visits, the two had established a good rapport and what would become a successful partnership. The team was determined to investigate every possibility, operating from the understanding that there were many things they could do to make the Haverkoses' dream of having a family a reality. "Who knew it would be 10 years before she had Pierce? No matter how long it took, we were going to do it together," the dedicated physician said.
Listen to Nellie and Dr. Hilkowitz describe their journey together.
Click play to watch the video or read the transcript.
Nellie's Story
Nellie Haverkos: I have been trying to get pregnant for nine years. The journey began when I was a teenager and I was told that I had endometriosis and becoming pregnant would be very difficult and possibly unlikely.
Joni Lawson: I have known that Nellie's had – was going to have problems from almost the very beginning. Nellie did – she shared everything with me and I think still does.
Nellie Haverkos: When my husband and I got married, we immediately wanted to have a child. That was 10 years ago. So I was seeing a different physician and not having any luck.
Joni Lawson: When your grown son is sobbing in your arms, there is just not to like that. It's horrible, it's horrible.
Nellie Haverkos: A dear friend referred me to Dr. Hilkowitz. And the journey really began when I met her.
Heather Hilkowitz: I think one of the most important things to impart is even though she came in having this diagnosis of endometriosis, and was terrified that she may never be able to become a mother, I wanted to be very clear with her that that didn't need to be the case. There are things that could be done to help her and to get her that baby and family that they have always wanted.
Nellie Haverkos: From the first time that I met with her, I felt the interaction was different, just I left her office feeling hopeful and heard and she approached me with compassion that I hadn't experienced before with other physicians.
Heather Hilkowitz: Oftentimes couples come in carrying one diagnosis and had been told by someone that they can never have a baby, trying to support your patient and be behind them and be able to tell them no, hope is not lost, we are not going to give up, we've got a lot of avenues that we can go here in order to get your body to do what it needs to do and forming that bond with Nellie was one of the most important things that I feel in my career was being able to support her and becoming close with her over 10 years, that's quite a journey to go through with someone. And she stuck with me all the way and I was never ever ready to give up for her, I knew that if we really persisted, we were going to get that family for her.
When I first met Nellie and learnt about her endometriosis, it was important to find out if there were any other factors that were going to act as a barrier to her conceiving as well. So we monitored her cycles and looked into some of her hormone levels and lo and behold we were able to discover she has another diagnosis, a condition called polycystic ovarian syndrome.
Nellie Haverkos: Had that not been caught when it was caught, I would be very unlikely to have a child at this point, but I would also be very likely to not have the health that I do now. So I feel fortunate that she was diligent in exploring everything, all of the variables that could be contributing to my infertility.
So I tried to begin the conversation with her about having hysterectomy, what that would look like and if that was possible for someone in her early 30s, mid 30s and she said unequivocally no. So I owe her a great deal for that no.
Heather Hilkowitz: We tried to focus on the positive parts of that that here we've gone for years at a time in many cases and not had a pregnancy, yet your body was able to do this, it was able to get pregnant and now we just have to make things more optimal and try to troubleshoot a little bit more and figure out how to make that next pregnancy just the perfect environment to be healthy.
Nellie Haverkos: And in that moment, she had a whole lot more hope than I do. Dr. Hilkowitz recommended that I continue to seek out a fertility specialist to do a procedure that I hadn't tried yet.
Heather Hilkowitz: When you've taken care of somebody for 10 years, you are not only just a patient and a doctor; you really have almost a friend relationship underlying all of that. I know her really well. And I have gone through very similar things of what she had gone through and I think that's what made our bond even tighter and finally getting to the point where her fertility specialist sent Nellie back to me with a 10-week pregnancy and I knew things were going to be okay at that time. It was just one of the most elating feelings as a physician that I can recall.
Nellie Haverkos: I could not wait to make a call to Dr. Hilkowitz to tell her that the IUI had worked and we were pregnant. I think she was pretty excited too.
Joni Lawson: The whole time Nellie was pregnant, we crossed every body part that we had and I know they do too.
Nellie Haverkos: We were overjoyed and terrified; we waited a short amount of time to tell people. When you waited this long to get pregnant, at times you can't contain yourself.
Heather Hilkowitz: Nellie had a great pregnancy after going through all of this really horrendous stuff in order to get pregnant. She had a wonderful textbook pregnancy. She felt good, her endometriosis for the first time in a decade was completely suppressed and she wasn't having any pain, her bladder wasn't an issue it was just fantastic to see her feeling so good throughout the whole pregnancy.
Joni Lawson: I was never so happy when I was sitting in that hospital the Atrium in the waiting room with all those nieces and nephews of Nellie's there, and we were waiting for Nellie to have that baby, that was the best day in my life, the best day in my life.
Heather Hilkowitz: My husband and I struggled with infertility problems for a couple of years in my younger years and if we had not gone through that process together, I don't know that I would understand as well what my patients are going through or struggling with similar kinds of things.
Nellie Haverkos: This is Pierce Noble Haverkos. He was born July 2nd, 2014 on a sunny Wednesday morning.
Joni Lawson: He has made our family complete, this baby. Now all of us – somebody said, your family is now together, you know, we were waiting for Pierce to be born, I know we were.
Nellie Haverkos: Pierce is the dream I didn't even think was possible.
The Expedition to Baby
When patients experience difficulties with conception, Dr. Hilkowitz looks at other factors that might be a barrier to becoming pregnant. "At one point, she said we needed to investigate any other health issues that might be creating an obstacle, something that might exacerbate my troubles," Nellie said. Testing revealed she also had polycystic ovarian syndrome (PCOS), a condition that can result in hormone imbalances; ovarian cysts; irregular
Nellie had two miscarriages along the way, which were emotionally difficult, each time creating an even greater worry that a baby might never be in her future. Dr. Hilkowitz saw things differently. For her, the miscarriages were a sign that Nellie's body could become pregnant, so they had to find a way to sustain a pregnancy.
By year nine, however, Nellie was finished. She was exhausted, emotionally and physically, and had stopped thinking about pregnancy. Her focus had shifted from starting a family to managing, and hopefully ending, her ever-increasing pain from the endometriosis and PCOS. "The pain was intense and profoundly impacting my quality of life," she said.
Nellie asked Dr. Hilkowitz about a hysterectomy and was surprised by her physician's reaction. "When I started talking more about my body and the long-term ramifications of my various issues, Dr. Hilkowitz wouldn't let me give up. She wasn't about to let me stop trying. She provided such great feedback and listened, but this time she was clear that I should not abandon my desire for a baby," Nellie said, evidently grateful for the continued support.
Dr. Hilkowitz's tenacity proved to be exactly what Nellie and Zach needed to give their dream one more try. The couple heeded Dr. Hilkowitz's advice to see a fertility specialist. "Dr. Hilkowitz was confident, so I tried to muster a little hope," Nellie said. A few weeks later, she was pregnant with Pierce and as excited to share her news with Dr. Hilkowitz as she was with her family.
"I expected problems during my pregnancy, but there weren't any," the proud mother said as she cradled Pierce. She also found relief from her painful endometriosis and PCOS symptoms, which is common. Nellie felt so much better during the nine months she waited for her baby boy to arrive because her body was finally producing the hormones it normally lacked before she was pregnant. "Nellie's pregnancy was wonderful. She felt good, had no pain — she deserved that after all she'd been through," Dr. Hilkowitz said.
An Unexpected Friendship
Nellie was fortunate to have a strong support network with her husband, family and friends, which is a key component for success. "When a couple is struggling with infertility, it can become overwhelming. Emotional support is as important as the clinical piece," Dr. Hilkowitz said.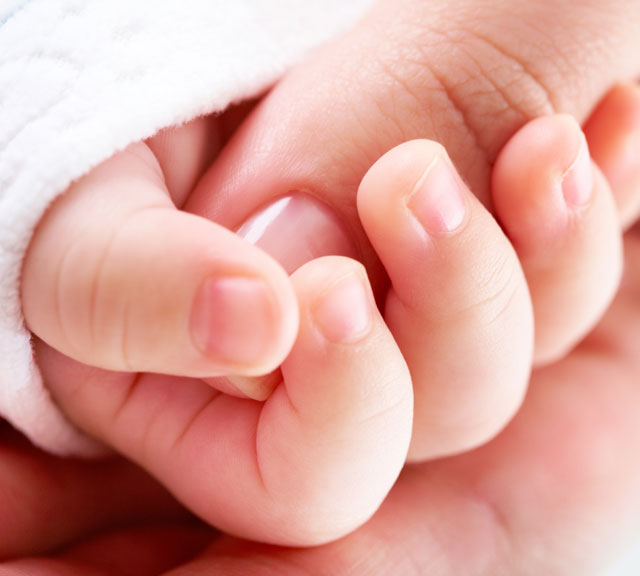 The unexpected outcome was the friendship that grew between the women. Dr. Hilkowitz had experienced her own struggles, which gave her a unique perspective on infertility issues. "Having an experience like that makes you look at medicine in a completely different way. I supported her and we became friends. It's not a simple relationship when you have a patient who is experiencing such complex problems for many years, and forming that bond with Nellie has been one of the best journeys of my career," Dr. Hilkowitz said.
The Big Day
When Pierce decided it was time to arrive — ahead of schedule — Nellie and Zach arrived at Premier Health's Atrium Medical Center ready, but nervous. Dr. Hilkowitz made sure she was available for the delivery. "I was not going to miss that for anything," she said, "Nellie's C-section was planned, but babies don't always wait."
During the course of their partnership, Dr. Hilkowitz left a private practice in Cincinnati, near Nellie's home, and moved to Middletown. "There was never even an inkling that I'd look for a doctor who was closer to home. I live five minutes from most of the major Cincinnati hospitals, but Atrium felt like a boutique hospital. We received so much attention. They made the process more enjoyable and simpler than I thought possible," she said.
"When a couple is struggling with infertility, it can become overwhelming. Emotional support is as important as the clinical piece," Dr. Hilkowitz said.
There was the expected worry during her delivery, and bittersweet moments when Nellie thought of her own mother, who passed away a few years before Pierce was born. "During my epidural, the nurse could tell I was anxious, so she wrapped me up in a hug. What she did wasn't necessary or expected, but it was so appreciated," Nellie said.
Many of their extended family members were at Atrium the day Pierce was born, all receiving the same kindness shown to the new parents. Joni Lawson, Zach's mother, said the nurses at Atrium made their day "wonderful," making sure everyone had an opportunity to see him, treating them like they were family.
After her decade of chronic pain and infertility, Nellie is thankful for so much. Finding a physician willing to find solutions to her medical issues was the game-changer. "Zach and I were so grateful to be able to share that day with Dr. Hilkowitz. She was the first person to meet that baby we fought so hard for," Nellie said of her physician and friend. "She is conscientious and brilliant. I'm not sure I could have held on for 10 years without her."