Men And Mental Health: Finding Help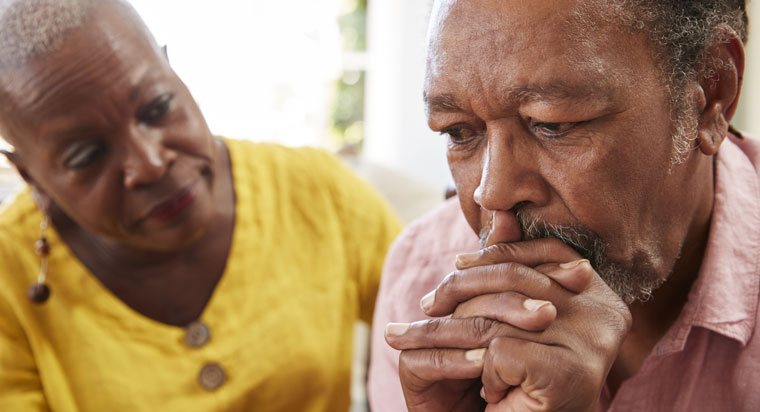 Find Your Perfect Match
Answer a few questions and we'll provide you with a list of primary care providers that best fit your needs.
In many ways, men and women face similar mental health challenges. But there are significant differences in how mental problems can manifest and be experienced between the sexes.
Women are affected by mental illness at a slightly higher rate than men, but men are less likely to seek out treatment. And
Men are nearly four times as likely to die from suicide than women.
according to Mental Health America. More facts to consider from Mental Health America:
Depression occurs in more than six million U.S. men every year.
Men account for 90 percent of people diagnosed with schizophrenia before age 30.
Gay and bisexual men face a greater risk of developing a mental health disorder than heterosexual men, and they are at greater risk for suicide, particularly before age 25.
Substance abuse affects mental health. Approximately 20 percent of men develop an alcohol dependency at some time in their life. Male military veterans have nearly double the rate of drug and alcohol use as women.
Knowledge is power. Knowing the common signs of mental health issues in men can put you in a better position to help when problems arise. The earlier signs are recognized and treatment is begun, the greater the chance of recovery.
Common Signs Of Mental Health Problems In Men
Of course, most kinds of mental disorders can appear in both men and women, but they may experience different symptoms. Some of the following symptoms may predominate in men who experience mental or emotional difficulties:
Anger, irritability, or aggressiveness
Changes in mood, energy, or appetite
Sleep problems — too much or too little
Problems concentrating
Restlessness, feeling on edge
Increased worry or stress
Abuse of alcohol and/or drugs
Sadness, hopelessness
Suicidal thoughts
Difficulty feeling positive emotions
Taking part in high-risk activities
Health problems such as headaches or digestive problems without a clear cause
Obsessive thinking or compulsive behavior
Thoughts or behaviors that interfere with work, family, or social life
Unusual thinking or behaviors that concern other people
Finding Help In an Immediate Crisis
If you or someone you know is in immediate danger, call 911 or go to the nearest emergency room.
The U.S. National Institute of Mental Health (NIMH) offers a five-step plan for helping someone who is in emotional pain. It specifically focuses on helping to prevent suicide, which is the 10th leading cause of death overall in the U.S. The NIMH's five steps are:
Ask: "Are you thinking about killing yourself?" It's not an easy question, but studies show that asking at-risk individuals if they are suicidal does not increase suicides or suicidal thoughts.
Keep them safe: Reducing a suicidal person's access to highly lethal items or places is an important part of suicide prevention. While this is not always easy, asking if the at-risk person has a plan and removing or disabling the lethal means can make a difference.
Be there: Listen carefully and learn what the individual is thinking and feeling. Research suggests acknowledging and talking about suicide may in fact reduce rather than increase suicidal thoughts.
Help them connect: Save the National Suicide Prevention Lifeline's number in your phone so it's there when you need it: 1-800-273-TALK (8255). You can also help make a connection with a trusted individual like a family member, friend, spiritual advisor, or mental health professional.
Stay connected: Staying in touch after a crisis or after being discharged from care can make a difference. Studies have shown the number of suicide deaths goes down when someone follows up with the at-risk person.
More information on suicide prevention can be found at the National Institute of Mental Health.
In addition to the National Suicide Prevention Lifeline mentioned above, other crisis lines are available, including:
Samaritan Behavioral Health's Crisis Lines. In Montgomery County, call 937-224-4646; in Miami County, 1-800-351-7347; or in Preble County, 1-866-532-3097.
Crisis Text Line. To reach this resource, text "HELLO" to 741741. Available 24 hours a day, seven days a week throughout the U.S., the Crisis Text Line serves anyone in any kind of crisis and will connect them with a crisis counselor who can provide support and information.
Veterans Crisis Line. Call 1-800-273-TALK (8255) and press 1 or text to 838255. This is a free, confidential, 24/7 resource connecting veterans with a trained responder. The service is available to all veterans. Callers who are deaf or hard of hearing should call 1-800-799-4889.
Seeking Treatment
Mental and emotional problems can be treated, typically through therapy, medication, or a combination of the two. In seeking treatment, primary care practitioners are a good place to start.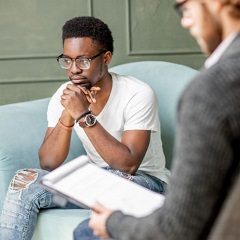 If the situation is not an emergency, encourage the troubled man to speak with his doctor, who can provide initial mental health screenings and referrals to a mental health specialist or agency that can help.
The federal government offers resources to help patients find health care providers and health care services, including:
Other helpful resources include organizations and agencies that provide information about mental health, including how to find a mental health professional. These include:
Find Your Perfect Match
Answer a few questions and we'll provide you with a list of primary care providers that best fit your needs.
Source: National Institute of Mental Health; Mental Health America; Foundation Recovery Network