Look Good, Feel Better – Even With Breast Cancer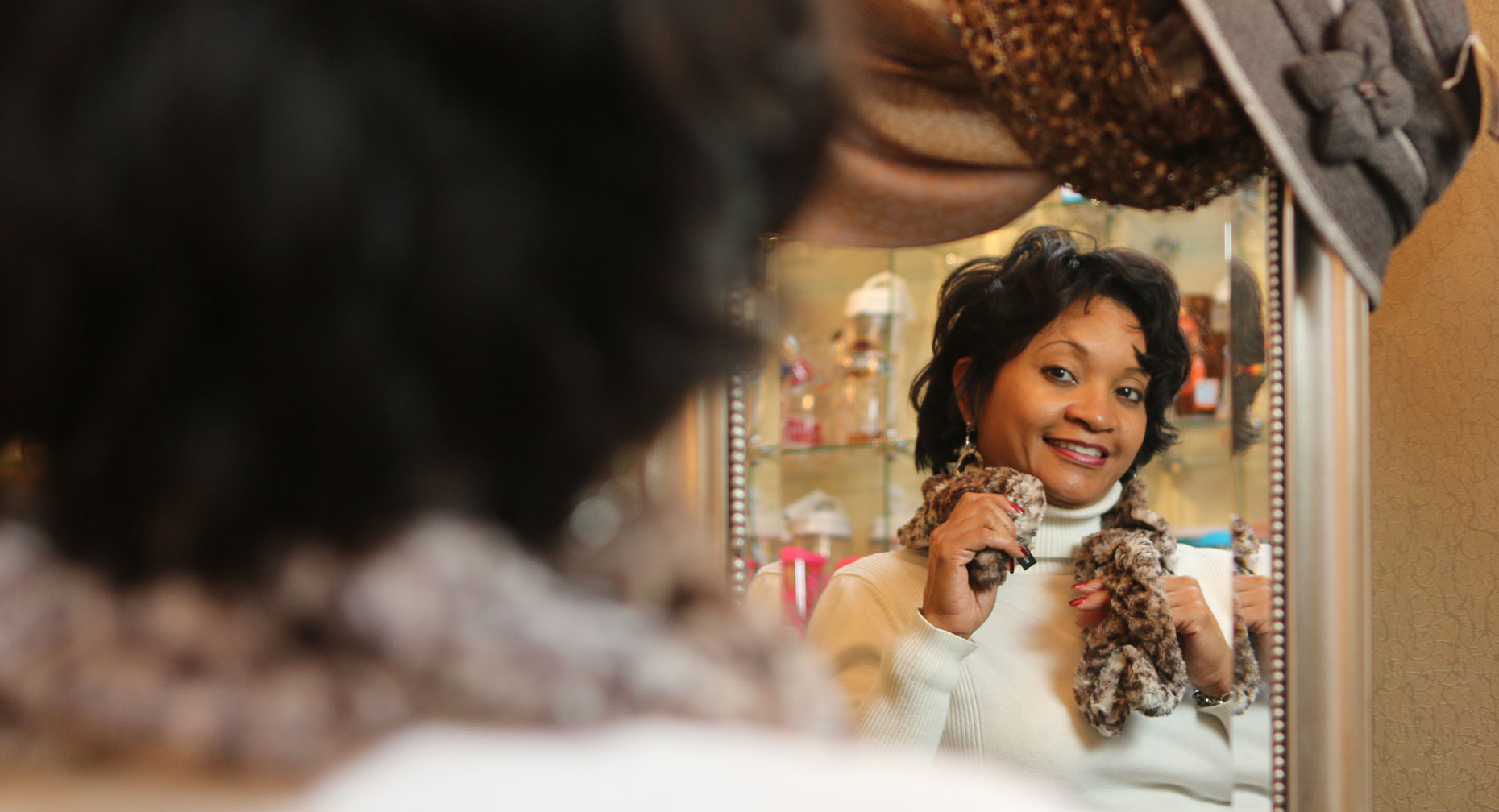 You may be in the fight of your life, but you don't have to look like it! By taking care of your body, you can keep looking good during breast cancer treatment. And when you feel like yourself, you're more likely to feel better, too.
When you're being treated for breast cancer, your hair, skin and nails may all change. Radiation and chemotherapy may cause hair follicle cells to stop growing hair. Treatments may dry out your skin and weaken your nails.
You may feel fatigued and may not want to keep up with your regular grooming habits. This is the time to be sure to pamper yourself.
"Women are concerned about how they look. They don't want to look like a cancer patient," says Mindy Andrews, manager of the Expressions of Hope boutique. "My biggest tip is to focus on you and on feeling better and getting your spirit back."
Learn and Find Comfort
You can learn about skin care and make-up techniques and how to use wigs, head wraps and hats at monthly Look Good…Feel Better classes presented by Premier Health and the American Cancer Society. These programs also are a great way to connect with other women like you who are coping with breast cancer treatments.
Learn more about these Look Good…Feel Better programs in the Dayton region.
Looking for personal attention to help you select the right products for you? Expressions of Hope boutiques in Dayton offer wigs, scarves, skincare products, post-mastectomy items and more in a warm, caring environment.
Wigs and Head Coverings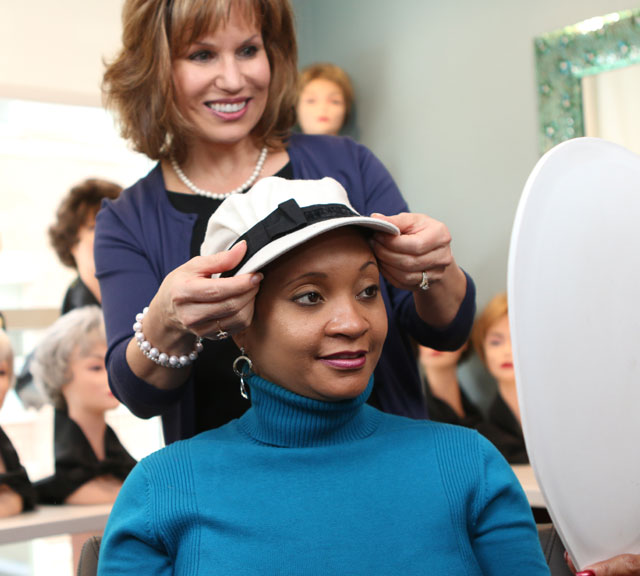 Every woman is different, so doctors can't predict who might lose their hair during cancer treatments. Why and how hair loss happens depends on the type of chemotherapy or radiation treatments you receive.
Women cope with hair loss in a variety of ways.
If you think you might want a wig, make an appointment for a fitting before your treatments begin. This helps the aesthetician at the wig shop best match your hair color and texture, says the American Cancer Society.
If you want to wait and see how your hair reacts to your treatments, cut a swatch of hair from the top front of your head to use for matching later on.
"Many women tell me that going through the process of breast cancer, the hardest part for them is losing their hair," Andrews says. "You can see it in their eyes when we finish. There are smiles and they are happy because they didn't realize how good the wig would make them feel."
Your insurance company may cover all or part of the cost of a wig. The American Cancer Society and Breastcancer.org say you should ask your doctor for a prescription for a "cranial prosthesis" and avoid the use of the word "wig" on the prescription.
Sometimes treatments make the scalp very sensitive. If that happens, scarves, hats and head coverings may be more comfortable.
The Look Good…Feel Good classes provide tips on how to use scarves and head coverings. Andrews also spends time showing women the different ways to wear them, including adding accessories such as buns, braids or knots.
"My biggest tip is to focus on you and on feeling better and getting your spirit back."
"There is no right way to wear one," Andrews says. "I encourage women to use them in the way that is most comfortable for them."
Think of wearing a scarf, turban or hat as your chance to be wild, have fun with or change your look.
Skin Care Tips
Chemotherapy and radiation can dehydrate your skin, which will also be more sensitive to sun and wind. It's important to follow a good skin care regimen during breast cancer treatments to prevent other infections that can enter the body through dry, cracked skin.
To keep your skin healthy and supple, BreastCancer.org says to remember the four essential steps to healthy skin care:
Cleansing
Exfoliation
Moisturizing
Protection (against sun and elements)
All-natural lotions, deodorants and sunscreens without fragrance are very helpful, Andrews says. Many patients become very sensitive to smells during treatment. Natural products without metals will be less likely to irritate the skin if it becomes very sensitive.
Be sure to protect your skin with a sunscreen with an SPF of 30 or higher.
The Importance of Nail Care
Chemotherapy may change how your nails look. Nails may become discolored or lines may appear. Nails can also separate from the nail bed, as chemotherapy affects nails on a cellular level. These changes usually go away in about six months, says BreastCancer.org.
You can protect your nails by:
Keeping your nails short and neatly trimmed
Wearing gloves when doing household chores that use cleaning agents
Moisturizing nails (and hands) frequently
Painting your nails can make you feel good about your appearance, but be sure to use colors that are safe. The American Cancer Society says to use a water-based nail polish and gentle, water-based polish removers.
Nail health is a key way to prevent lymphedema, a condition where fluid builds up in the arm, causing it to swell. Lymphedema is linked to infections that can enter the body through the nail bed.
Life After Breast Cancer Treatment
Treatments for breast cancer can knock down the strongest of women — but only for a while.
Massage therapy, proper nutrition and exercise can all bring about more energy and the desire to return to every day activities.
As you begin to recover, your hair will regrow, although it may be different than it was before. Your nails will get stronger again and you will begin to feel more like you.
Therapies like massage can ease soreness and help promote relaxation, Andrews says. Other products, like wellness teas, can bring a feeling of calm and a sense of wellbeing.
As you move beyond your breast cancer diagnosis and treatment, remember to continue to pamper yourself and take care of your mind and body.
Source: Mindy Andrews, manager, Expressions of Hope; American Cancer Society,; BreastCancer.org