Keeping Baby Safe Outdoors
Find Your Perfect Match
Answer a few questions and we'll provide you with a list of primary care providers that best fit your needs.
You're anxious to get outside with your baby, but aren't sure what precautions to take. When is sunscreen OK? Should you use bug spray on babies? Not to worry. These safety tips will teach you what you need to know. Read up, and then enjoy the outdoors!
Sun Protection
The American Academy of Dermatology recommends that you avoid using sunscreen in babies younger than 6 months. The best way to protect infants from the sun is with shade and proper clothing.
Keep babies in the shade as much as possible. Dress them in long sleeves, pants, a wide-brimmed hat and sunglasses. Make sure they do not get overheated and that they drink plenty of fluids.
If your baby is fussy, cries excessively or has redness on any exposed skin, head inside.
If an infant gets a sunburn, apply cool compresses to the affected area.
For babies and toddlers 6 months and older, apply a broad-spectrum, water-resistant sunscreen with an SPF of 30 or higher to skin that is not covered by protective clothing. Follow the instructions on the label. Be sure to reapply every two hours (or as often as the label says).
Whenever babies are in or around water, an adult should be within an arm's length.
Dealing with Bugs
According to the American Academy of Pediatrics, insect repellents with DEET should not be used on children under 2 months old. For babies ages 2 months and older, you may use an insect repellent with 10 to 30 percent DEET. Make sure you read the product label as DEET concentrations vary from product to product.
Stay away from products that feature a sunscreen/insect repellent combo. Sunscreen needs to be reapplied every two hours, while insect repellent should not be reapplied.
Use insect repellents containing DEET to help prevent insect-related diseases. Ticks can transmit Lyme Disease, and mosquitoes can transmit West Nile, Zika virus, Chikungunya virus and other viruses.
The effectiveness is similar for 10 to 30 percent DEET, but how long the protection lasts varies. Ten percent DEET protects for about two hours, and 30 percent protects for about five hours. Choose the lowest concentration that will provide the length of coverage your child needs.
Wash the repellent off your baby when you return indoors.
In the evenings or other times when a lot of mosquitoes are out, cover your baby with long-sleeved shirts, pants and socks to prevent bites. Another great option for giving your baby bug protection is to use netting that covers the stroller.
At the Playground
Once your baby has good head and neck control and can sit up without support (usually around 9 months old), you can try out the bucket swings at the park. When you do, stay within arm's reach. You'll quickly be able to tell by the giggles if your little one loves to swing, or if you should wait a bit longer to give it another try.
The metal, rubber and plastic used on playground equipment can get very hot in the summer, especially under direct sun. Test the equipment with your own hand first to help prevent your baby's skin from getting burned.
In the Water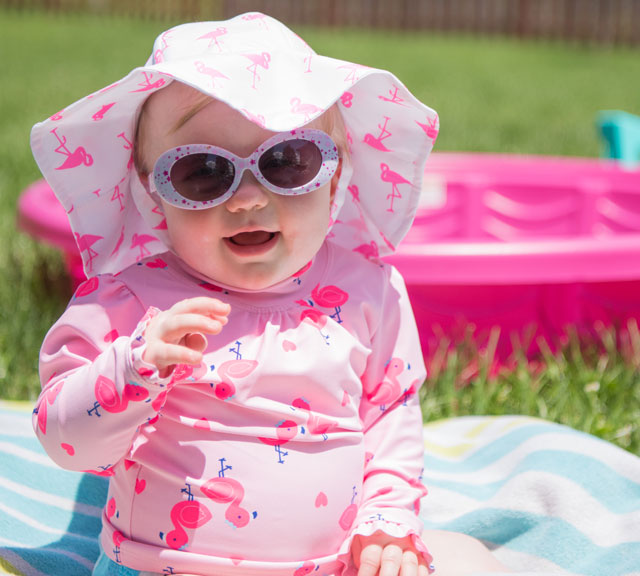 Whenever babies are in or around water, an adult should be within an arm's length. Always be sure an adult is with your baby at all times in the water to prevent drowning.
Follow the tips above for proper sun protection when you take your baby to the pool.
Cold Weather Concerns
Don't wait for warm weather to head outside with your little one. To enjoy a cool day, first bundle your baby in several layers of loose-fitting clothing. Think of what you would wear in the cold weather, and then dress your baby in one more layer of clothing. Check your baby often to watch for overheating, and remove a layer if needed.
Dress your baby in a hat and mittens, and keep an eye on the hands and feet to make sure they're warm and dry.
Find Your Perfect Match
Answer a few questions and we'll provide you with a list of primary care providers that best fit your needs.
Source: American Academy of Dermatology; American Academy of Pediatrics; Safe Kids Worldwide; National Wildlife Federation