Are Opioids Safe for Young Injured Athletes?
If you have a young athlete in your house, chances are you've made a trip (or two) to the doctor for a sports-related injury. When the injury is serious (think ACL tear, bone fracture, dislocation), a medication to treat pain may be prescribed.
With the national and regional issue of addiction to painkillers reaching epidemic proportions, you may find your physician won't prescribe opioids like OxyContin®, Norco®, Percocet®, codeine, or morphine for sports injuries. If your child's physician believes an opioid is appropriate, the prescribed quantity may be very limited, and a refill may very likely be denied.
Physicians typically reserve opioid prescriptions to control pain for severe injuries such as significant fractures or pain following some surgery. Instead, over-the-counter medications like Tylenol®, Advil®, or Motrin® are often recommended and are effective medications to treat pain.
When it comes to fractures, most physicians rarely write a prescription for narcotics since other forms of treatment will often resolve the pain. When a cast or brace is used to treat a fracture, it immobilizes the broken bone. In most cases this lack of bone movement essentially takes away the pain. As for post-surgery pain and pain medication, there is very good data that indicates over-the-counter medications are equally as beneficial as opioids or narcotics and have less side effects.
Physicians typically reserve opioid prescriptions to control pain for severe injuries such as significant fractures or pain following some surgery.
Opioids Can Be Safe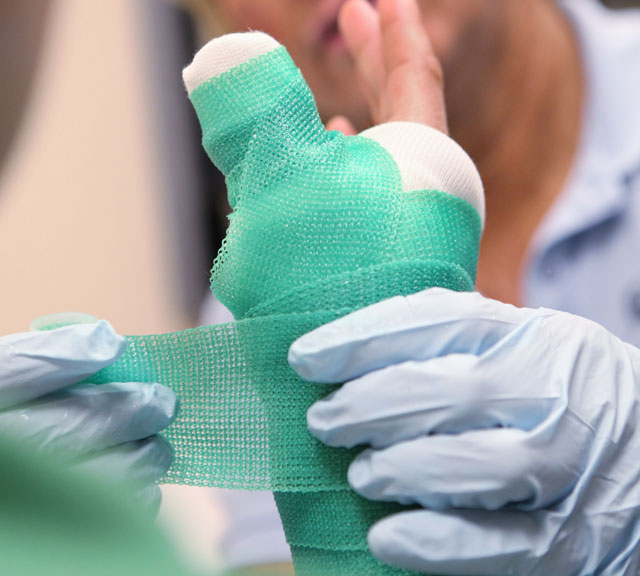 Opioids tell the brain to block pain and create a calm, happy feeling in the body. That feeling is what opioid addicts crave. But this doesn't mean opioids should never be used. Opioids can be safe for young athletes when taken as prescribed. Always:
Follow dosage instructions provided by the doctor.
Take only medication that is prescribed for you, not for someone else.
Take opioids for pain relief only.
If you have painkillers in your home, store them in a locked cabinet. Parents should manage and dispense each dose of a medication. They should treat painkillers as they would alcohol, with restrictions on the amount and close monitoring.
It is not uncommon for addicts to use narcotic medications stolen from homes where those medicines are accessible. That's why medications should always be locked away or disposed of if not being used. The bottom line is that new laws and guidelines for narcotic prescribing are not intended to be punitive towards patients. They're intended to protect them and others from the unintentional complication of narcotic usage — especially developing a dependence or addiction — and the devastating, life-long consequences this could have. Health care providers still want to help patients with their pain, but opioids may not be part of that plan.
Discard Unused Opioids
If your cabinets include medications that have expired or are no longer needed, get rid of them so they don't end up in the wrong hands. This applies to anyone who has these types of medication, as disposal is safer for the homeowner and their family and helps to reduce the worsening opioid addiction epidemic. Many communities have ongoing or periodic take-back events to collect unused medications. Visit OpioidAssist.com to find secure disposal locations in the Dayton region, including Premier Health sites.
When take-back programs aren't available, dispose of medications in your trash. The FDA recommends these steps:
Mix medicines (do not crush tablets or capsules) with dirt, cat litter, used coffee grounds, or other non-edibles.
Place the mixture in a container such as a sealed plastic bag.
Throw the container in your household trash.
Remove or obscure all personal information on the prescription label of empty pill bottles or medicine packaging, then dispose of the container.
Flush medications only if they come with instructions to do so.
Source: Hospital for Special Surgery; National Federation of State High School Associations; Food and Drug Administration