5 Ways to Stand Up to Sexual Harassment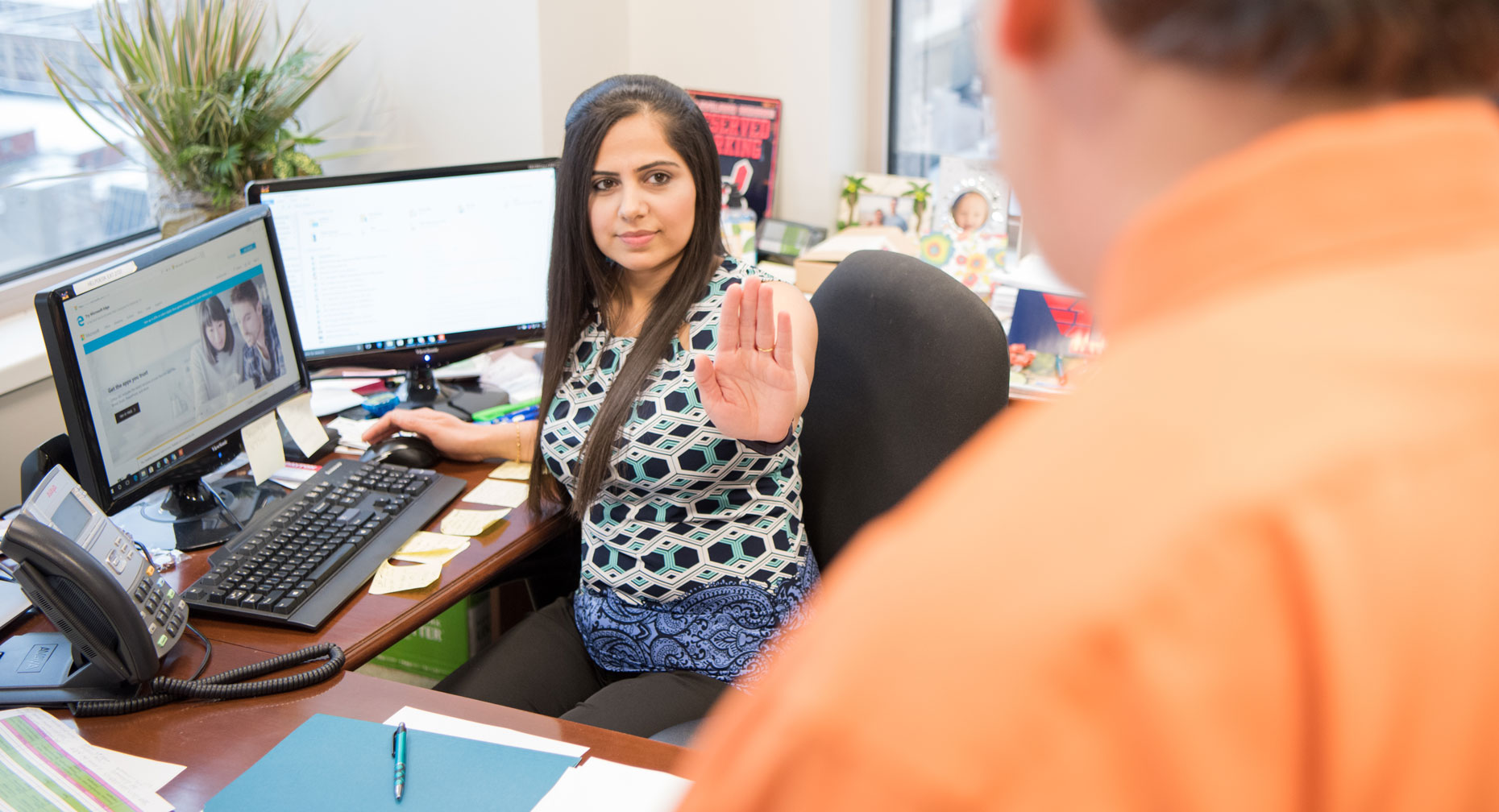 You can't believe it's happening to you: unwanted sexual advances from a co-worker who is requesting sexual favors. Or maybe it's more subtle but still disturbing — unwelcome attention or touching, name calling, ridiculing or offensive jokes.
Unfortunately, sexual harassment is a real and pervasive problem in the workplace. In 2016, the U.S. Equal Employment Opportunity Commission (EEOC) estimated 60 percent of women experienced unwanted sexual attention in the workplace, ranging from comments to coercion, from both men and women. Men also are victims.
"Behavior is inappropriate if it's not in line with societal standards and expectations," says Joy Witwer, LISW-S, Intake Services Manager at Samaritan Behavioral Health in Dayton, Ohio. "Specifically, it's anything that makes you feel uncomfortable."
Witwer says being able to recognize predator types can help you steer clear of them. She says they can be male or female and "may exhibit a strong sense of entitlement, showing little regard for your feelings. They can be egocentric and may engage in flattery or threats to manipulate you."
"Everyone deserves respect and empathy," Witwer says. "No means 'no.'"
Take Steps Against Sexual Harassment
Be your own best advocate by standing up to sexual harassment:
Say no. If someone says or asks things that make you uncomfortable, tell them in a clear, emphatic way to stop.


Report the harassment. It's unlawful to harass a person based on sex. Learn your workplace policy. Witwer says, "The law protects you from retaliation and punishment. It's your right to report harassment." Send a written complaint to your supervisor, your human resources department or someone in the company who has the power to stop the harassment.


Don't blame yourself. "Everyone deserves respect and empathy," Witwer says. "No means 'no.'"She notes many women blame themselves for what's done to them or for being manipulated. "If the alternative is to have your career damaged, it's not true consent."


Document what's happening. Write down the date, time, place and details of each incident. If you fear your own work performance will be called into question, keep copies of emails or written documents that show you are doing a good job. Keep all information in a safe place away from work, perhaps at home or on a personal computer.


Find a support system. Talk with others at work, if you feel safe to do so. You may find other witnesses or allies. Also confide in supportive friends, family members and colleagues who can help you through the emotional trauma of being harassed.
If you believe your employer is not doing enough to protect you, another option is to file a complaint with the EEOC, which enforces federal laws regarding discrimination in the workplace. Complaints must be filed within 180 days of the harassment. Even if you choose not to file a complaint, you can talk to an EEOC counselor to gain insight and learn about resources.
Source: Joy Witwer, LISW-S, Intake Services Manager, Samaritan Behavioral Health; American Association of University Women; Stanford University Sex Harassment Policy Office; Workplace Fairness