Rotator Cuff Injuries Painful, Common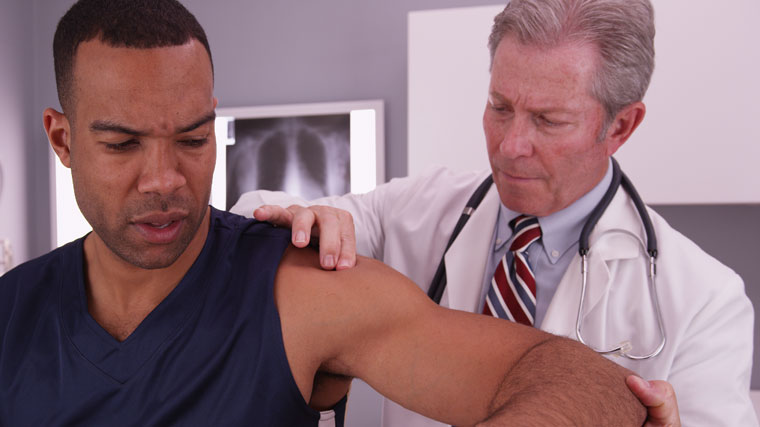 Unfortunately, rotator cuff issues are common and include tendinitis and other injuries, such as tears.
Located in your shoulder area, the rotator cuff is made up of muscles and tendons, and it helps your shoulder move and stay stable.
Many rotator cuff injuries are caused by aging, which leads to the tendons wearing down and eventually tearing. Injuries can also occur in falls.
Frequent, repetitive use can also cause tendon wear and tear. Repetitive overhead arm motion caused by sports activity or while at work can damage the rotator cuff.
Rotator cuff tears are almost always painful.
Symptoms of rotator cuff injuries can include:
For a chronic tear. Pain, weakness, stiffness, and loss of motion slowly get worse over time. Symptoms might not be noticeable at first because they start off minor. Worse pain at night than during the day. Symptoms get much worse unless treated with medicines, rest, and/or exercise.
For a sudden tear. Intense pain after a sudden tear from a fall or injury. Immediate weakness in the shoulder and arm after the injury. Snapping feeling when moving the arm. Worse pain at night than during the day. Symptoms get much worse unless treated with medicines, rest, and/or exercise.
For tendinitis. Mild pain with overhead reaching and lifting your arm to the side. Pain more likely in the front of the shoulder and side of the arm. Pain stops before the elbow. Without healing, it can hurt when lying on the injured shoulder. Weakness or loss of motion when raising the arm above the head. Stiffness in the shoulder.
If you believe you have a rotator cuff injury, it's important to visit your doctor for guidance on what steps to take for treatment.
For tendinitis, treatment may include:
Activity modification to avoid pain or worsening pain
Ice packs for 20 minutes at a time, 3 or 4 times a day
Injection of medicine (corticosteroid) into the shoulder to help pain and swelling
Physical therapy to stretch and strengthen shoulder muscles
Surgery to remove inflamed tissue
Medication, such as ibuprofen or naproxen, to ease the swelling and pain
Treatment may also include rest and physical therapy for small tears or after tendon repair surgery for a complete rotator cuff tear.
The best way to avoid a new or follow-up rotator cuff injury is to avoid repeated overhead movements with your arm. Your doctor can also recommend exercises to help strengthen your shoulder and arm muscles to prevent rotator cuff issues.
Source: National Institutes of Health