Family Fitness Can Be Fun, Fulfilling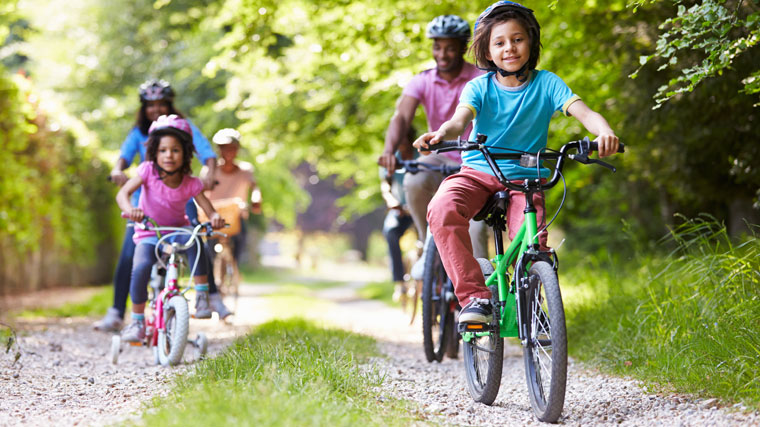 It can be difficult to get kids to swap screen time for active play. It can sometimes be just as hard for adults to trade out bad habits of choosing electronics over exercise.
Turning activity into a family affair is a great way to get everyone motivated to get moving. Dr. Anessa Alappatt explains:
Click play to watch the video or read video transcript.
It can be a planned activity, such as a trip to the park, or something spontaneous like an impromptu living room dance party. Getting the whole family involved is key.
It's recommended that adults get at least 150 minutes of moderate-intensity activity and two or more days of muscle-strengthening activity each week, while kids get at least one hour of activity that is moderate-to-vigorous intensity every day.
Some activities your family might consider doing together could include:
Choose a half-hour walk or a nature scavenger hunt instead of a half-hour TV show.
Create a routine of taking a Saturday morning walk around the neighborhood.
Have a clean-the-house day – involve the whole family in chores and yard work.
Have a dance party to your kids' favorite music.
Head to your local mall and take a couple laps around the inside.
Jump in or over rain puddles.
Make a new house rule – no sitting during TV commercials. Instead dance, do jumping jacks, do sit ups, or run in place.
Plan a family day at a park, at the pool, or go hiking.
Park at the far end of a parking lot and have each family member count how many steps it takes to the door.
When in season, go sledding or build a snowman.
Don't forget to get older family members involved also. Grandparents and kids can build great connections through physical activities. Ideas include:
Exercise-gaming (video games that include exercise routines or sports activities)
Golfing
Hiking
Tai chi
Walking
Yoga
Families are all busy, but working time into the day for activity doesn't have to be overwhelming. If planning a block of time for physical activity seems stressful, do it in short spurts instead. A quick game of tag, a walk around the block, and an unplanned hula hoop challenge can add up and all count toward your activity total for the day. Dr. Alappatt describes some small steps you can take:
Click play to watch the video or read video transcript.
Kids learn healthy habits – or unhealthy ones – from watching the adults in their lives. By showing your kids you make your health and well-being a priority, as they grow they may make it a priority too.
Source: Anessa Alappatt, MD, Fairborn Medical Center