Go Nuts: Add More Nuts Into Your Heart Healthy Diet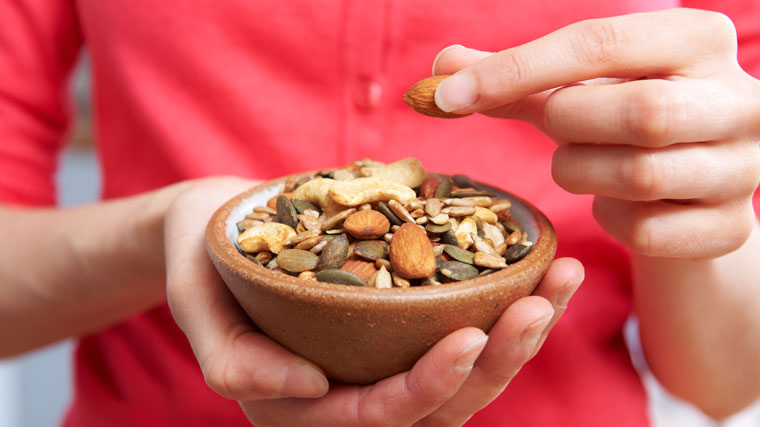 Looking to improve on your heart healthy diet? Then it's time to go nuts for nuts.
The American Heart Association (AHA) calls nuts "petite powerhouses" of nutrition, containing antioxidants, fiber, minerals, protein, and vitamins.
The healthiest nut choices, according to the AHA, are:
Almonds
Hazelnuts
Peanuts
Pecans
Pistachios
Walnuts
Eating the nuts in crunchy form or as nut butters provide the same health benefits, but nuts should be unsalted to keep their heart healthy appeal.
Multiple studies have shown that people who incorporate nuts into their regular diet are less likely to die from heart disease, according to the Harvard School of Public Health.
The benefits of nuts are plentiful as they contain:
Unsaturated fats. To help lower bad cholesterol, while raising good cholesterol.
Omega-3 fatty acids. These prevent erratic heart rhythms from developing and prevent blood clots.
Arginine. An amino acid that helps make a molecule called nitric oxide, which helps relax constricted blood vessels and lets blood flow easier
Vitamin E. Helps prevent or delay coronary artery disease
Potassium. Helps counterbalance some of the harmful effects sodium has on blood pressure
Fiber. To help improve cholesterol levels and lower the risk of heart disease, stroke, type 2 diabetes, and obesity
In addition to their great health benefits, nuts are easy to add into your diet. For example:
Add chopped nuts to your cereal or yogurt.
Eat a handful of your favorite or mixed nuts as a replacement for another snack.
Spread nut butter on toast instead of cream cheese or butter.
Sprinkle nuts into a salad or stir-fry dish.
Top fruit or crackers with some kind of nut butter.
Use nuts as a crust for fish or chicken.
Next time you're looking for something to fill your craving for some crunch, don't overlook nuts as a satisfying, heart healthy option.
Source: American Heart Association; Harvard School of Public Health