Your COVID-19 2020 Halftime Strategy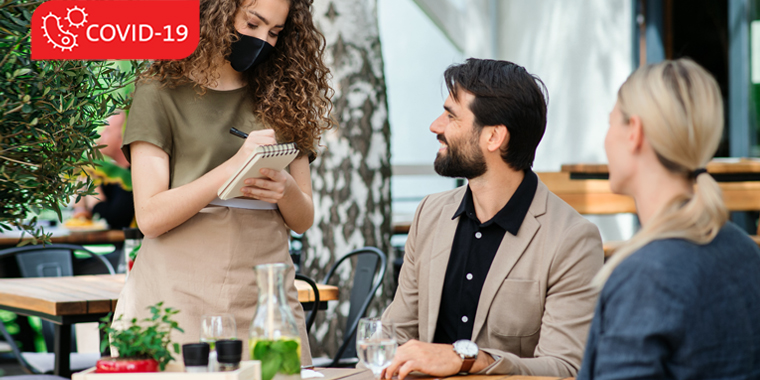 Find Your Perfect Match
Answer a few questions and we'll provide you with a list of primary care providers that best fit your needs.
On approach, 2020 sounded like perfect vision. Once here, though, what we've seen has been far from ideal.
What lies ahead now that we're halfway into the year? And how can you use what you learned in the past few months of the coronavirus pandemic to help you move forward?
Fadi Tayim, PhD, clinical neuropsychologist and division chief of the Brain Mapping Center at the Clinical Neuroscience Institute, recently shared his insights on this with Premier Health Now.
"This is as novel and ambiguous of a situation as we have ever been in," he says. "Everything is coming and happening at once." That is, COVID-19, protests for racial justice, and heightened political turmoil.
"We don't know what's coming next," he adds. But on a more positive note, he recommends reflecting on how you have already adapted to living in the pandemic — what worked, what didn't. And factor in how you've made it through previous struggles.
"This is not the first time that most people have faced adversity. Being able to bring that sense of problem-solving and damage control — that skill set is so important because we don't know what's coming in the next six months. But knowing that you're able to deal with hardships" will help.
Keeping focus on positives, like your inner strengths, also will help. He says, "There's this saying, 'When things go wrong, don't go with them.'"
How We Have Adapted
As lockdowns loosen and restaurants and other businesses reopen, many of the modifications made in the first months of COVID-19 are likely to continue, he says.
"In this time, there have been so many adaptations to the way that we live. The way that we get our food has changed. The way that we educate our kids has changed. The way that we watch movies has changed. And the way that we exercise."
Also, the way that we work. Many jobs will continue to be work from home, he believes.
"We don't know from a health care perspective what the next six months are going to look like, whether there will be a resurgence of cases (though coronavirus cases are rising in many states)." But he adds, "I don't see telemedicine (in which patients are seen remotely by providers via video technology) going anywhere. It's here to stay."
Just before the pandemic, the Premier Health Information Technology department developed a new telehealth platform equipped with a powerful camera that allows Dr. Tayim to remotely conduct pre-surgery assessments of neuro-oncology (brain tumor) patients who often have weakened immune systems (increasing COVID-19 risk) due to radiation and chemotherapy treatments.
This platform has also been used by Premier Health's stroke team for examining patients who may have suffered a stroke.
"I see this kind of telehealth advancement progressing and sticking around for a long time," Dr. Tayim says. "Because we're able to provide the same quality of care to patients in a way that's convenient and safe for them (reducing their exposure to COVID-19 and other infections)."
Managing the Stress And Anxiety
Stress and anxiety have been side effects of the pandemic. "Most of us were not infected in the medical sense, but we were affected by the waves of shutdowns," Dr. Tayim explains. "We didn't have a template for that, so our stress responses were very apparent because we were going through something for the first time. To the best of my knowledge there's never been something like that where people had to stay at home for six to eight weeks.
"There were so many emotions that came out in that period," from having to work at home, unemployment, financial difficulties, childcare issues, overseeing children's education, missing out on the common joys of life, including milestone experiences like graduation.
"Checking in on people and their mental health is something I do with every patient that I see, because it can be very taxing. The isolation can be taxing, but also the proximity of people (being confined to home) can be very taxing, too."
Due to the pandemic, some people develop "an aversion to going outside," Dr. Tayim adds.
Developing fears and feeling stress are natural, especially in a new situation like this, he says.
But take stock of what's making you uncomfortable during the pandemic, he advises, "whether it's talking with your friends, or family, or your doctors, or a mental health specialist, learning to become comfortable with this discomfort is important, because I don't see it going away anytime soon."
Maintaining Relationships
"Communication is important now, perhaps more than ever, not just with the people you're away from," Dr. Tayim says. "It includes the people in our immediate household, because the pandemic and all of what's happening in the world right now, it can create a different type of stress on you and the people inside your home, versus the people outside your home.
"So, if your spouse, or your roommate, or your kids seem particularly stressed, it's important to ask about that, because that may be a stress that you also share."
He adds, "I think we're checking in with people more now than ever before. There's that saying, 'check on your strongest friends,' because these are the ones you hear from the least during these kinds of things. But they're also the ones you need to talk to the most."
It's especially important to continue reaching out to older family members and friends, "who may not be completely comfortable with video technology," but would welcome a phone call or letter.
"Without having the statistics in front of me, I would say that more people have Facetimed during this pandemic than ever before."
Continue Following Precautions
It's too soon to stop following CDC coronavirus guidelines, Dr. Tayim says. "Things are opening up across the country, but we have seen very recently a spike in new cases and that would indicate that people have to continue practicing caution when they go out in public.
"We're still under a state of emergency. We shouldn't be going out, putting ourselves and others at risk by violating social distancing norms or not wearing a mask. Not everybody is taking that seriously.
"We all have a personal responsibility for the people in our lives to lessen the potential that they may become infected. And that stands true for physicians. When people come to see us, we want to make sure we're taking care of ourselves outside of the hospital."
Find Your Perfect Match
Answer a few questions and we'll provide you with a list of primary care providers that best fit your needs.
Source: Fadi Tayim, PhD, Clinical Neuroscience Institute