Wordle And Other Games a 'Mental Jog' For Your Brain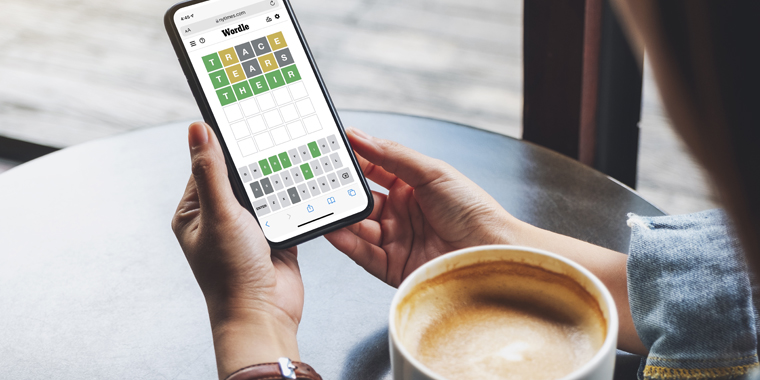 Find Your Perfect Match
Answer a few questions and we'll provide you with a list of primary care providers that best fit your needs.
Even if you don't play it, you've probably heard of Wordle. The online daily word puzzle is wildly popular – and good for your brain health.
Puzzles and word and math games that require critical thinking help build and maintain mental fitness, says Fadi M. Tayim, PhD, a clinical neuropsychologist and Division Chief of the Brain Mapping Center at Premier Health's Clinical Neuroscience Institute.
That's important as we age. Keeping your brain engaged can reduce your risk for Alzheimer's disease by up to 70 percent, says the Alzheimer's Research and Prevention Foundation.
How Your Brain Solves Puzzles
Word games and puzzles can be an entertaining way to sharpen your executive control and critical thinking skills. These mental exercises activate the frontal lobes of the brain, which direct your attention and problem-solving skills, says Dr. Tayim.
When you follow the rules for Sudoku or Wordle, you exercise your brain. Executive control includes:
Cognitive flexibility
Intense concentration
Using numbers and letters in different combinations and patterns
Verbal fluency
"You need to shift from one way of thinking to another pretty rapidly," Dr. Tayim says.
A Low-Stress Activity
As you look for ways to keep your brain healthy, avoid activities that cause you anxiety or frustration and stress, Dr. Tayim advises.
"It's important for us to keep our brains engaged in ways that are low stress," he says. "You want to do something to relax your mind."
Dr. Tayim plays Wordle every morning before work. He wakes up, exercises, and then completes the Wordle while enjoying his coffee, often with his dog at his side.
"It's a good habit to get the brain going for the day," Dr. Tayim says.
Just remember that these word games and puzzles are supposed to be enjoyable, while promoting your cognitive skills and critical thinking.
Social Benefits, Too
Part of Wordle's popularity is the social connection it promotes. Many people share their results on social media.
Others, like Dr. Tayim, use it as a conversation starter. He doesn't post his Wordles, but he talks daily with two other doctors who play the game. They have fun messaging each other about that day's word and how they solved it.
"It promotes a sense of community for those who enjoy it," Dr. Tayim says. "For someone who wants a light mental jog in the morning, it's fantastic."
Find Your Perfect Match
Answer a few questions and we'll provide you with a list of primary care providers that best fit your needs.
Source: Fadi M. Tayim, PhD, Clinical Neuroscience Institute; CNET; Alzheimer's Research and Prevention Foundation; The New York Times