Tis the Season! The Power of Holiday Spirit In an Uncertain Time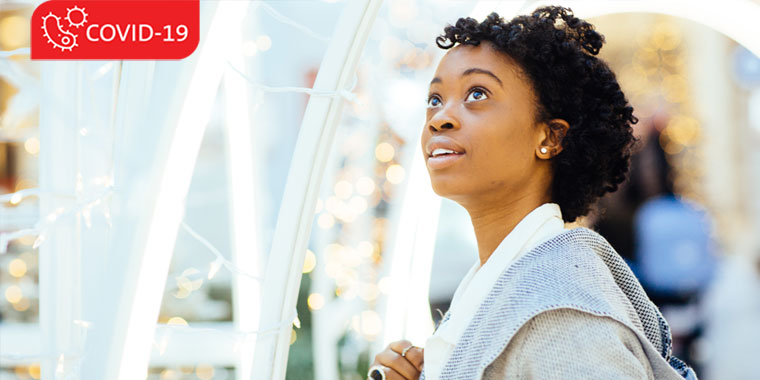 Find Your Perfect Match
Answer a few questions and we'll provide you with a list of primary care providers that best fit your needs.
The change from fall into winter can often produce a general sense of sadness as weather grows colder, skies become overcast, and the days are shorter — and that's during a normal year. That annual sense of gloom may only be heightened when you're also coping with an ongoing pandemic and the lingering effects of increased political and social tension. Oh, and it also happens to be time to celebrate the holidays.
Though this time of year comes packaged with its own unique set of stresses, it may also offer some timely opportunities for relief from them as well. Premier Health Now spoke with therapist Meredith Hollingsworth, LPC, from Samaritan Behavioral Health to learn about these possibilities at a time when they're most needed.
Merry And Bright
Though this year has brought on stress that is seemingly inescapable, the holiday season can actually serve as a ready-made diversion from the virtual stream of negativity.
"Though we may not always be able to change our circumstances, we can exercise control by altering our response to them," says Hollingsworth. "Life may not be perfect, but we can do what we can to make it better. Putting up holiday decorations gives us something fun to look forward to and creates a sense of expectation, while also allowing us to remember past happy moments."
There may also be a scientific connection between celebrating the holidays and an enhanced mood. Research has closely linked elevated feelings with the introduction of things that stimulate our senses in a new way. Lights and music that are so synonymous with this time of year may have a positive effect on our mental health. Hanging decorations and lights can also give us the chance to engage with loved ones during a time when personal interaction is most needed.
"When you spend this time with your closest loved ones, it allows you to reflect on the past while celebrating the present," says Hollingsworth. "Though it isn't perfect, I know of families who have even used technology to connect while they hang ornaments on a tree."
It is also true, however, that the memories of the season can be especially difficult for those who may associate it with financial hardship or personal grief. Hollingsworth encourages anyone in this situation to look for ways to focus their energy on creative outlets that can offer a sense of accomplishment, and even more importantly, to fight off the temptation to isolate themselves from others.
"Now isn't a time to stay closed off," says Hollingsworth. "One of the best things you can do when feeling overwhelmed is to seek help from a professional therapist."
If you or someone you know needs help, local and national services are available 24/7, 365 days a year. Contact:
CrisisCare, operated by Samaritan Behavioral Health in Dayton, Ohio, for suicide prevention, depression, anxiety and other mental health crises: (937) 224-4646(937) 224-4646
National Suicide Prevention Lifeline: (800) 273-8255(800) 273-8255
Text For Hope, a volunteer national suicide prevention texting service: 741741
Find Your Perfect Match
Answer a few questions and we'll provide you with a list of primary care providers that best fit your needs.
Source: Meredith Hollingsworth, LPC, Samaritan Behavioral Health Meredith Hollingsworth, LPC, Samaritan Behavioral Health