The Raw Facts About Eating Uncooked Meat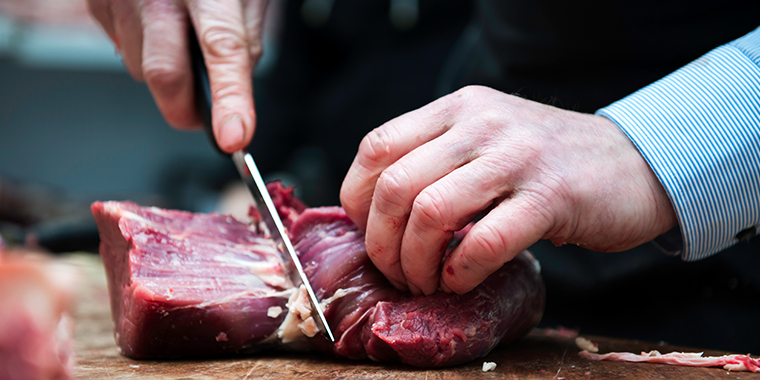 Find Your Perfect Match
Answer a few questions and we'll provide you with a list of primary care providers that best fit your needs.
It might seem logical that a return to a simpler, more primitive diet offers a healthier alternative in a world overrun with processed foods. Without a doubt, avoiding high-sodium, high-fat fast food is a step in the right direction. But some are advocating radical dietary alternatives that you might consider difficult to swallow.
Enter the social media influencer known as Liver King. He instructs his legion of 1.4 million Instagram followers to take up a diet consisting of raw animal meat and organs.
Though he also encourages adopting an active lifestyle, reducing sugar intake, and increasing consumption of nutrient-rich foods, you may be wondering about the health and safety of eating animal proteins that haven't been near a grill or oven.
Premier Health Now was certainly wondering. So we spoke with dietitian Allison Danko, MS, RDN, about the potential risks of such an extreme diet.
A Recipe For Trouble
Danko cautions that, unlike our "barbaric ancestors" the Liver King refers to, most Americans are purchasing animal products from places such as grocery stores and farmers markets. These products have therefore gone through processing procedures such as packaging, storage, and shipment – all of which increase the risk for contamination when consumed raw.
"Eating raw meat significantly increases your risk of foodborne illness," says Danko. "According to the Centers for Disease Control, one in six Americans (48 million people) contract a foodborne illness each year. Of that, 28 percent come from meat, poultry, and seafood. Cooking meat to a safe temperature is the absolute best way to avoid such infection."
While Liver King promotes the virtues of a protein-rich diet, research has shown the importance of plant foods (fruits, vegetables, nuts, seeds, beans, lentils, and legumes) in contributing to overall health, Danko says. These foods are rich in antioxidants (cancer prevention compounds) and phytochemicals (protection against chronic diseases), while also providing a good source of protein.
It's also important to note that excessive red meat intake has been linked to increased risk for heart disease and certain types of cancer. Red meat can certainly find its place in a healthy dietary pattern, but should not be the sole focus.
"If you are looking to build muscle mass, there are much safer, and more palatable ways than the Liver King's instructions," says Danko. "Instead, increase your daily protein intake in a safe way with a balanced diet including things like cooked meat, seafood, tofu, Greek yogurt, cottage cheese, eggs, nuts, seeds, and beans.
"If you are looking to make healthier choices, limit added sugars, increase fruit and vegetable intake, incorporate plant proteins, and replace refined grains with whole grain alternatives."
Find Your Perfect Match
Answer a few questions and we'll provide you with a list of primary care providers that best fit your needs.
Source: Allison Danko, MS, RDN Allison Danko, MS, RDN