Perils of Fish Pedicures…and Other Foot Notes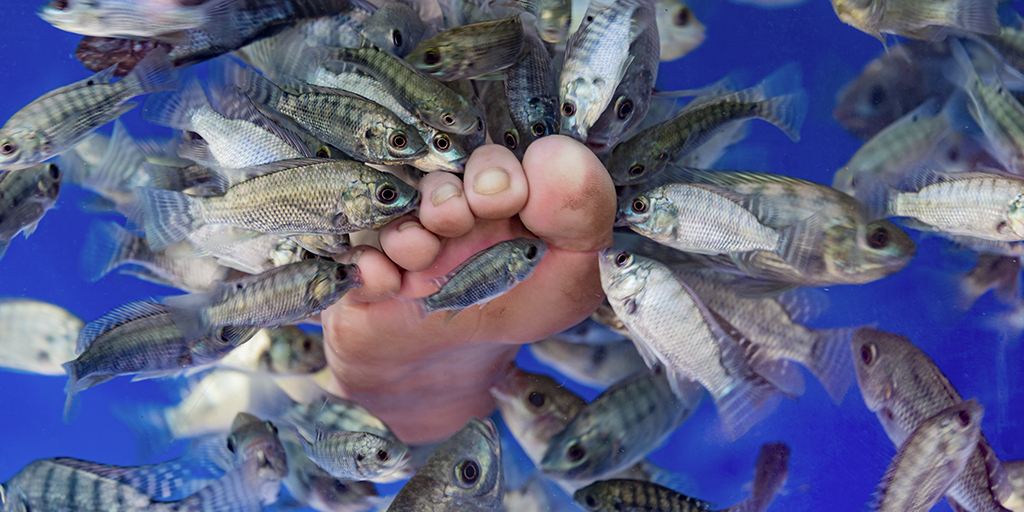 It's not your typical pedicure: Immerse your feet in a tub of water, as small Garra rufa fish imported from the Middle East nibble on your dead skin. A "fish pedicure" purportedly relaxes you and leaves your feet feeling softer and smoother, but several medical authorities question their safety.
CNN recently reported on possible hazards of fish pedicures, citing a woman losing her toenails months after her spa service.
Podiatrist David Ramig, DPM, with Premier Orthopedics, told Premier Health Now that more than 10 states have banned fish pedicures for a variety of health reasons. "Spas often use the same fish on multiple people, and you can't disinfect the fish," he notes. "You also can't sufficiently clean the water tubs between customers with fish in them."
Other concerning issues, according to the Centers for Disease Control and Prevention, are that the fish must be starved so they'll go after the dead skin. Plus, some Garra rufa fish have been cross-bred with a type of fish that have teeth, which can draw blood and cause infection.
Dr. Ramig recommends avoiding fish pedicures and following these general hygiene tips for safe salon pedicures:
Make sure the salon disinfects foot tubs after each pedicure to avoid spread of fungus and infection.
Nail techs should use disposable nail files and metal instruments disinfected after each use.
Trim nails straight across to avoid ingrown toenails.
Take your own pumice stone, since these can't be sterilized.
Routinely wash your shoes or spray them with fungal disinfectant.
Dr. Ramig adds, "Clean your feet thoroughly every day and hydrate your skin with cream — but not between your toes, because fungus likes warm, moist places. Take your nail polish off every now and then, and let your toenails breathe a bit."
Source: David Ramig, DPM; Centers for Disease Control and Prevention; CNN