New Hope For Alzheimer's Patients At Premier Health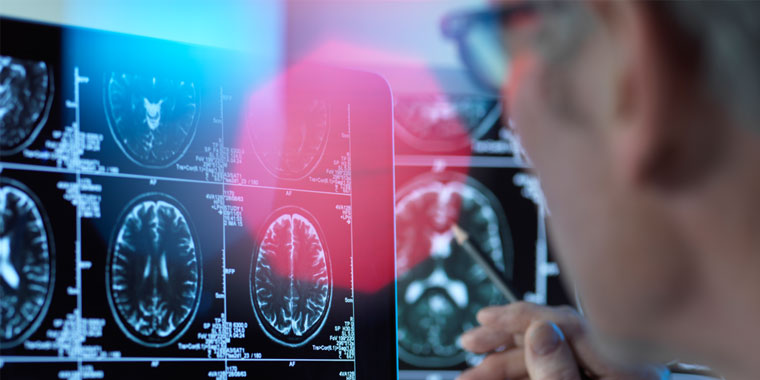 Find Your Perfect Match
Answer a few questions and we'll provide you with a list of primary care providers that best fit your needs.
For the first time in 20 years, there is new hope for those with Alzheimer's disease thanks to a recently approved — but controversial — medicine. Aducanumab directly lowers the amount of amyloid beta plaques in the brain. These plaques are the hallmarks of Alzheimer's.
"A lot of people are very positive about it," says Christopher Janson, MD, director of Clinical Neuroscience Institute's Memory Center at Premier Health. "It's really the first drug that has a strong scientific rationale that's been shown to have a biologic effect, not just in animal models, but in preliminary clinical trials."
Developed by pharmaceutical firm Biogen, aducanumab gained Food and Drug Administration approval on June 7, despite concerns from an external advisory group that research results about the medicine's impact were inconclusive.
Controversial Test Results
Two studies testing aducanumab ended with different results. One found no major changes in patients. The other showed that patients treated with high doses of aducanumab saw 22 percent less clinical decline in their cognitive health at about 18 months.
This means that some patients with cognitive decline showed a slowdown in their disease.
"That's kind of a big deal because the natural history of Alzheimer's is continued progression over time until people die," Dr. Janson says. "Just the fact that it could maintain somebody at their current level would be pretty remarkable."
Statisticians and other scientists looking at the data through a harsh lens say the studies are not conclusive, Dr. Janson says.
The FDA used its accelerated approval program for this medicine. That means studies about how well aducanumab works will continue, to verify the medicine's benefits for patients.
What You Need To Know About Aducanumab
Premier Health doctors are ready to provide the medicine to Alzheimer's patients who can benefit from it. Doses could be available within two months. You take aducanumab by infusion.
Aducanumab can be used for any patient with Alzheimer's disease. It may work best in patients with early signs of the condition or mild cognitive impairment. Biogen will provide more direction in the coming weeks, Dr. Janson says.
Be sure to talk to your doctor if you think aducanumab is the right Alzheimer's disease medicine for you or a loved one living with Alzheimer's disease. Side effects can occur. Doctors recommend regular MRI monitoring to check for brain swelling and brain bleeds.
What you will pay for aducanumab is not fully known right now. What we do know is that:
Before insurance, this medicine costs about $4,312 per infusion. That makes the annual cost for a high dose $56,000.
Commercial health insurance, Medicare, and Medicare Advantage plans will greatly lower the costs.
Certain assistance programs may reduce the cost to zero, Biogen says.
Biogen says it will not increase the price of aducanumab for the next four years.
What Makes Aducanumab a Landmark Drug?
Alzheimer's medicines currently on the market treat symptoms. Aducanumab uses an antibody to target the amyloid beta plaques that slow down brain functions.
A Swiss biotech company created this approach by studying older adults with healthy brains and immune systems and no Alzheimer's disease. The belief is that an antibody present in these people resisted Alzheimer's disease.
Biogen further developed aducanumab and tested it in animals and people. Despite the concerns of the external advisory group and other scientists, Dr. Janson says many neurologists believe there is enough study and imaging data to support a cognitive benefit and show a positive effect on lowering amyloid beta levels.
"In medicine, sometimes we need to make decisions and try things even if the data are a little ambiguous," Dr. Janson says.
Find Your Perfect Match
Answer a few questions and we'll provide you with a list of primary care providers that best fit your needs.
Source: Christopher Janson, MD, Clinical Neuroscience Institute, Memory Center, Premier Health; CNN