Maternity Mystery: 11 Miami Valley Hospital Nurses Pregnant At Once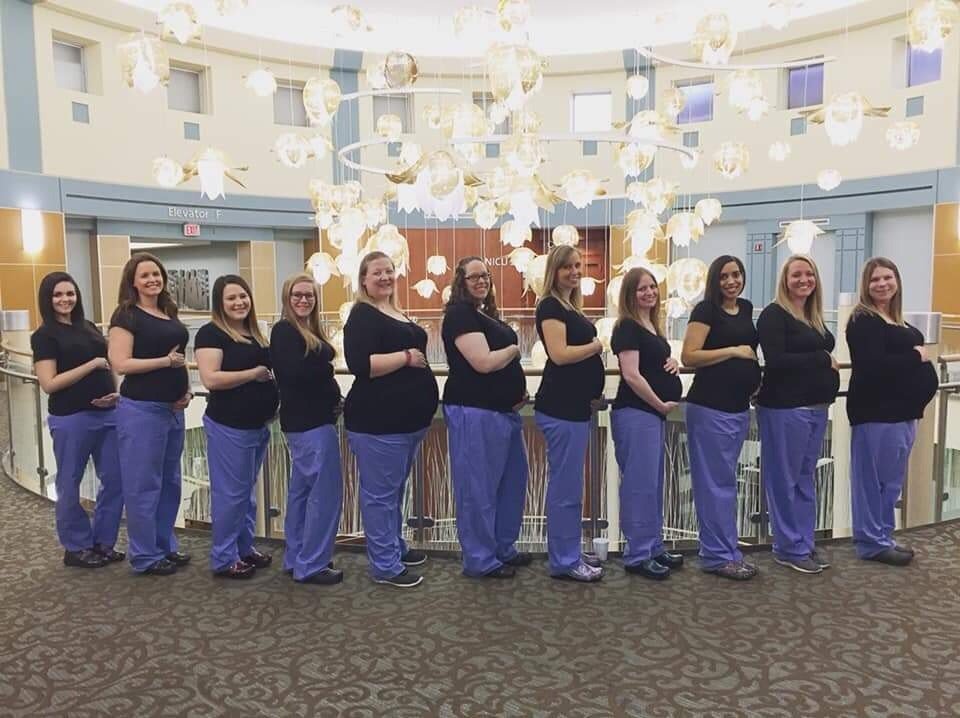 Eleven nurses who work in Miami Valley Hospital's labor and delivery department are pregnant. It's a story so unusual, it's making local and national headlines.
What's the science behind the phenomenon? Premier Health Now looked to OB/GYN Stephen Guy, MD with Women's Health Specialists and Midwives of Dayton for an explanation.
"I can't help you with this one," Dr. Guy laughs. "There really is no medical explanation." Can we blame it on the water, or the food? "Nope. It's just an interesting sociological observation," he says, "and a great human interest story."
Dr. Guy guesses it's partly due to their age. "All of these young women are of child-bearing age," he points out. "Maybe watching their patients deliver babies stirred in them a desire to have their own."
In his 37 years of delivering babies – about 7,000 to 8,000 so far – Dr. Guy says he has witnessed plenty of baby booms, but never among the nurses. The first nurse in the group delivered in late April, and due dates for the rest span from early May to October. All of the women plan to deliver where they work – and possibly will be assisted by their now-pregnant coworkers.
Our Miami Valley Hospital baby boom comes just weeks after nurses in Maine, teachers in Kansas and firefighters wives' in North Carolina each made headlines because a large group of coworkers are expecting babies at the same time. Earlier this year, a group of eight nurses in one obstetrics unit made headlines for giving birth over five months. Last year, five coworkers at a doctor's office in Ohio were all pregnant at the same time too and, in Kentucky, seven dads and one mom in a police department welcomed new babies at the same time.
Once the Miami Valley Hospital nurses made a list of all their pregnant coworkers, they realized that the total of 11 beat the nurses in Maine. In addition to the labor and delivery department, other staff members within the Berry's Women's Center also are pregnant.
Source: Stephen Guy, MD, Women's Health Specialists and Midwives of Dayton; WHIO TV; Good Morning America