Diabetes On the Rise In Pregnant Moms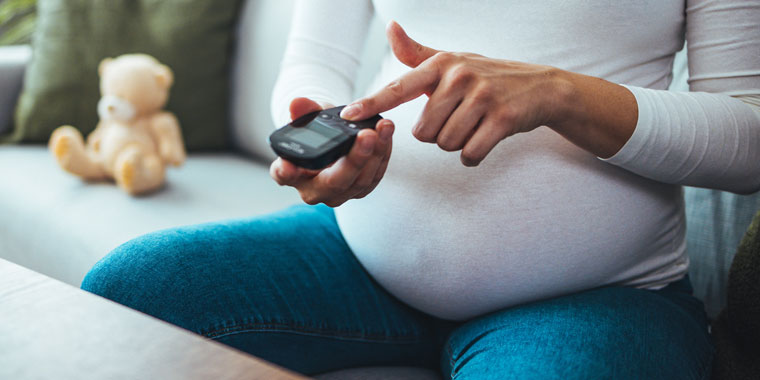 When data from the Centers for Disease Control and Prevention (CDC) indicated a 30 percent increase in gestational diabetes among pregnant moms in recent years, Premier Health Now wanted to learn more. We contacted Premier Health Registered Dietitian Nutritionist Jessalyn Anderson, RDN, LD, CLS.
Gestational diabetes is a pregnancy complication that can be harmful to both mom and her baby, Anderson explains. It occurs when the pregnancy blocks the ability of the insulin in mom's body to convert glucose, or blood sugar, to energy. "If left uncontrolled, gestational diabetes can cause serious complications."
Anderson says possible complications include:
A larger than normal baby at delivery. "They can weigh 9, 10, 11 pounds, which can make natural delivery difficult, could result in a C-section, and may require an earlier birth."
Underdeveloped lungs in the baby, even in babies born at the full 40 weeks.
A risk of preeclampsia – a serious, but treatable condition that can cause high blood pressure and damage major organs in moms, and increase the risk of stillbirth.
About half of moms with gestational diabetes end up developing type 2 diabetes after their baby is born.
Can Gestational Diabetes Be Avoided?
You can decrease your chances of developing gestational diabetes by exercising regularly, keeping your body mass index (BMI) in a healthy range, and eating a healthy diet. Ideally you should practice these healthy habits before you get pregnant, Anderson advises. "Genetics also plays a role, which unfortunately is out of our control," she adds.
Source: Jessalyn Anderson RDN, LD, CLS, Perinatal Partners; yahoo.com; Centers for Disease Control and Prevention Jessalyn Anderson, RDN, LD, CLS
Registered Dietitian Nutritionist