Justice Ginsburg Battles Stage 4 Pancreatic Cancer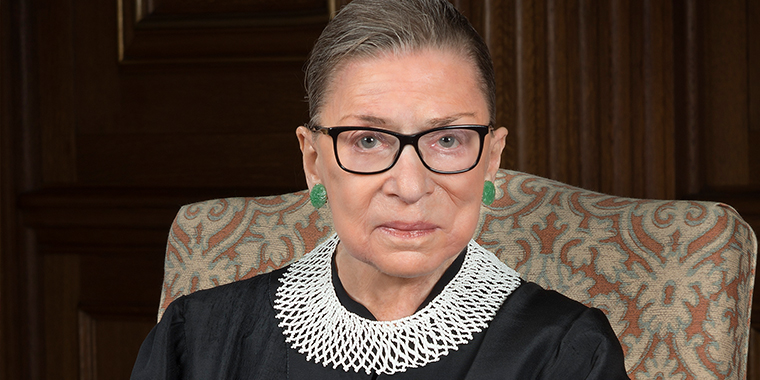 "Twenty years ago, we wouldn't typically have given chemotherapy to a person age 85-plus," Dr. Ouellette says. "Now she can continue to have treatment because she's otherwise very functional and reasonably healthy."
Treatments thus far have not seemed to impact her ability to perform her demanding job.
Managing the Cancer, Not Curing It
Originally diagnosed at a very early stage, Justice Ginsburg's pancreatic cancer had been presumed cured after she went beyond five years cancer-free.
This recurrence has shown up as tumors in Justice Ginsburg's liver. Dr. Ouellette says it's unusual, but not unheard of, for a cancer to reappear after so many years. As a cancer that has spread, it is now considered stage 4 cancer. She is receiving gemcitabine, a standard chemotherapy treatment for recurrent pancreatic cancer.
Progress in cancer treatment in recent decades has included increasingly sophisticated treatment options: highly precise surgery, chemotherapy, radiation therapy, immunotherapy, and targeted therapy (which analyzes a tumor and selects a combination of drugs to combat a specific type of cancer).
Justice Ginsburg has received most of these at one time or another. She received radiation therapy for pancreatic cancer in 2019 and immunotherapy just recently.
"Immunotherapy, which stimulates your own immune system to function better, has had good results with melanoma and lung cancer," Dr. Ouellette says. "It's currently more experimental with pancreatic cancer."
In Justice Ginsburg's case, the immunotherapy wasn't successful in shrinking her tumors. Her current bi-weekly chemotherapy regimen is focused on managing tumor growth in her liver.
"The expectation is that she won't be cured of this," Dr. Ouellette says.
At age 87, she has already defied the odds, he adds. "In general, people who are healthier and stronger at the outset tolerate cancer treatment much better and are likely to have a longer lifespan because of it."
Source: James Ouellette, DO, FACS, Premier Surgical Oncology; CNN