It's Creepy And It's Kooky: Tips For a Safe COVID-19 Halloween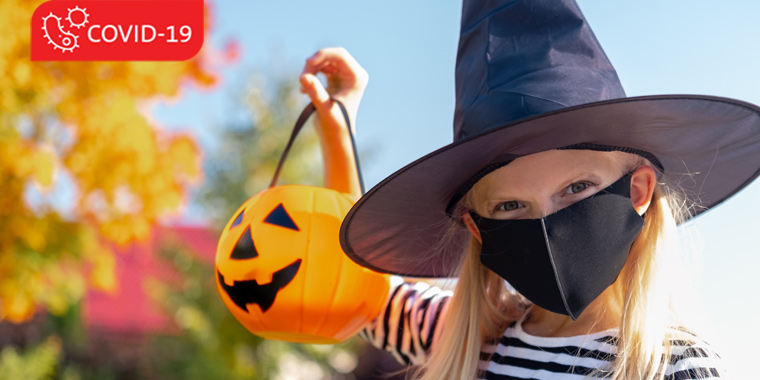 The spookiest thing about Halloween 2020 may be the COVID-19 pandemic. You can safely celebrate the season — with candy, costumes, decorations, gatherings, and trick-or-treating — by getting creative as you follow health guidelines.

Premier Health Now talked with Marc Belcastro, DO, chief medical officer at Premier Health, for Halloween tips and advice.

While the Centers for Disease Control and Prevention (CDC) recently labeled traditional trick-or-treating as high risk, you can make adjustments to protect your children, yourself, and your neighbors.

"There are ways that trick or treat activities can be done safely," Dr. Belcastro says. "This is the perfect year to make sure whatever your child decides to use as a costume includes a mask."

Masks: The Essential Costume Accessory

What makes Halloween night dangerous is large groups of children who do not live in your household shouting "trick or treat" at your doorstep, says the CDC. Droplets carried through the air from shouting and speaking could contain COVID germs and be inhaled by others.

If a costume doesn't include a mask, you can add one and do something fun with it. Dr. Belcastro recommends adding fangs or some teeth — whatever encourages your child to wear the mask for protection.

Masks can make trick or treating safer, says Dr. Belcastro. Be sure to:

Wear a cloth or disposable mask
Cover the nose, mouth, and chin with the mask
Use a proper protective mask under any masks that come with a costume

"If your child wears a mask and the person giving out candy wears a mask, I think those things make it safe," says Dr. Belcastro. "I hope people will wear a mask out of respect and kindness."

What can you do if you approach a house where the person handing out candy is not masked? Dr. Belcastro suggests this tactic:

Instruct your child or teen to set down their bag
Then step back about 6 feet
Let the homeowner place candy in the bag and shut the door
Pick up your bag once the door closes

Another option is to simply bypass any house where those passing out candy are not wearing masks.

Halloween Candy: How To Safely Give And Get Treats

Is it safe to eat candy collected by going house to house? Most evidence shows a low transmission rate of COVID-19 by touching something touched by another person, Dr. Belcastro said.

To ensure your child gets to enjoy the spoils of trick-or-treating, follow these tips:

Do not eat any candy along the way
Wipe down all wrapped candy when you get home
Throw away any treat without a wrapper

Get creative about how you give out candy to avoid gatherings at your doorstep and keep everyone safe. Some ideas:

Place several pieces of individually wrapped candy into plastic bags
Set the candy bags on a table for children to pick up as they walk by
Decorate a long tube and shoot candy down the slide to recipients
Drop candy down to trick-or-treaters from a balcony or deck

General Halloween Safety Tips

If you and your family continue to follow COVID health guidance, you can safely have a fun Halloween, says Dr. Belcastro. Remember to:

Carry hand sanitizer and extra masks
Refrain from trick-or-treating if you feel sick or have COVID symptoms
Get your flu shot
Practice hand hygiene. Gloves are not necessary.
Keep a social distance of 6 feet
Stay outside
Wear a mask
Wash your hands when you get home

Reduced-Risk Ways To Enjoy Halloween

Some communities banned trick-or-treating. Some families want to avoid potential contact with COVID germs. Others are seeking new ways to have a spooktacular time. However you choose to celebrate Halloween, you can keep it safe while having fun.

The CDC recommends gathering in smaller groups for short periods of time, practicing social distancing whenever possible, staying outside, and wearing a mask. There are many lower risk ways to enjoy Halloween.

Low risk options:
Carve pumpkins at home
Decorate outside
Have an indoor Halloween movie night with your household
Host a virtual Halloween costume contest
Plan an outside Halloween scavenger hunt for nature or decorative items
Set up a trick-or-treat scavenger hunt at home

Moderate risk activities:

Go apple picking at a local orchard
Have a small group outdoor Halloween parade
Host an outdoor costume party where everyone stays six feet apart and wears a mask
Offer grab and go trick-or-treating that lets child pick up a bag of candy as they walk by
Plan an outdoor Halloween movie night with local family and friends
Visit a pumpkin patch

High risk activities to avoid:

Fall festivals outside your community
Hayrides or tractor rides with people outside your household
Indoor haunted houses
Indoor parties
Traditional trick or treating
Trunk or treat events
Source: Marc Belcastro, DO, Chief Medical Officer, Premier Health; Centers for Disease Control and Prevention; Today.com