Is the 'Cancer Moonshot' Within Reach?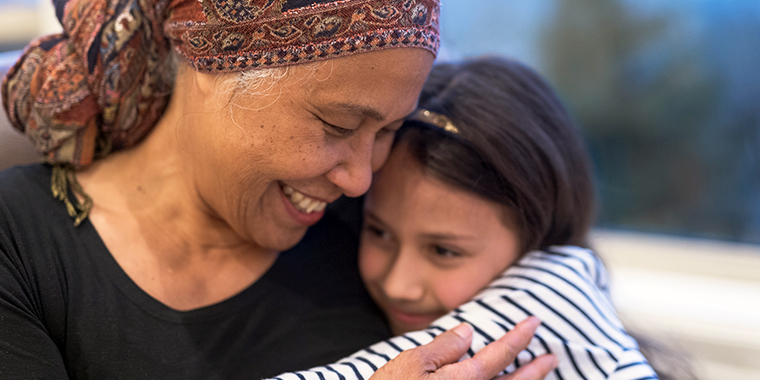 Find Your Perfect Match
Answer a few questions and we'll provide you with a list of primary care providers that best fit your needs.
Reduce by half the number of cancer deaths in the U.S. in the next 25 years. That's the bold objective of President Biden's "cancer moonshot," which he recently addressed — 60 years after President Kennedy announced his literal moonshot, to send manned missions to the moon.
Is the cancer moonshot achievable? That's what Premier Health Now recently asked surgical oncologist James Ouellette, DO.
"If you don't make a goal, you clearly can't get there," he answered. "No one who deals with cancer every day is going to be opposed to having more support available to fight cancer."
The key to success, he adds, will be in choosing "the right places to put that investment. That's to be determined, seeing where progress is being made and where the potential for exponentially improving advances will come."
The cancer moonshot includes creation of:
The Advanced Research Projects Agency for Health to help drive breakthroughs in prevention, detection, and treatment of cancer and other disease like Alzheimer's and diabetes
The National Biotechnology and Biomanufacturing Initiative to facilitate development and production of technology, in the U.S., to reduce cancer's threat
Progress is already being made toward lowering the cancer death rate and increasing the survival rate, according to a new report from the American Association for Cancer Research (AACR).
The number of U.S. cancer survivors increased by more than a million in the past three years, to 18 million – a number anticipated to increase to 26 million by 2040, the AACR says. The five-year survival rate, for all cancers combined, increased from 49 percent in the mid-1970s to nearly 70 percent from 2011 to 2017.
A corresponding drop in the overall cancer death rate from 1991 to 2019 has added up to nearly 3.5 million deaths avoided, ACCR adds.
Dr. Ouellette says, "We have made lots of advances in the last five, 10, or more years, but how can we make them faster? It's by efforts from people, doctors, and research scientists – it's a coordinated effort. And everybody can participate.
"When COVID-19 was big enough to stop the world, research was pointed in that direction. COVID is a perfect example of how quickly something can get done when people direct their efforts all in the same direction."
As a patient, he says, you can get involved by participating in proven cancer screening, diagnostic, and treatment programs, enrolling in trials of new treatments, and donating tissue or blood for studies.
A Promising Cancer Screening Test
While discussing the cancer moonshot, we also asked Dr. Ouellette for his thoughts about an ongoing study of a new cancer screening blood test, the Galleri test, which could lead to earlier diagnosis of many cancers. It's reportedly capable of identifying markers for more than 50 types of cancer, including several for which no routine screening tests currently exist – like liver, pancreatic, and ovarian cancer. Markers are substances in blood that may signal cancer or the potential for tumors to develop.
Preliminary study findings were recently reported at the European Society for Medical Oncology in Paris. More research needs to be completed, though, before the Galleri test can gain Food and Drug Administration approval and become a standard screening tool, Dr. Ouellette says.
When the test detects a cancer marker, appropriate tests must be conducted to positively diagnose the cancer. But if a follow-up test turns up negative, he explains, "what we don't know yet, is when does that test need to be repeated. You could be negative in 2022, but if you took the same test in 2024, you may come back positive."
He adds, "I think eventually we're going to see an advantage to having that information (from the Galleri test). Will it be an advantage for everyone? Maybe not. But it will certainly be an advantage to some because they'll be able to act quicker and with more aggressive testing and monitoring. But we're a ways from that."
In the Meantime…
For now, talk with your health care provider about currently available cancer screenings that are right for you, based on your personal and family health history.
"What people can do now," Dr. Ouellette adds, "centers around how can you promote your and your family's own care. Screening programs continue to become developed but they're certainly not magically successful overnight. It takes people to participate.
"As we find the ability to better diagnose, or earlier diagnose and identify some of these cancers, then hopefully we'll get the public to join in the effort by participating in proven programs and trials."
Find Your Perfect Match
Answer a few questions and we'll provide you with a list of primary care providers that best fit your needs.
Sources: James Ouellette, DO, Premier Surgical Oncology; NPR; Cancer.gov; U.S. News and World Report; CNN