Football Death a Wake-Up Call for Player Safety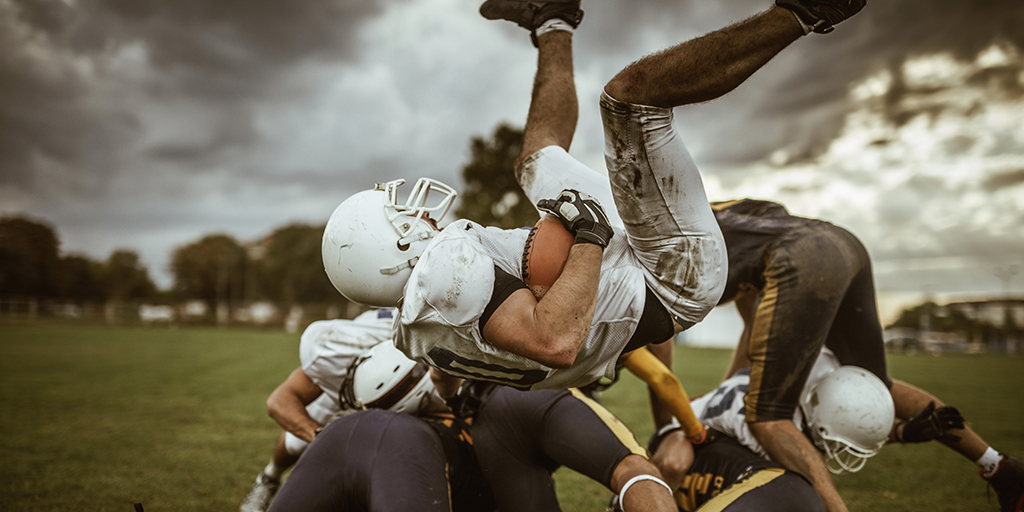 The tragic story of a Georgia high school football player's death after collapsing during a game reawakens every parent's fears about a fatal head injury during contact sports.
Premier Health Now asked Jeffrey James, DO, of Premier Orthopedics, to offer perspective and advice on what to do to protect young athletes.
He notes that football-related deaths are rare, although "anytime anyone dies, let alone a high school player, it's a tragedy." Of the more than 4 million young people who played organized football in 2017, 13 died. Four deaths occurred from direct trauma issues.
State laws have been passed in Ohio mandating concussion training for coaches and concussion screenings for players injured on the field. As head team physician for University of Dayton football, soccer and basketball, and Centerville High School football, Dr. James knows the challenges of evaluating for concussion.
"The difficulty is that there's no one test that says you have a concussion or you don't," he comments. The symptoms of other conditions sometimes overlap those of head injury:
Headache
Dizziness
Balance problems and loss of coordination
Double or blurred vision
Feeling of being in a fog
Problems with concentration
"The number one thing we can do is be aware," Dr. James says. "If you're injured, come out of the game.
"Parents, kids and coaches need to know that the more hits you take while concussed, the more severe that injury and its symptoms can become." Second impact syndrome occurs when continued hits cause swelling or bleeding in the brain.
To protect our youth, Dr. James advises avoiding contact sports until junior high, if possible. He also counsels, "Make sure equipment is up to date and fits appropriately. Kids shouldn't be afraid to admit they're having symptoms. And when in doubt, sit it out."
Source: Jeffrey James, DO, Premier Orthopedics; CNN; National Center for Catastrophic Sport Injury Research