Eating 'Fast Food' Can Lead to Faster Mental Decline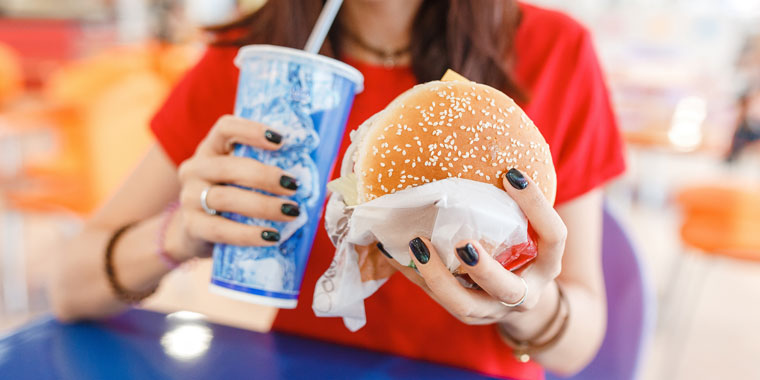 Find Your Perfect Match
Answer a few questions and we'll provide you with a list of primary care providers that best fit your needs.
New research shows that eating lots of processed foods may speed up your brain's rate of cognitive decline.
The study was presented this August at the Alzheimer's Association International Conference. It finds adults who get 20 percent or more of their calories from highly processed foods experience a 25 percent faster decline in the ability to plan and execute tasks.
The loss of executive function becomes apparent over six to 10 years, compared to people who eat small amounts of processed foods.
The findings are not surprising, says Christopher Janson, MD, director of the Clinical Neuroscience Institute Memory Center at Premier Health.
"We've known for a long time that nutrition has a huge influence on cardiovascular and brain health," Dr. Janson says.
What Are Processed Foods?
Processed foods include fast food, prepackaged meals, and items with lots of added preservatives and refined sugars. Such ingredients can lead to diabetes and heart disease and declines in mental function over time, often caused by heart attack and stroke.
Examples of highly processed foods include:
Candy
Cookies
Frozen meals ("TV Dinner")
Fast food, such as hot dogs and processed meats containing nitrites
Soda or artificial fruit juice
Anything that comes prepackaged, which has sugar as one of the top ingredients, or which contains preservatives is likely to be highly processed.
Earlier studies show that calories from processed foods make up 58 percent of the American diet.
This latest research, which examined diets and cognition of more than 10,000 middle-aged and older adults in Brazil, estimates calories from processed foods make up 25 percent to 30 percent of the Brazilian adult diet.
Lack Of Nutrients Aggravates Health Risk Factors
Processed foods pose a problem because they lack vitamins and other helpful substances found in fresh foods like raw fruits, vegetables, nuts, and other sources of protein, Dr. Janson says.
"There are essential nutrients that you get in a normal diet, but when you cut corners, you get a lot of empty calories," Dr. Janson cautions. "You don't get all the things you need to maintain proper brain health and health in general."
A nutrient-poor diet multiplies the effects of other health risk factors and social determinants of health, such as:
Alcohol use
Diabetes
High blood pressure/hypertension
Lack of exercise
Limited access to health care
Obesity/overweight
Smoking
"We know that heavy smoking and alcohol use are associated with cardiovascular disease and vascular dementia," Dr. Janson says.
Many dementias are at least in part vascular dementia, he says. Vascular dementia is caused by reduced blood flow to the brain. Narrow blood vessels, a stroke, or a heart attack can deprive brain cells of oxygen and nutrients. Vascular dementia is the second-most common form of dementia after Alzheimer's disease. Even those with Alzheimer's also may have underlying risk factors, or mixed dementia.
Eat Healthy: Talk With Your Doctor and Make a Plan
Doctors and health officials have been encouraging the public to manage their health risk factors for years. This most recent study drives home the important connections between brain health, an active lifestyle, and good nutrition, Dr. Janson says.
"When you see your doctor, ask about your diet," he says. "Discuss changes you can make. There may be supplements you can take to help maintain and support normal brain health."
Fresh foods can be expensive. Dr. Janson suggests these tips for getting more brain health nutrition for your dollar:
Include beans in your diet as an affordable source of essential nutrients and protein
Choose whole grains over white bread and rice
Eat lean meats
Make smart choices within your budget
Snack on nuts (without added flavors and sugar) for protein and nutrients
Opt for fish like salmon when possible
Shop at local farmers markets (many accept SNAP benefits)
Find Your Perfect Match
Answer a few questions and we'll provide you with a list of primary care providers that best fit your needs.
Sources: Chris Janson, MD, director, Clinical Neuroscience Institute Memory Center at Premier Health, CBS News, Alzheimer's Association