COVID-19 Booster Adds Protection From Delta Surge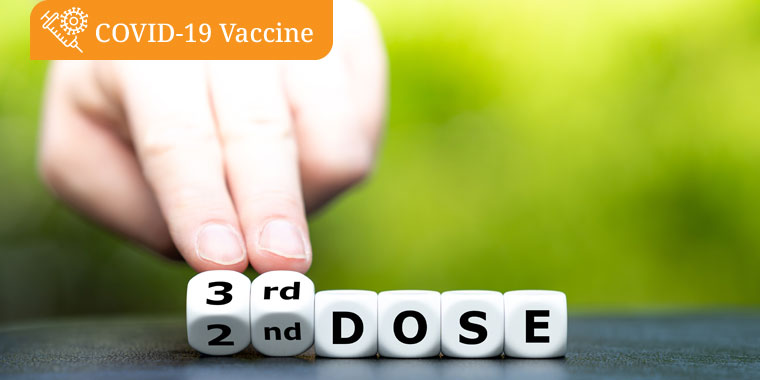 If you're not keen on the idea of getting a COVID-19 vaccine booster, infectious disease specialist Steven Burdette, MD, encourages you to be open to the possibility. "Look at a tetanus shot. You get a booster every 10 years," he reminds us. "And we repeat vaccinations for influenza every year. The COVID-19 booster is intended to do much the same," he says. "It is meant to protect us from an infectious disease that is expected to spread throughout the community."
The booster is important, says Dr. Burdette, because data show that while vaccines are up to 95 percent effective at protecting from COVID-19, their effectiveness diminishes a bit as time goes on. The booster aims to bring your immune system back up to full strength. It's especially important as the Delta variant surges across the country and, in some instances, affects those who have already been vaccinated (called "breakthrough cases").
Call It a 'Third Dose'
A booster is actually just a third dose of the same Pfizer or Moderna vaccine you already received. "We're not waiting for a new vaccine or a new shipment. It's another dose of what you've already gotten," says Dr. Burdette. Because the Johnson & Johnson vaccine came out later than the others, data isn't yet available on whether another dose of that vaccine will be recommended.
Dr. Burdette says the booster is especially important for those who are at risk, including the elderly, and those whose immune systems may be suppressed due to an organ transplant, cancer, or an underlying medical condition.
What About the Rest Of Us?
"Until more literature is available, right now my focus is on people who are at risk," says Dr. Burdette. "I'm not sure an 18-year-old, who is completely healthy, needs to run out and get their third dose at this point."
On August 18, the Centers for Disease Control and Prevention issued a report indicating the third dose is best administered eight months after the second dose. But stay tuned, Dr. Burdette says. Information is still developing.
Dr. Burdette strongly recommends all eligible people get the COVID-19 vaccine. He says if you've not yet been vaccinated, and are hesitant to do so, talk to your provider or another medical professional to understand why it is right for you.
Source: Steven Burdette, MD, Medical Director of Infection Prevention at Miami Valley Hospital; Centers for Disease Control and Prevention