Coronavirus COVID-19: How We're Prepared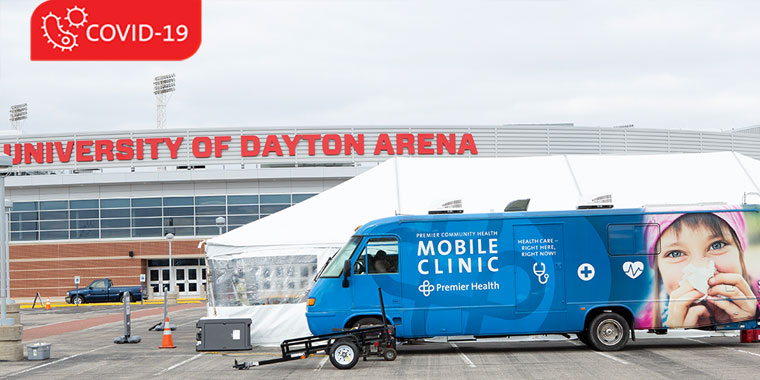 We are currently living and working in an unprecedented time with challenges that would have been unimaginable not long ago. As the coronavirus (COVID-19) pandemic continues to evolve, we want to assure you that the team at Premier Health is working diligently to cover the myriad of components associated with this quickly evolving crisis.

Many of you have reached out to express your support for our hospital teams and caregivers. It means so much, and we thank you deeply for your care.

During these challenging times, we want to keep you updated on how we're dedicated to protecting you, our staff, and our communities, and to limiting the spread of coronavirus (COVID-19). Our clinicians are well prepared to accurately screen for risk of COVID-19 and respond immediately to prevent further spread. We are prepared to identify, isolate, and treat any potential patient who seeks care at our facilities. We are in contact with local and state health officials and Centers for Disease Control and Prevention (CDC), and our staff is diligently following the latest guidance from these public health agencies so that patients affected by COVID-19 will be able to get the care they need while protecting the health and safety of our associates.
Prevent the Spread
In order to prevent the spread of COVID-19, we recommend you follow these important guidelines from the CDC.
If You Have COVID-19 Symptoms
If you or a family member have symptoms of COVID-19 (fever, cough, shortness of breath, flu-like symptoms), in order to minimize the risk of exposure to yourself and others, we ask that you please take these steps. Please do not go directly to your doctor's office, without calling first, since many can isolate at home without being evaluated in person.
Proactive Preparedness
As we begin to see new COVID-19 cases emerge in Southwest Ohio, we are taking a variety of proactive steps to be prepared across our system.

Telehealth Options Available
To minimize the risk of exposure to yourself and others, you can see a health care provider from the comfort of your home. Patients of Premier Physician Network primary care providers can request an e-visit in MyChart®. You can see a health care provider 24 hours a day, seven days a week with Premier Virtual Care.
New Emergency Department Procedures
To keep all of our emergency department patients safe and their wait times as short as possible, Premier Health has developed a "split-flow" process at our main hospital campuses. Patients who have a cough, fever, sore throat, or are experiencing shortness of breath will be asked to enter the emergency department through an alternate entrance. We have put up signage – and also tents, in some cases – at our emergency department entrances as part of this process, which will remain in place for the foreseeable future.

If you have chest pain, difficulty breathing/shortness of breath, dizziness, a severe headache, or other potentially life-threatening problems, please call 911. We ask that you do not go to your local emergency department for COVID-19 testing as the emergency department is for those who need the most critical care.
Visitor And Dining Restrictions
Premier Health hospitals, along with all members of the Greater Dayton Area Hospital Association, are restricting visitors to limit the spread of COVID-19. Visitor restrictions also are in place for Premier Physician Network offices. Learn more about current visitor restrictions.
Our hospital dining areas remain open for carryout only, continuing to offer a variety of nutritious foods for visitors and staff. Seating areas have been greatly reduced and are reserved for visitors. Please note that hospital dining areas are accepting only credit cards and employee payroll deduction.
Classes And Events
All in-person classes and events are suspended. Get the most current information on future classes and online opportunities.
COVID-19 Testing
To meet the high demand for COVID-19 testing, we have set up a collection site in the University of Dayton Arena parking lot. This site offers a process to collect specimens only from patients who have a physician order with them for a COVID-19 test to be performed. Those who visit the site with a physician's order will be checked to see if they have a fever and other symptoms consistent with COVID-19. Those who are asymptomatic might not be tested, even if they have a physician's order.
Ways To Help
As we all work together to fight this pandemic, everyone makes a difference. You can recognize #healthcareheroes, make a donation, and more.
Explore Our COVID-19 Resources
We're here for you and your family with important information about the health crisis, ways to remain healthy, and suggestions for coping with the new challenges we all face.

Find all of our coronavirus COVID-19 information, along with the latest updates on Premier Health's response to the rapidly changing outbreak.

Follow us on social media for updates and tools to help you maintain good physical and emotional health. Our specialists share tips for staying active, managing anxiety, caring for your loved ones, and more.

You can rest assured that at Premier Health, our care lives here for you and your loved ones — now, and when we've come through this crisis together.
Source: Centers for Disease Control and Prevention