Cervical Cancer Screenings Push Early Detection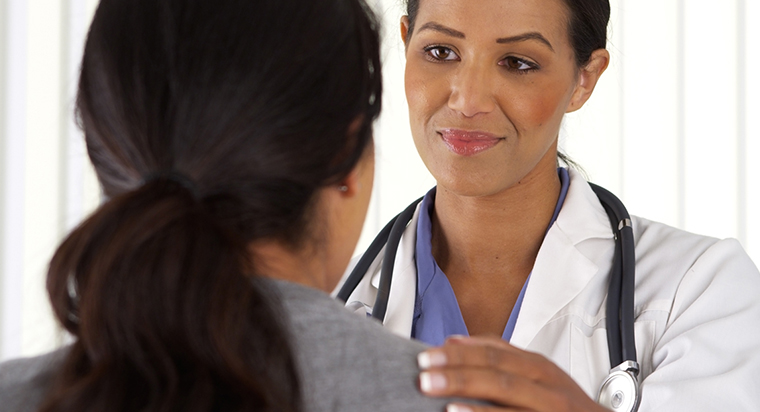 Early detection is a major factor in having a positive health outcome with cancer.
Two screening tests are available to help you detect and prevent cervical cancer, and they're both easy steps to protect your health.
The first screening – a Pap smear – is a swab of the cervix that checks for precancers and cell changes in the cervix.
A human papillomavirus (HPV) screening is similar. It is a swab also collected during a pelvic exam that checks for HPV, which can lead to cancerous and precancerous cell changes.
Both tests can be done in your doctor's office. Often, women have them done during their annual gynecologic visit.
Screening Guidelines
According to the American Cancer Society, you should follow these updated guidelines for screenings:
Women ages 25 through 65 should be screened with a Pap smear and HPV screening every five years, or a Pap teat alone every three years. If you have additional risk factors, your doctor might recommend you have more frequent screenings or continue screenings after age 65.
Women over age 65: Stop screening if you've had a history of normal results.
The American College of Obstetrics and Gynecology (ACOG) recommends this screening schedule:
Women ages 21 through 29 should be screened with a Pap smear every three years
Women ages 30 through 6 should be screened with a Pap smear and HPV screening every five years, or a Pap smear alone every three years.
Women over age 65: No screening recommended
Be sure to talk with your doctor about what's best for you.
"For Pap screenings in particular, the reason that screening guidelines have changed is that the medical community has begun to learn more and more about the nature of the HPV virus," says Susan Emmerling, MD, of Lifestages Centers for Women, part of Premier Physician Network.
"So, as the medical community learns more about HPV and cervical cancer at large, we are able to come up with more appropriate screening guidelines that indeed impact the rates of cervical cancer in a positive way while also limiting invasiveness to the patient, limiting unnecessary testing, medical costs, and more."
Abnormal Results
If you have a Pap or HPV test come back with abnormal results, try to stay calm, Dr. Emmerling advises. Many times, tests come back abnormal due to a small amount of HPV-driven changes that often resolve themselves.
"Any abnormal Pap smear test should simply prompt a woman to make sure that she's following up appropriately with her gynecologist," Dr. Emmerling says.
To learn more about cervical cancer screenings and HPV, talk to your doctor or health care provider or search for a provider.
Sources: Susan Emmerling, MD, Lifestages Centers for Women; Human Papillomavirus (HPV) Test, Healthwise, 10/11/2019; Pap Test, Healthwise, 12/19/2018; Cervical Cancer, Healthwise, 12/19/2018; American Cancer Society