Transitioning Kids From Summer Fun To a School Schedule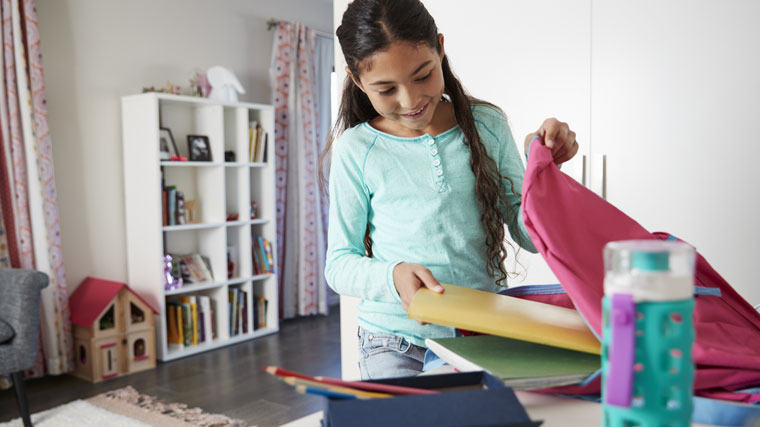 Find Your Perfect Match
Answer a few questions and we'll provide you with a list of primary care providers that best fit your needs.
Summer days can be long and filled with fun. But as the days get shorter and the months roll by, it all-too-soon will again be time for bus stops and packed lunches, No. 2 pencils and gym bags.
Preparing your children to go back to school after summer break can affect a variety of behaviors that become habits during long-days full of sunshine and family time. But, it's important to plan ahead and work to get kids back to their school-year schedule before school starts. Easing back into the routine can make the adjustment less stressful for the whole family. Dr. Paul Weber explains.
Getting kids back on track with sleeping habits is important to avoid grogginess and lack of focus during the school day. To transition back to a school-year bedtime routine:
Allow two weeks for change – Start bedtime adjustment about two weeks before the first day of school. Plan bedtime a bit earlier each night and adjust for an earlier wake-up time each morning until you get back to your school-year routine.
Dark and quiet – Create a sleeping environment for your child that is dark and peaceful. Keep radios, TVs and other electronic devices out of their bedrooms to avoid temptation and interference with sleep.
Encourage nutritious choices – Make sure your kids avoid big meals, sugary snacks and caffeine before bedtime. Caffeine especially should be avoided for at least six hours before bedtime so it doesn't interrupt sleep patterns.
Limit screen time – Cut back on the amount of time your children spend watching TV, playing video games, using the computer or a table, texting friends and surfing social media on a smart device, especially just before bed.
Start "quiet time" – Between vacations, summer sports and just taking advantage of the longer days, summertime can get kids revved up to be on the move. Create some time for kids to wind down and relax at the end of the day, which could include bath time or story time for younger children or reading on their own for older children.
Stay consistent – Once you start changing your bedtime/waking time routine, don't skip days. Stick with it for at least the two weeks before school so your kids have time to get used to the change.
In addition to establishing a good sleeping schedule, there are ways to make sure your children's first day of school is as comfortable and anxiety-free as possible. Try these ideas to alleviate back-to-school stress:
Connect with other kids – Reach out to other children who you know will be in your child's class or school so they'll have a familiar face to look for.
Get excited – Practice new teachers' names, talk about new things they might learn and new projects they might get to work on. Celebrate the start of a new school year by celebrating your children's growth.
Get prepared – Get supply lists early and plan a special day or two to dedicate to back-to-school shopping. Let your children help pick out pencils, a backpack and even the design on the tissue box so they can feel involved and excited for the fresh start.
Visit the classroom – Taking a trip to check out a new school and new classroom and locating other important places in the school – including bathrooms, the lunchroom and more – can make your child feel more confident.
Dr. Christopher Lauricella provides more ideas for keeping your child's anxiety to a minimum.
Click play to watch the video or read video transcript.
Find Your Perfect Match
Answer a few questions and we'll provide you with a list of primary care providers that best fit your needs.
Sources: Christopher Lauricella, DO, Premier Health Family Care - North; Paul Weber, MD, The Pediatric Group