Physicians Encourage Men To Make Check-Ups a Habit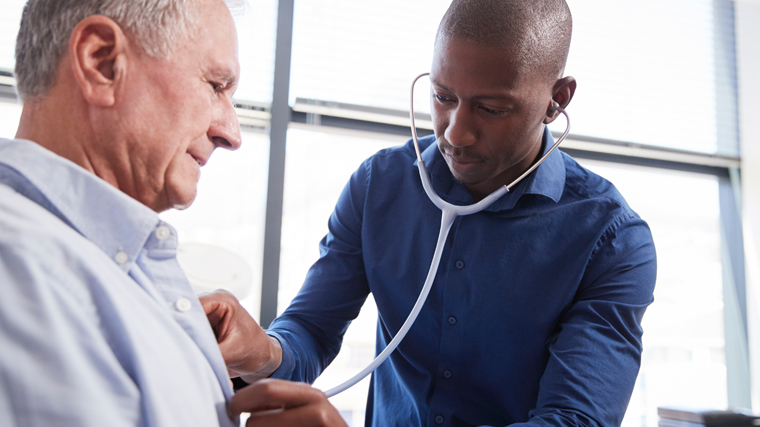 Find Your Perfect Match
Answer a few questions and we'll provide you with a list of primary care providers that best fit your needs.
Men often neglect scheduling regular physical exams once they are done with school sports. And that's unfortunate, says family physician Joseph Allen, MD, because routine physicals can detect problems before they become serious – and when they're easier to treat.
While the list of top health threats for men includes heart disease, cancer and stroke, some of the biggest threats to a man's health are his own personal, lifestyle choices, like diet and physical activity.
"Once men reach the age that they don't require yearly physicals for school or sports, they will go years without seeing a doctor for a check-up," says Dr. Allen. "If it weren't for wives, girlfriends, mothers, and daughters, our practice would be half its size. In most cases, it's the women who encourage the men in their lives to come in for check-ups every couple of years."
Aches and pains that you may perceive to be minor could actually be early symptoms of a more serious condition. And these health problems that could be detected during a routine physical at an early age may not be detected until later in life. Consequently, these conditions require more serious and sometimes more aggressive treatments.
According to the Centers for Disease Control and Prevention (CDC), the leading cause of death in men is heart disease. Two of the major risk factors associated with heart disease are high blood pressure and high cholesterol, both of which can be addressed by a primary care physician.
"Another excellent example of the importance of early detection for men is in the screening for prostate cancer," Dr. Allen says. "Detection has come a long way in the past 15 years. Based on a patient's medical history and potential risk factors for prostate cancer, primary care doctors can help determine the best course of action for screening."
Prostate cancer is one of the most common types of cancer in men. According to the American College of Preventive Medicine, one in five men in the United States will develop prostate cancer. Early detection of prostate cancer allows you and your doctor to explore treatment options.
Regular check-ups with your primary care provider are key to detecting and effectively treating health conditions as they arise to reduce the risk of them developing into serious problems.
Find Your Perfect Match
Answer a few questions and we'll provide you with a list of primary care providers that best fit your needs.
Source: Joseph Allen, MD, Premier Health Family Care of Vandalia; American College of Preventive Medicine; Centers for Disease Control and Prevention