Insulin Pumps Offer Alternative To Injecting Insulin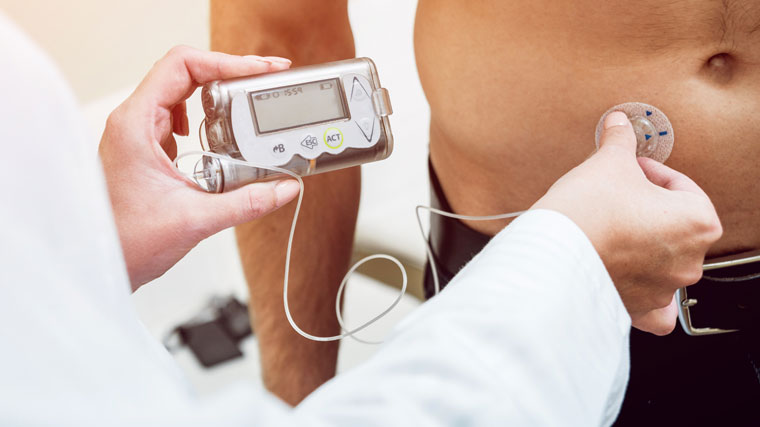 Find Your Perfect Match
Answer a few questions and we'll provide you with a list of primary care providers that best fit your needs.
Insulin pumps offer patients with diabetes an alternative to injecting insulin several times a day.
An insulin pump is the size of a cell phone and delivers insulin through a tube that is inserted through the skin, near the abdomen, hip, or buttocks.
The pump can administer insulin in a continuous dose (basal insulin) or at certain times (bolus insulin), usually mealtimes, with the patient's control. Insulin pumps are believed to work as well as, or better, than injection because the devices are able to mimic the body's natural insulin-releasing system.
Insulin pumps, however, are not suitable for everyone. Insulin pumps are not recommended if you:
Do no have access to a trained or experienced caregiver for the first few months of using an insulin pump
Are blind
Have limited or no time to attend training classes
Have a psychiatric illness
Education is a necessary part of using an insulin pump, as the device needs to be set to administer the correct amount of insulin at the right times.
With the help of your diabetes care team, you can adjust an insulin pump to fit your lifestyle and your target blood glucose range.
Why Choose an Insulin Pump
An insulin pump is not an artificial pancreas. Even with an insulin pump, you must still monitor your glucose level just as you would with insulin injections.
There are many factors to consider before deciding to use an insulin pump. And it's a decision you should make with the help of your doctor. Advantages of the insulin pump are:
Ability to exercise without having to eat large amounts of carbohydrates
Easier delivery of bolus insulin
Elimination of individual insulin injections
Elimination of unpredictable effects of intermediate- or long-acting insulin
Fewer large swings in blood glucose levels
Flexibility with when and what to eat
More accurate delivery of insulin
Reduction of severe low blood glucose episodes
Disadvantages include:
Diabetic ketoacidosis (DKA) if the catheter comes out and insulin delivery ceases
Higher cost
Hospital or outpatient center stays for training
Inconvenience of constant pump attachment
Weight gain
Find Your Perfect Match
Answer a few questions and we'll provide you with a list of primary care providers that best fit your needs.
Source: National Institutes of Health; American Diabetes Association