Nickie's Story: A Team Approach to Finding A Competitive Edge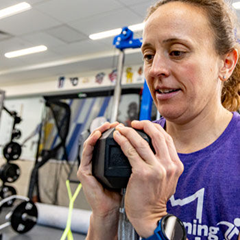 As a professional triathlete, Nickie Luse competes for a lifestyle, making her keenly aware of the importance of injury prevention and strength training.
"Before starting the Running Medicine and Performance Program, I did my own strength training," Nickie explains. "But after completing my strength assessment with the program, I quickly realized I was missing major components of strength training without having someone walk me through it."
Premier Health's Running Medicine and Performance Program offers runners physical assessments, injury evaluations, physical therapy, and strength training.
Nickie has been a professional triathlete for eight years now. "As I've aged throughout my athletic career, I understand the importance of strength training and how it can be used to build muscle mass to help one stay injury free," Nickie said.
Nickie grew up playing soccer. While attending the University of Cincinnati, she played the sport at the Division I level. After college, Nickie's commitment to staying healthy and competitive led her to run marathons while participating in other sports like running, cycling, and swimming.
Nickie's athletic experiences ultimately led her to pursue a professional triathlon license.
Professional triathletes participate in three athletic events: swimming, cycling, and running. As part of the extensive training needed for her triathlons, Nickie works directly with Christopher Cleverly, AT, CSCS, from the Running Medicine and Performance Program.
"I enjoy working with Nickie. Her competitive spirit is energizing," Christopher says. "To help Nickie train for her triathlons, I use research-proven exercises and techniques focused on strength and conditioning customized to her needs."
The Running Medicine and Performance Program team comprises expert physicians, physical therapists, athletic trainers, and sports performance providers with specific interests and training in working with runners and endurance athletes.
Premier Health's Running Medicine and Performance Program can help runners optimize their performance. The program provides specialized care for diagnosing and treating sports-related injuries and uses advanced techniques to help runners return to the sport. The program also offers proactive services such as gait analysis and strength training to keep runners healthy.
All runners are welcome, including youth athletes ages nine and up. No matter the distance you are training for, Premier Health has an expert team – many with personal experience participating in running and endurance sports – to help you succeed.
Contact Us
Our sports medicine team is ready to help you get back in the game. Call the location nearest you to learn more about sports medicine services in your area.