Andre's Story: Linebacker Receives Excellent Care On and Off Field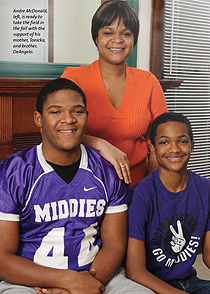 It was in October, when high school junior Andre McDonald took to the field for the final game of the Middletown High School football season, he had one thought: defeat the Princeton Vikings to make it a 10–0 season for the Middies.
When Andre left the field, he was on a gurney headed for an ambulance, and everyone's thoughts were on a full recovery for the injured linebacker.
Andre recalls all too well the play that brought him down. "As I was tackling, I got sandwiched in between two players, and everyone piled on me," he says. "When I was on the ground, I tried to move my arms and legs and couldn't."
"When I saw that Andre didn't get up, I knew something was wrong because he's one of our tougher players," says Kevin Stokes, athletic trainer at Atrium Sports Medicine and Physical Therapy serving Middletown High School.
The Medical Team Takes the Field
Atrium athletic trainer Lindsay Englebrecht, who also serves Middletown High School, was first on the field. "I think it's the fastest I've ever sprinted to an athlete," she says. "A neck or spine injury is our biggest worry."
Following protocol, Lindsay knelt down and calmly put her hands on both sides of Andre's head. "A player will try to get up, or shake his head in response to questions," she says. "It's important to keep the neck and head still."
Middletown team physician Mark Frazer, MD arrived seconds after Lindsay, along with Kevin. The medical team did a thorough evaluation. "We test mental status, isolate the injury, determine pain level, test extremities and more," Dr. Frazer reports. "We work as a team, and everyone knows what they're supposed to be doing."
The immediate attention and knowledge that the medical personnel gave not only ensured that Andre received top care but also made the experience less traumatic.
"It was great to look up and see Kevin," says Andre, referring to the athletic trainer with the team for over four years. "Kevin's been taking care of me since way back when."
The one person who was quite frightened, understandably, was Andre's mom, Tonicka McDonald. She's usually at work on game night, but got this night off to surprise her son.
"When I saw him on the ground, I kept saying 'Get up, Andre. Get up,'" she recalls. "But when he didn't, I hurried onto the field." Tonicka says that seeing the complete attention her son was receiving eased her mind. "Plus, they told me everything that was going on," she adds.
On to EMS and the ETC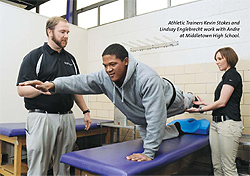 When Dr. Frazer wasn't pleased with Andre's grip strength, he made the decision to call an Emergency Medical Service (EMS) team to transport Andre to the Emergency Trauma Center (ETC) at Atrium Medical Center. Upon arrival, the ETC team took over, performing further evaluations.
"Everyone was so kind and informative, taking care of Andre," Tonicka recalls. "The waiting room was a sea of purple, with fans there to support him."
Happily, a CT scan revealed no fracture, and Andre was released with instructions to return Monday for an MRI. Monday's MRI confirmed a muscle injury, and physical therapy was ordered.
At Atrium Sports Medicine and Physical Therapy, Lindsay says, "Physical therapist Steve Woodward gave us daily updates, so we knew exactly what exercises to have Andre do in the training room."
Andre is now preparing for the 2011 football season, his final as a Middie. As always Atrium athletic trainers are working with athletes to prevent injuries and to keep players healthy. "Preventive measures, such as correcting how a player lifts weights, go a long way in keeping athletes safe," Kevin points out.
"That game, that injury, is something I'll always remember," Andre says.
"And we both will always remember the care and concern we received," Tonicka says.
"We're very grateful to the whole medical team."
Atrium Medical Center Sports Medicine and Physical Therapy provides athletic training services for more than a dozen area schools.
Contact Us
Our sports medicine team is ready to help you get back in the game. Call the location nearest you to learn more about sports medicine services in your area.