William's Story: Treating Prostate Cancer With Robotic Surgery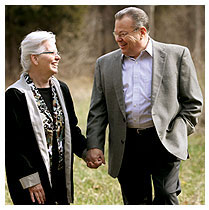 The benefits of robotic surgery got the attention of William E. Roberts, pastor of the Second Covenant Apostolic Church in Butler Township and a resident of Vandalia.

When the results of a PSA (prostate-specific antigen) test indicated the need for further evaluation, Pastor Roberts underwent a biopsy and learned he had prostate cancer.

Fortunately – because Pastor Roberts followed prescribed screenings – his prostate cancer was caught early and that allowed him a variety of treatment options, including robotic surgery.

Before deciding if robotic surgery was right for him, Pastor Roberts researched other options, assisted by his niece, whom he calls "an internet whiz;" his son, an operating room nurse; and his wife, a retired registered nurse.

His research revealed several options, including radiation treatment and surgery, either traditional or robotic.

"You have to be active in your own health," said Pastor Roberts, who settled on robotic surgery with Erik Weise, MD. "I asked him about his success rate and was satisfied that I was in good hands. He told me what to expect, and with his history in performing this type of surgery, I had complete confidence in him."

It turns out his patient made the right decision, reports Dr. Weise. "He had excellent results and a routine recovery."

Early detection of his prostate cancer and a quick recovery from robotic surgery enabled Pastor Roberts to resume a normal life.

Misconceptions About Prostate Removal

Dr. Weise said many prostate cancer patients who receive surgery to remove their prostate have a great deal of fear about possible side effects, such as sexual dysfunction and urinary leakage.

He explains that, because the prostate is located close to the urethra, rectum, and other vital organs, surgical removal of the prostate is a delicate, complicated procedure. But, depending on one's specific situation, nerve-sparing prostate cancer surgery can be performed to avoid sexual dysfunction.

Men whose cancer is diagnosed early have the best chance of being a candidate for nerve-sparing surgery, according to Dr. Weise. Even if prostate cancer is more advanced and the nerves have to be removed, a range of options exist to address the problem of sexual dysfunction after surgery.

Patients who experience initial urinary leakage tend to improve and regain control over time, said Dr. Weise. A surgical repair can correct the problem if it does not resolve on its own, but it is rarely needed.

In part because his prostate cancer was caught early, Pastor Roberts experienced neither post-surgery complication.

Thanks to Dr. Weise and robotic surgery, Pastor Roberts returned to his active lifestyle of serving his church and walking for exercise. "If anyone asks, I tell them I'd do it all over again, as long as I have the same surgeon."
Contact Us
When you need surgery, we're here with experience and options. Our surgical teams are committed to providing you with effective, patient-focused care. See a list of our convenient locations or find a general surgeon.