Barb's Story: Robotic-Assisted Hysterectomy Exceeds Expectations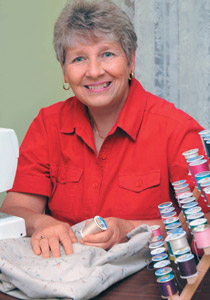 Barb Pelkey had been having gynecological health problems for about a year before she experienced the sudden drop of her uterus. Heather Hilkowitz, MD, obstetrician/gynecologist at Atrium Medical Center, saw Barb for an emergency visit and told her that she would need a hysterectomy. Dr. Hilkowitz explained all of Barb's options, including the advantages of having robotic-assisted surgery.

"I was doubtful," said Barb. "I had a hard time believing that patients didn't experience much pain after a major surgery." But a traditional hysterectomy would require more recovery time.

"This was a good choice for Barb," said Dr. Hilkowitz. "With this tool, a patient can get back to work sooner with minimal pain." There is also a decreased risk of incision infection. "That's especially important for patients with diabetes," adds Dr. Hilkowitz. "Rather than one large incision, the patient has five small incisions."

Juan Reina, MD, obstetrician and gynecologist at Atrium, teams with Dr. Hilkowitz for each robotic-assisted gynecological surgery. "Although the procedures sometimes take longer with the robot, we see great results immediately when our patients have very little pain," said Dr. Reina. "Recovery in the hospital is reduced to about 20 hours versus two to three days with an open hysterectomy."

Additional advantages of the da Vinci® Surgical System are that its tools are small and very versatile. The da Vinci tools actually mimic the physicians' hand movements, so they can be maneuvered more easily inside the patient than the physicians' own hands.

"Most patients don't have to think too much to choose the option that results in less pain and a reduced hospital stay," said Dr. Reina. Barb's choice was to go robotic.

Barb came to Atrium for surgery on a Thursday morning at 5:30 a.m., had surgery at 7:30 a.m. and was home by 10 a.m. on Friday. "I'm here to tell you there was no pain," said Barb. "None. And I went home without a catheter."

Two weeks after her hysterectomy, Barb was out walking and doing light gardening. She still couldn't lift more than five pounds, but Gary, her husband, provided her with great support. "The pain and excess bleeding I experienced before the surgery were making me so tired," Barb said. "Since the surgery, I have to say my attitude has improved because I feel so much better."
Barb is already playing putt-putt with her grandchildren and is taking them to the batting cages. "I think women should be aware of this technology," adds Dr. Reina, "because the trend for the future will be to use robotic-assisted surgery when appropriate."
Contact Us
When you need surgery, we're here with experience and options. Our surgical teams are committed to providing you with effective, patient-focused care. See a list of our convenient locations or find a general surgeon.