Lisa's Story: Facial Surgery Removes a Parotid Tumor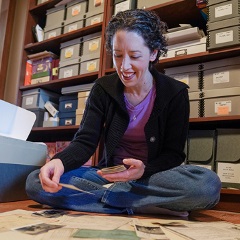 Lisa Rickey first noticed the small bump in early 2018. "It was on the right side of my face," she says, "below and in front of my ear, on my jawline." She felt the other side of her face to compare: no bump there. "Well," she thought to herself, "that's weird."
But Lisa was busy with her life and her young child, and the bump wasn't painful, so she put off the visit to her doctor. When she went in for a check-up a year later, in February 2019, the bump was still there, and she asked her doctor to take a look at it. He referred her to an ENT (ear, nose, and throat) specialist who biopsied the bump and diagnosed it as a benign (non-cancerous) tumor in Lisa's parotid gland, a salivary gland at the back of the jaw near the ear. The tumor was a pleomorphic adenoma which, though not cancerous, could continue to grow and cause problems in the future. The ENT recommended surgery to remove the tumor, a procedure known as a parotidectomy.
The surgeon recommended to Lisa was Sameep Kadakia, MD, of Premier ENT Associates, and she set up an appointment to meet Dr. Kadakia in April.
"I had no idea what to expect from a surgeon," she says. "I'd only had one surgery before in my life, and I was 5 years old."
She liked Dr. Kadakia from the start, appreciating his positive attitude, his friendly bedside manner, and the close attention he gave to her concerns.
"You really feel like he cares about you and what's going on," she says. "He's focused on your question and not worrying about trying to get to the next person — you just really felt like you had his full attention. I felt like he knew what he was doing and talking about, which is always something you want in a doctor. He answered all my questions, and he didn't dumb anything down for me. He was very professional."
Lisa also liked the fact that Dr. Kadakia was straightforward in explaining the possible risks of surgery. One risk associated with parotid surgery is numbness (often temporary) of the earlobe and surrounding area resulting from damage to the large facial nerve that runs through the area. Lisa is experiencing some of that numbness now. She says that during their first meeting, Dr. Kadakia prepared her for this possibility.
"He was upfront about the risks," Lisa says. "I appreciated that."
Dr. Kadakia's office worked with Lisa to schedule the surgery at a time that was convenient for her, which turned out to be mid-July. The procedure was done on July 22, 2019, at Miami Valley Hospital. Everything went smoothly, the experience at the hospital was good, and Lisa has a particularly fond memory of the nurse who helped prep her for surgery.
"She was awesome," Lisa says, "just really good. She was really attentive." Lisa told the nurse that she didn't do well with needles, so to help her relax, the nurse asked about Lisa's son, and the two traded stories about their kids as the nurse went about her duties.
Lisa's recovery went well, and she has been back to see Dr. Kadakia three times since the surgery — once to have a drain tube removed from the surgery site, once to have stitches removed, and finally, a check-up to see how things were healing up.
Lisa says that today, when people ask how she's doing and how the surgery went, she is quick to credit Dr. Kadakia for a job well done. "I've told everyone," she says, "this guy was great."
Contact Us
Premier Health's ENT specialists provide complete ear, nose, and throat services throughout Southwest Ohio. Please let us know how we can serve you. Find a provider near you, call CareFinders at (866) 608-FIND (3463)(866) 608-FIND (3463), or consult our list of related practices.
Our ENT specialists are affiliated with: