Smoking Leaves Its Mark on Much More Than a Person's Lungs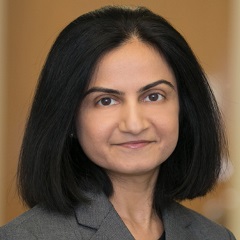 DAYTON, Ohio (December 20, 2017) – A person is placing more than their lung function at risk when they put a cigarette to their mouth. In fact, everything from a person's heart health to a man's sperm count can be altered by the nicotine circulated through their body.
"The reason for this is simple," said Mansi Amin, DO, an internal medicine physician with Oakwood Primary Care. "There are more than 7,000 chemicals in tobacco smoke of which 250 of them are known to be very harmful to the body and 70 of which cause cancer."
One of the major effects of smoking can be found in a person's vascular system. The lining of the vessels in a person's body are damaged when they smoke placing them at a higher risk for problems such as cardiovascular disease, stroke and diabetes. Smoking also causes a person's platelets to become stickier resulting in the formation of clots, said Dr. Amin, who practices with Premier Physician Network.
"The first thing we think of in regards to the risks associated with smoking is lung disease or lung cancer, but its impact to the body reaches far beyond that," she said. "It affects areas many of us don't naturally consider."
Smoking also compromises a person's immune system making them more prone to infections and causing an increase in inflammation throughout the body. It affects a man's sperm count and a woman's ability to become pregnant, not to mention the health of the baby if conception is successful.
Smoking is known to affect the health of a person's bones, teeth and gums. It has also been linked to the formation of cataracts and osteoporosis, Dr. Amin said.
"The good news is that many of these disease processes can be slowed or reversed shortly after a person decides to lay aside smoking and begin making healthy choices," she said. "For instance, research has shown that a person's risk for cardiovascular disease significantly drops one year after they quit smoking."
A person's risk for stroke will decrease to the same level as a non-smoker just three to five years after they quit smoking. Their risk of getting cancers of the mouth, throat and esophagus are cut in half five years after they stop smoking.
"The sooner a person can quit the better," she said. "But for many people, quitting is extremely hard. Unfortunately, most people like it and they don't want to quit. They don't want to give up the pleasure it stimulates in their brain."
There are many tools available to a person to help smoking cessation, however, some are not covered by insurance. Nicotine replacement patches can be effective, but also come at a cost. Other medication such as bupropion is oftentimes covered by insurance and can work for many patients.
Still, Dr. Amin said, the number one method needed for a person to successfully quit smoking can't be bought in a store and doesn't need to be covered by insurance – it is a strong desire to quit.
How a person's smoking is affecting their loved ones can also be a very powerful motivator. Dr. Amin has seen a parent quit after witnessing their child being hospitalized for asthma, and a person put their cigarettes aside after their spouse has been diagnosed with cancer.
"We know smoking isn't good for us, but until the impact personally touches someone they may not be motivated to make the change," she said.
Premier Health offers a free five-week program to help you quit smoking; call (877) 274-4543(877) 274-4543 for more information.